---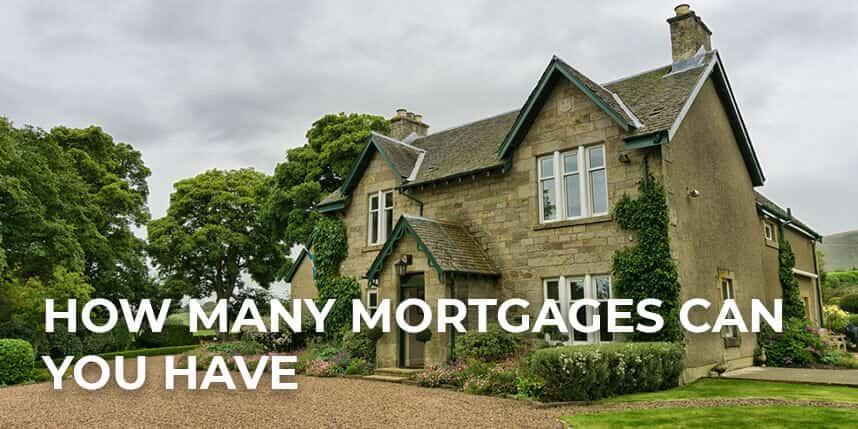 06 Aug 2021
Introduction: - Technically there may arise a common question. That is how many residential mortgages can you have? Here in this discussion, we will talk about this topic. We must say that mortgage loan has many types of risk factors. So our focus discussion will be held on how you can get many mortgages at a time.
Frankly speaking, there is no limitation to having mortgage loans. You can easily avail of more than one Mortgage Loan if you can bear them altogether.
How Many Buys to Let Mortgages Can I Have?
Probably this can be the most frequent question by the landlords that how many buy to let mortgages can I have. But it has a very simple answer there is no such limit. Although lenders have a limit providing mortgage loans or the limit on the total amount.
Lenders want a loan-to-value ratio of 65 to 75 per cent but some lenders want the whole thing to wash at 125 per cent, assuming a rate of 5.5 per cent, while others want it to wash at 145 per cent, assuming a rate of 5.5 per cent. Some lenders will accept your portfolio spreadsheet, while others want a certain format; we've created one that is suitable to all lenders and that you can use.
Lenders may likely inquire about your background properties if you have fewer than four mortgaged buy-to-let homes, but they will not be used in their underwriting. Finally, if you own a large number of buy-to-let properties outright, such as four, ten, or one hundred, you will not be classified as a portfolio landlord until four of them are mortgaged.
How Many Mortgages Can You Have on One Property? 
A mortgage is a loan that has some bounding. So you have to follow certain rules while you are having a Mortgage Loan. It is the right of the lenders what kind of Mortgage they are going to provide you. But you may think how many Mortgages you can get from a single property? 
Mortgage lenders have some fixed rules and regulations regarding loan approval. So when you are playing a single property it must be for a single Mortgage Loan. But different lenders have different rules. So you may find some lender who will allow you to borrow a second-time Mortgage Loan with a single property.
There is a chance that you can avail of such a loan option for more than one time when you have completed the previous loan perfectly. For this reason, you must maintain a good score in your financial background all the time.
How Many Residential Mortgages Can You Have?
The laws of financial mortgages have been changed in years. In the year 2009, it was already about 4, but, right now, you can readily mortgage 10 of your properties at the same time. That is not at all a problem. But right now, according to the financial condition of a person, the bank won't allow taking more than four residential mortgages.
This is a big problem for the people who love to invest in properties and later on can take a loan based on it. That can be sorted out if they can get multiple loans from private investors. There will be some factors like loan value will be 75% of the actual price of the property.
Then comes the credit score should be pretty high, you should clear all you tax on time, a tax return should be filed on time, you should have a decent source of income and many more. You can check their websites for more details. So if you ask the question how many mortgages I can have, this is the perfect answer for you. 
How Many Mortgages Can You Have at One Time?
While working in the housing sectors, builders, promoters and people who like to invest in the properties will need to have loans to run their business. It is not possible to invest every time from your pocket. There are many private finance companies, private and govt banks that can give loans. There is no limits f owning properties. You can own as many numbers of properties as you want, based on your income.
You can merge those properties and take loans from any of the private money lenders and banks. But in these cases, if you need to take more than one loan, you have to take them from different banks. For example, if you are mortgaging 10 of your properties, you have to take loans from 10 different banks. These will help you to maintain the credit score, clearing the mi on time, tax benefits and many more.
You can ask any financial advisor before deciding to take loans from any of the banks. The civil score should also be appropriately maintained, and later on, you should also have a fixed source of income to make your path smooth of getting a loan. So, multiple mortgages are possible in any scenario. 
How Many Days Do You Have to Pay Your Mortgage?
This is an essential question, which will come to your mind when you are about to take a loan. If you are taking an education loan, the interest rate will be twelve per cent or fifteen per cent. The period will start after immediately after a year of your study completion. Depending on the course and the amount of the mortgage, you will get grace periods.
The same goes for every other loan. There should be a list of your instalment submission. If you are one day late, it doesn't affect your mortgage lenders contract. They have a cooling period of few days. This will continue for up to 15 days, and after that, there will be penalties added to your account.
But if you miss the date and it is already a month, you can face a call from the office of a credit bureau. Then after 45 days, you will receive a notice. After 60 days, another will be another penalty. These consequences will be added in the very quest of the month. But these are the main principles of taking a mortgage loan from a private organization. 
How Many Mortgages Can You Have for A Rental Property?
This rule is the same as other rental properties as well. If you have rented one of the properties which you own, you can be able to get a loan with the help of that. But there real a few rules and regulations which you should know. While you are renting property, you should mention that on the renting contract that this property is mortgaged in the banks. Then sign the crescent on the paper that you have.
The property is mortgaged, and the tenant doesn't have any problem with that. Inform the loan department of the bank or the private finance company. If they say that it is ok, then you can continue to do so. But if your paperwork is ok, there is no chance of denial.
But if they come to about this later, you can land into a severe problem. You can mortgage as many rented properties as you want. That is completely up to you. This type of mortgage in real estate is prevalent. You can contact a real estate advisor and inform him about the situation. He can also give reasonable solutions based on your financial crisis. They are experienced enough to do that. 
How Many Mortgage Holidays Can You Have? 
At first, you have to know about the mortgage holidays. There are times shown the money ender allows you to not pay the instalments of the loan. That can be a specific period. But that doesn't mean that they have wiped out the system of the instalments, and now they will bear their expenses. That is not the case. Only the thing is that they have kept the payments on hold for your future.
In the case of the covid pandemic, many people have lost their jobs, and there was no specific income. At that time, they have kept their payment on hold. But later on, those holiday months, there will be o payments added to the whole system. But later they have the pay the whole amount while everything gets normal.
Many banks and private money lenders have different rules with this. But mainly holidays hold for few months like 5 to 6months. Later if the situation gets normalized, they have to get back on business. This mortgage holiday was announced by the side of the UK government at first. Then many European countries have adopted this whole scenario.
If you want to look into the difference between the first mortgage vs the second mortgage, there can be a difference in the dates of holidays. So contact your money lender and discuss it. 
How Many Months of Employment to Get a Mortgage?
If you go through the norms of a normal loan, you will see that it takes 2 years. This is an important criterion for people who want to lend a mortgage. However, you can get a mortgage faster than this. To get mortgage loans the candidates need to prove that their account is stable. Give the details of your work to increase your chances.
A candidate who has a constant salary will have more chances of getting a mortgage from the mortgage. Do not change your jobs too soon if you want the bank to accept your request. 
 Besides these, the bank will check other factors to ensure how many mortgages you can have. This will include the debts that you still have in your account. If you want a mortgage loan within 2 years you need to improve your credit score. Pay your loans on time to get better records financially.
Thus you should keep in mind the bank will give these factors more preference than your time. Without any stability, the money lenders can't trust you with their mortgage. They will go through the details of your salary and commissions as well.
What Are the Pros and Cons of Having Multiple Mortgages?
The customers have an option to buy more than one mortgage at a time. This gives you an option to enjoy the services that multiple properties offer. Take your time to decide on which property you want to give more effort to. If you are an investor this scheme can help you as well. You can get more rental yield if you buy multiple mortgages.
You can take your time to research the best of these properties. The one that suits your cause will help you to get a better outcome. It is a nice way to learn about the investment opportunities available in your area. 
Although there are many benefits to this scheme, there are few downsides as well. Taking too many mortgage loans can affect the credit score of your account. Your money will travel from one firm to another. The process will become increasingly complex with time.
This can become a weakness that the money lenders will notice quickly. You cannot invest your entire money in one firm. Many people who have this reported bank thefts and loss of money. 
Thus you can say that having too many accounts or the period is not much of a concern for the bank. They will be interested in fact that whether you have the potential to buy the mortgage. Go through the criteria of your bank before taking such decisions.
Know how to maintain a good firm before you invest in it. Your main aim is not to buy multiple mortgages in real estate. You need to find ways that can help you to gain maximum profits from the stock exchange market. 
How Many Mortgage Lenders Should I Apply To? 
Purchasing a house or building through mortgage lenders is a very common practice in the present age. You can come across this advantage by taking it from mortgage lenders. When applying to mortgage lenders you should apply to more than one lender. There are multiple reasons why you should do this, let's take a look at them at a glance-
Many Times, Most of The Applications Are Rejected: - 
You turn to the mortgage lender for your needs so that your work is done. Home, shop or building is an important factor as well as time is a factor in this case. You may have applied to a mortgage lender but there is no guarantee that it will be accepted. Most of the time it is seen that if you apply to only one person, it is rejected. So it would be reasonable for you to apply to multiple mortgage lenders.
Get A Relatively Good Rate: - 
It is wise to apply to multiple mortgage lenders to find out the current market price. By bargaining with them, you can make the best deal that will be good for your future.
Find Agencies with More Closing Costs: - 
It is unfortunate to spend money from your savings at the very beginning. Because in the beginning, you can spend that money on maintenance of your property. Or you can improve the business for which you are using the property. You can check with multiple mortgage lenders to see where the closing cost is the lowest. Based on these factors you can deal with the mortgage lender of your choice.
In addition to these benefits, keep in mind that applying to multiple mortgage lenders can lower your credit score. If you look at all these aspects, you will be happy and beneficial.
What Is the Difference Between a First Mortgage and A Second Mortgage?  
Fast mortgage and second mortgage are two things that can be called two sides of the same coin. Before distinguishing them it is easy to understand that there are enough similarities between them. Fast mortgage and second mortgage are one type of loans. The first is the loan that you are taking from a bank or any other agency when you buy a house. And the second mortgage is the loan that the bank or any lender is determining for the house.
As seen in the case of First Mortgage, it is mainly used for buying a house. At present, home loans are much less expensive than other loans. Again in many cases, these loans are discounted which has a positive effect on the annual budget.
And second mortgages are not used for one purpose only. This type of mortgage is used for home renovation or for starting a business. However, in addition to knowing these differences, there are some other things you need to keep in mind. You must try to pay the mortgage loans of these two types of mortgages on time.
Otherwise, it is not a new phenomenon for this mortgage to be plagued with various problems. Banks or mortgage lenders can confiscate your property through legal action.
Conclusion: - 
Nowadays, mortgage in real estate is widely introduced for its multiples benefits. Many people are successfully doing their business or work with the property through mortgages. In this system the responsibility is less, the money invested is less but the benefits are more. However, since this is a contractual matter, certain payments must be made on time.
All agreements with the mortgage lender should be well understood so that there is no problem later. There are legal issues associated with a mortgage, so any complex issues need to be resolved quickly. Otherwise, you may have to pay a lot of money for this little misunderstanding next time.
Categorised in: All News