---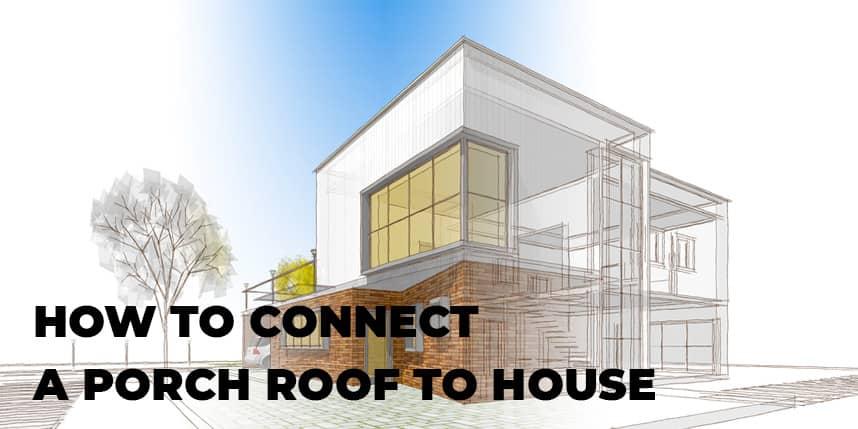 06 Oct 2021
Introduction: -
Almost everyone on the planet possesses some level of creativity because human beings are endowed with the ability to be creative. And when it comes to your dream home, you must think outside the box. There is no doubt that the roof of a house is the most important component that ensures the structure's endurance while also adding to its aesthetic appeal. In this article, we will know How to Connect a Porch Roof to House?
We are certain that the patio roof idea will be a top choice. The best aspect about these roofs is that they can all be added to an existing home. However, it is only natural for beautiful things to have some benefits and drawbacks.
In the case of patio roofing, you will get most of the benefits; we have decided to present our readers with some resources for patio roof ideas for their existing homes. We are quite positive that this article will add additional encouragement in attaching the patio roof to the house to our readers.
10 Ways to Attach Patio Roofing Ideas to an Existing House
Patio roofing ideas are not only visually appealing, but they are also quite advantageous and practical. It will keep the sun and rain off of your patio. Not only will the patio roof provide you with the ability to install various types of decorations to make your premises even lovelier, but it will also provide you with the ability to make your premises even more useful.
Take a look at the 10 top patio roof ideas that will show you how to install one at your current home.
1. Patio Roofs with Japanese Trend: -
Are you thinking of attaching a roof to an existing roof? Then you may think about some exclusively beautiful patio roofing ideas. At your location, you can start a Japanese-style Patio roof. The entire roof is supported by some alternative wooden posts. The thin wooden work will be alternately installed on the roof area.
The alternative gaps in between the wooden sticks will allow natural light to penetrate through this roof. If you decorate it effectively, it will become the most stylish space in your home. Aside from that, this roof can be used to create a seating configuration. However, there is a drawback. This style of patio roof will not keep you dry in the rain.
2. Modernized Patio Roof: -
If you want to add a modern touch to your ancestral home, a remodelled patio could be a good choice. It's a timber roof with only single support that will float on top of your lovely property. To properly furnish this area, you might utilize some lovely ceiling ornaments.
Bring some wooden furniture, on the other hand, to embellish the underside of this lovely roof. This will be a lovely sitting space for your visitors, who will enjoy spending time here.
3. Sleek Designed Patio Roof: -
Many folks nowadays are looking for decent and basic style for their property. That's why they would rather have the sleekly designed patio roof installed on their current home. We may say that Patio roofing ideas are the absolute choice for them. Without a doubt, this roof will have a modern and stylish appearance.
This roof is in no way suitable for preventing raindrops from falling at that location. However, it is a perfect match for the house and complementing too.
4. Outdoor Pergola Style Patio Roof: -
The rustic appeal of an outdoor pergola-style patio roof can give your home a lovely appearance. The outside portion of the roof is supported by wooden posts and beams in this roof design. On the other hand, you can attach a patio roof to a house with vinyl siding with such type of roofing to make it even more convenient to use.
5. Metal Patio Roof: -
The most popular category of this form of roofing is metal-made patios. The key reason for this appeal is that it is long-lasting. Metal is extremely durable and resistant to wind and snow. This form of roofing is quite common in hilly areas. Apart from that, it is also fairly effective in blocking the sun. This route, on the other hand, can be easily installed in your existing home. And the best thing is that it is a cost-effective roofing idea.
6. Strong Protection Patio Roof: -
This type of roofing is recommended if you want to build a solid and long-lasting patio cover that will protect you from the sun, rain, and snow. On the other hand, this will complement the decor of your home. This form of roofing is prevalent not just in homes, but also in restaurants, hotels, and other establishments. You can also use the under-the-roof space for any type of event.
7. Canvas-Designed Patio Roof: -
This is a one-of-a-kind roofing concept. This basic yet elegant appearance will undoubtedly add to the attractiveness of your farmhouse. This style of looping is also highly popular in Homestays and attractive locations. On the beam, there must be some boxes that can shield you from the sun's heat. It is entirely up to you whether or not to cover the roof.
8. Fashionable Beige Patio Roof: -
This is a pretty interesting idea that goes well with the lovely home. The gentle beige colour will add to the atmosphere of the workplace. And you will undoubtedly enjoy spending time here with your family or sweetheart. Furthermore, the pergola form of such lovely roofing will allow light to travel through the beams. It will enhance the beauty of your Sun sitting.
9. Transparent Fiberglas Patio Roof: -
Isn't this a lovely roofing concept? Fibreglass is a versatile material that may be used to customize your patio roofing. This roofing will let in natural light and maintain the home's attractive appearance at the same time.
10. Tempered Glass Patio Roof: -
This is, without a doubt, the most gorgeous Patio roofing concept you'll ever see. Tempered glass patio proof is the ideal item for allowing natural sunshine while keeping rain and snow out.
Aside from this feature, you will be able to sit and relax in the area while taking in the lovely scenery. This is it about this form of roofing that makes it so popular in resorts and hotels, particularly in mountainous and wooded areas.
What Are Porch Roofs?
When it comes to build or renovate a new house, we mainly focus more on designing interior parts. But we ignore designing the roof part. Can you imagine a roof part can be interesting too? Every one of us wishes to renovate our home at least once in our lives.
We have no idea where to begin. Many of us begin by ourselves without conducting adequate research. As a result, there are unneeded extra costs visible there. We must start by renovating the structural part first.
The renovating of a roof can be amazing too as there are several types of roofs available in the real estate field. Gable Roof, Clipped Gable Roof, Gambrel Roof, Hip Roof, Patio Roof, Porch Roof, Mansard Roof, Flat Roof, and Shed Roof. These are the most common types of roofs that can be seen easily around us.
Porch usually signifies an extended passage of the main building, which is located at the main entrance of a house. A porch is mainly a gallery-type passage that looks slightly lower than the main building structure. Porches can be covered by the same roof of a building or a person can prepare a different roofing system to shelter the porch area.
How to Attach a Porch Roof to a Brick House?
If you are getting bored of seeing the same view of your house and had a wish to create something exciting with your brick house, then we have a good idea for you. That is, you can add porch roofs with your same brick house. It will add a new and appealing look to your house.
Though attaching a porch roof to a brick house is not an easy task, it is a complicated one but with fixture anchors, it can be successfully attached with your brick home. Let&rsquo's check out few steps of it.
With the help of a ledger board, we can add a porch to a brick home. First, we have to mark at the top of the ledger site on the brick wall. It denotes the top level of the ledger and is the height. The landing area of the porch passage and porch beams will be attached to the ledger board.
Then it comes to the measurement part. The length of the ledger board must be measured properly before attaching the ledger board to the house for the roof. And it should be measured along with the porch width and it should be noted how long it will come up to the house.
After that, a 2-by-6" part from the ledger board should be cut with the help of a saw.
Make the required amount of holes at every edge of the ledger board with a drill machine. Now hold on the ledger board against the brick wall with the help of your partner and mark holes as well on the brick wall.
Create holes on the hole marks with a drill and if required then use other masonry bits as well. Now, drill each hole through the brick wall. Drill until you get the house floor. After that insert a wooden bit into the drilling hole.
Place washers through the bolts and insert the bolt through ledger board holes. Hold there and push through with the help of your friend and push bolts through the brick wall hole points.
Fix each bolt tightly and check that it tightens or not.
Now secure the ending position of the porch landing over the ledger board.
How to Build a Porch Roof?
A home is a place where we may unwind and re-energize. If we can't wear the same pattern of clothes for an extended period, why not do the same for our homes? Changing a few things in our home will lift our spirits. We have complete control over what we want to modify in our homes.
However, we lack information about product dimensions and features. As a result, we require the assistance of a perfectionist.
You can start by adding a porch to your dream home. This can be the finest renovation idea that will surely make you and your better half stand out differently from the crowd. The porch is a term that refers to an extended corridor of the main building that is positioned at a home's main entrance. A porch is mostly a gallery-style corridor that appears to be slightly lower than the main structure.
Porches can be the greatest compliment to their owner. This is a relaxing living area, where you can greet your visitors and enjoy seeing the natural view in your leisure time. Many people wish to build an uncovered porch, but it can be harmful. It will easily destroy your furniture and interior part when a storm and heavy rain arrives. So, let's have a look at how to build a porch roof briefly.
Must install a ledger board.

Rafter hangers should be there on each side of the roof.

Support posts.

Header beams and roof sheathing must be attached.

Shingles and siding should be installed very carefully.

Drip flashing must be nailed between the porch roof and the sides of the house's roof.
How Much Does It Cost to Add a Roof to A Porch?
A porch is essentially a gallery-style hallway that is slightly lower than the main structure. Porches might be the most flattering addition to a home. This is essentially a comfortable living room where you can receive visitors and spend your free time admiring the natural scenery. Start by including a porch in your ideal home. This could be the best makeover concept.
Now, it is quite natural to arise the question of how much does it cost to build a porch. The overall cost of a building can be differing by changing designs and patterns.
It is quite obvious that a normal roofing cost varies from building a porch roof house. Aside from that, if you hire a designer then his or her charge will be extra. It will be around $4,800-$24,000 to construct a 200 square foot porch roof.
How to Attach a Porch Roof to a Mobile Home?
Adding a porch to your house will surely add some extra square feet to your dream house. Begin by envisioning your perfect home with a porch. This could be the most creative makeover idea. But we can hardly think to add a porch roof to a mobile home. For someone with expert carpentry knowledge, building a porch is a relatively simple project.
The porch must, however, be attached to the mobile home, which might be difficult. Your mobile home must be well supported. To safely add a porch to your mobile home the foundation must be strong enough. A rolled porch roofing material will help to build a porch roof for your mobile home.
Conclusion: -
This was a lovely conversation about a lovely subject. Patio roofing ideas have now become the best buddies of those who want to embellish their homes. This might be an excellent decoration option for an existing home. This roofing might be a lovely installation if your home is sufficiently ancient or new in both circumstances.
As a result, we have included ten of the most stunning patio roofing ideas in this discussion, which will undoubtedly influence you to construct such a lovely roof.
Categorised in: All News