---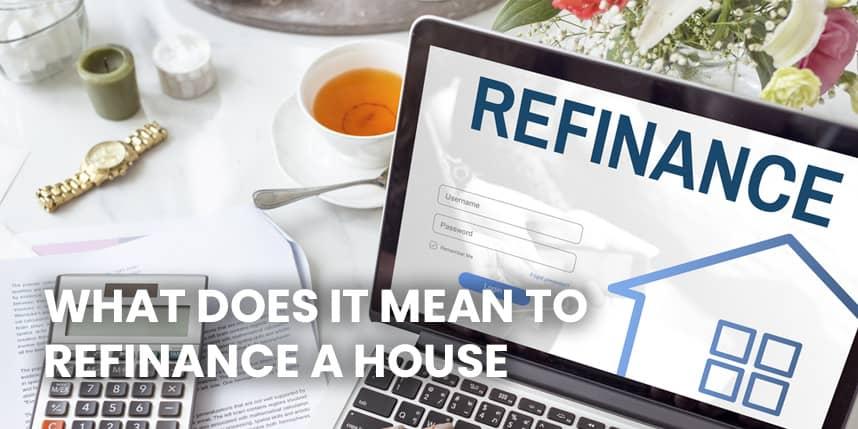 02 Sep 2021
Introduction: - The option of refinancing allows you to replace the current loan with an alternative one. It is done to get a better mortgage plan. The interest rate modifies from a fixed to a variable.
It helps to calculate the number of years you can spend in a house and manage your savings. You will no longer have to pay the costly EMIs. Thus you can refinance your house anytime to suit your needs. 
What Is Mortgage Refinancing?
Having a current mortgage does not mean that you can't shift to a new one. You can get a better deal from a bank to refinance your present mortgage. However, you must consider your financial situation properly. It will act as a lifesaver for the other financial goals in your life. You can also adjust the interest rate the way you want it to be. Whether you want it to be fixed or varying depends on you. 
You never know what kind of financial emergency your family can get into. If half your salary gets deducted from your home loan, you may fall into big trouble. 
You can get a new loan even when you already have one. Only you need to see how much time it will take to repay the existing loan, and you need to arrange for the required bank documents. 
How Does Refinancing Housework? 
Firstly you must understand the purpose directly linked with your current finances. Check how much you have already invested in your current property. If you have recently taken a loan, the process will be faster.
Once you apply, the experts will look at your income, assets, and other conditions. For example, people who have a bad credit score have a lesser chance of refinancing. 
Also, it would help if you decided which lender you want to rely on and fixed the interest rate, so it does not change throughout the process. Having a varying interest rate can either be a benefit or a disadvantage. It is not easy to predict when it will go higher or lower. After that, you also have to fix the timing for the loan appraisal.
Finally, you need to close the loan with the help of disclosure and complete your home refinance process. 
Types Of Refinance Mortgages
The terms of home refinancing vary from one person to another. Some want to get a new loan term or change their rate. Others want to use their home equity to get a better deal. 
Here are some common types of refinancing that you can opt for:
Cash-out: - It is the option to get more amount than the actual loan in cash from the bank. Most applicants get it when they have different financial needs. However, the payment structure becomes larger once the loan gets sanctioned, and the EMIs automatically increase.
You may have to pay for it for a longer duration. Therefore, it is important to review all the terms before going for a cash-out loan. It will also change the value of the instalments that will deduct from your bank account. 
Reverse mortgage: - It is a different kind of mortgage the banks have designed for older people. It allows the lenders to withdraw money from the bank when they die. People opt for paying off their expenses once they retire and have no job.
You can deal with reverse refinancing if you have too many medical bills. Once you die, the lender will automatically get the remaining balance from your account. 
Cash-In: - It is the option where instead of getting the extra cash, you can pay to lower your monthly EMIs. You can reduce a large percentage of your mortgage with the help of the cash-in option. It is ideal for people who don't have much home equity. 
Why Should You Not Refinance Your Home?
Refinancing increases the time that you will need to repay the loan. It will take a longer duration to pay back before you can start saving. Half of your money will go into the closing costs. Some take refinancing that costs them even more. Thus, in the end, you will pay much more than your current mortgage value.

Although you will have more time to pay, it increases the interest rate. If you already have to make mortgage payments, things may become even more complicated. 

If you go for a lower interest rate, it does not mean that you will save more. It can be lower than your current mortgage rate, but you need additional funds for your closing amount. It includes a certain percentage of the loan that is significant. Change in job or life circumstances may lead you to shift to a new location as well. 
These are some of the basic reasons not to refinance your home. 
Refinance Meaning with An Example
Some reasons and factors that can lead you to refinance are –
You can re-adjust your savings and expenditures once you complete it. 

You can add new properties to your mortgage and transform the payment system. 

It also allows borrowers to multiply the value they can deduct for EMIs.

Thus when you calculate the total interest, it can be much lower. However, in some situations, the scheme turns out to be a bit risky and overburdening. 

Another common type of refinancing is the cash-out option. It is the condition where you need cash-out refinances. You get cash to pay the borrower to lower the overall payment amount. However, it can lead to changes in your current monthly payments plans that you must re-calculate. 

But it provides the option to use the funds for home renovations, college fees, etc. 
Should I Refinance My Mortgage?
Refinancing definition is a versatile option suitable for managing mortgage loan conditions. Indeed, obtaining a mortgage loan is a standard method for arranging funds to purchase a home. But, before you start the mortgage loan procedure, make sure you have a plan in place for the loan terms.
On the other hand, you must thoroughly understand the interest rate, and the loan's duration will add to your monthly expenses. You can change the terms any time if you choose to switch to a different finance planning, while mortgage loan refinances are the best plan to limit the term of your mortgage loan for your home. 
Should I refinance my mortgage? If you want to start the refinancing procedure, you must consider several factors. If your mortgage has an adjustable rate, you might want to consider refinancing. It is, after all, a viable option at some times. On the other hand, a loan term can add pressure to your mental workload. Therefore, it is good to stop paying the loan before the due date if possible.
What Are the Benefits of Refinancing a House? 
Many people who have a decent understanding of how things work believe that mortgage refinance is a great idea. 
Refinancing Gives You the Option to Lower the Interest Rate of The Mortgage: -
It is most likely the best and most common cause for refinancing a home mortgage. Although we may infer from many examples that borrowers included refinancing home mortgages in their loan terms to avoid paying higher interest rates, mortgage loan refinancing choices can save them anywhere from 1% to 2% on average.
Refinancing Is Beneficial to Shorten the Loan Term of a Mortgage Loan: -
A long-term loan can add to your financial load. As a result, you can refinance for a shorter duration re-payment plan. So, if refinancing is an option, you should take advantage of it as it can dramatically reduce the length of any debt. For example – You can pay a 30-year fixed mortgage rate in 27 years if you use the right refinancing Mortgage options.
Refinance Mortgage Loan to Take Advantage of Your Equity or Consolidate Your Debt: -
Many homeowners use the money saved by refinancing their mortgage to remodel or furnish their homes. Certainly, this can be a new source of investment.
Also, it aids in the reduction of mortgage interest and tax deduction. Although we all know that a Mortgage Loan has evolved into a better lending option with smart features over the last several years, after borrowing a large sum of money, one can refinance the house to get some of the best options.
How Long Should You Stay in Your House After Refinancing?
As discussed in the last section, some homeowners refurbish their homes, which is usually done to get a higher price. So, if you want to sell your property to a potential buyer for a reasonable price, a refinancing mortgage is an excellent option. It also depends on the lender from where you are getting the plan. It usually takes 6 to 12 months on average to complete the process.
However, suppose you intend to sell your property right after refinancing. In that case, it may not be applicable, as you won't be able to sell your property for at least 6.75 years following the refinancing. Nevertheless, a few flexible mortgage refinancing options can help you get through the home refinance process faster.
However, keep in mind that these restrictions will only apply if you have the legal rights to sell your home before the deadline. As a result, we recommend that you adhere to your lending institution's norms and regulations.
Do You Get Money Back If You Refinance Your Home?
The procedure of mortgage refinance is not simple. It is a flexible alternative for rearranging long-term debt or reducing the time it takes to repay the loan and the interest rate. However, it will only be flexible if you are fully aware of all the terms and restrictions. Different lending institutions have different concerns and requirements regarding refinancing choices.
As a result, you must conduct a thorough study on all terms and circumstances before making a refinancing decision. A cash-out refinance mortgage loan is a viable choice. If you apply for it, you will almost certainly receive a lump sum payment at the end of the refinancing process.
Does Refinancing Hurt Your Credit?
It would help if you kept a decent credit score at all times. It will make it simple for you to begin the next financing process. Many borrowers have the same question- If they refinance their mortgage, will it hurt their credit score or not? 
Taking out a new loan is extremely risky when you are already in debt. Because to refinance the house, you will have to check the previous loans and the related credit details.
The lenders constantly monitor your credit score while you are in the process of getting a house loan mortgage. The Mortgage Loan provider will examine your credit score and, most likely, offer you a credit report where you can enter the refinance mortgage alternatives.
If you go for any option, the credit report takes note of it for an average validity of two years to ensure if it was hurting your rating in the next 12 months or not. It is advised to do complete research for such factors before opting for any financial option. 
Conclusion: -
Know all the stages of the home mortgage refinancing process. Learn about the fundamentals to ensure you have a plan in place for the loan terms before you begin the mortgage loan process. In addition, you must know the terms and conditions of the loan and the interest rate.
Many people with a basic understanding of "how things work" believe that refinancing a mortgage is wise. Of course, it's a versatile option for reorganizing long-term debt or shortening the payment duration or reducing the monthly instalment amount.
If you are thoroughly aware of all the payment terms and the extra financial burdens, you can go for it. Moreover, different lending institutions have different concerns and needs when it comes to refinancing.
That's why we suggest our readers compare all the available lending organizations. In addition, know the eligibility rules and regulations in advance and choose the most suitable lender to move on with the refinance mortgage process.
Categorised in: All News