---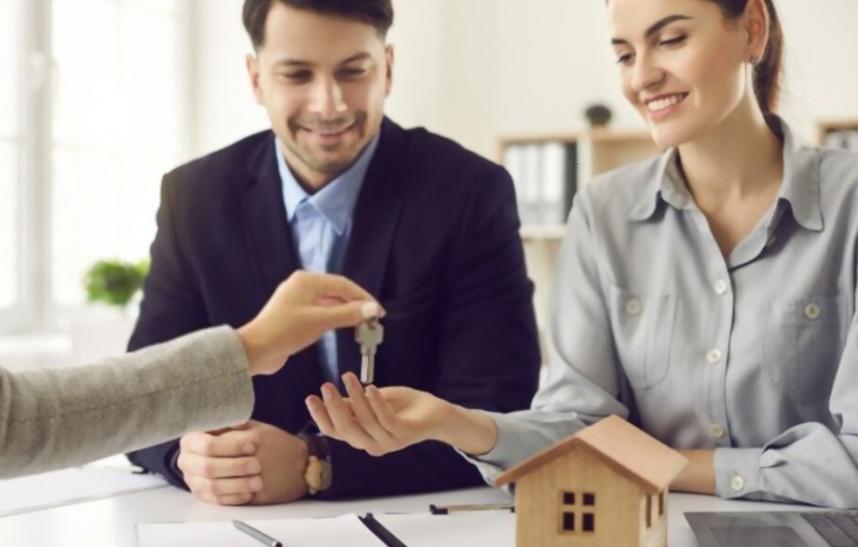 13 Apr 2021
INTRODUCTION: - Let us consider you are now shifted to the US or the UK as you will be studying in your dream college or will be doing a job. You probably have every authentication that you need. Now, you would have to decide where you are going to reside but you may have no credit score that you may present to the landlord of the house.
Being a person with a valid visa or being an immigrant, you must be thinking: 'Will I get approved for an apartment, even without credit?' The answer to this question is YES! It is very easy to get that. You just have to follow some simple rules and you will have an apartment for yourself.
10 Ways to Get an Apartment without any Credit
In this article, we discuss 10 important tips to make you understand the process so that you can apply for residence without credit instantly:
1. Describe Your Condition to The Owner: - Your landlord can refuse to lend the home/apartment only if you don't have a proper credit score. In that case, make him understand the reason for your not having it. Tell him/her that your visa is valid and you are new to the city which is why your credit score is not ready yet. If you are stating your points sensibly enough, and they understand it, it will convince him/her to lend you residence, increasing your chances of getting approved for an apartment.
2. Take the Place on Rent from The Owner Himself/Herself: - Do not try any mediating processes. Deal straight with the owner, apply to him/her, and take it on rent. Trying to include many people in this will be a total waste of time. Do not go for places that are owned by multiple people at the same time, since, in that case, you would have to deal with way too many people. Moreover, they will probably be more interested in your credit score. Therefore, it is better to talk to someone to whom you can talk directly and talk about your situation. That will be a rather speedy process.
3. Give Reference: - Recommendations work like magic for apartment application approval. You must convince the owner that you are responsible and trustworthy, even if you don't have credit. Giving references will prove your commitment, and he/she will agree to rent you an apartment. Look if any of your classmates or a colleague or a relative is in contact with the landlord. Try talking through them.
4. Give an Account of Your Finances: - Your owner must be convinced that you are quite capable of paying the rent. For this, show them your source of income. Also, look for places to rent where the monthly amount to be paid is less than 25-30% of what you earn and take home. Also, if you have previous savings for a few upcoming months, that may be favorable for them to choose you for staying.
5. Convince Them You Have No Debts: - This point can be considered to be in the same slot as the first one. You do not have a credit score simply because you have no debts in the market. This will aid your explanation. The owner must get that you are on your way to having credit in a new place and not having it is not for a lousy reason or lack of commitment to debts in the past. This may be convincing to them to start the apartment approval process.
6. Get Somebody to Co-Sign It with You: - Many owners may be strict regarding the credit score thing. In that case, just find somebody- a friend, a colleague, or a relative who will co-sign the agreement with you. If they have the appropriate credit, that can be applied in your case and will be extra support. Besides, this will also be a sign of reliability for the landlord, just what he/she needs. The only thing to be remembered here is that if you do this, that person will always be liable for your rent and stuff.
7. Getting A Roommate to Share: - This is just the same as getting someone to cosign the deal with you, just that in this case, the person will be living with you in the apartment. Both of you can share the rent and other bills, thereby dividing the responsibility. This will be helpful for you and your owner since the pressure is no longer on a single person.
8. Say That You Would Move-in Instantly: - If an apartment is vacant, it may cost the owner a large amount as they are not getting their potential rent for every month. So don't put off the matter. Decide quickly and ask the owner to let you move in as soon as possible. This will be convincing to him/her as they will be able to profit from your deal presently, rather than waiting for the perfect lease with a person who may have the needed credit.
9. Make A Monthly Arrangement: - A monthly system will always be flexible, both for the owner and you. This way, you are not bound in a long-term lease. The landlord may disagree with this arrangement and will probably ask for a large amount as rent. But, in this way, they gain more profit and can choose to end the contract at the end of the month, thereby making the apartment rental application process more versatile.
10. Pay Advance Apartment Rental Fee: - You must understand this entire house renting thing is a business for the owners, and they are looking for a strong cash flow. So, it would be better if you pay the initial monthly rent just upfront. This will be more convincing to the owner, and he will always consider the apartment approval process more seriously.
What is an Apartment Application?
You may need to move out of your parents' house and live by yourself, once you are a grownup and have higher education or a job to do. For this, you have to select an apartment to live in. Once you have checked out all the buildings you had chalked out, you must act instantly.
With high demand for residence, your favorite place might not be vacant the next day. If you have decided which apartment to rent, you would now have to go through a formal application procedure. 
Also, this entire process can be a hassle if you don't know everything properly and especially, more challenging if you are doing this for the first time and often ask yourself-'Will I get approved for an apartment?'
The apartment application is a form that you would have to fill, along with accessory documents and proof so that the owner can do a screening of the possible candidates. All information must be noted down correctly in it. 
Nowadays, these forms may cost you a specific fee which cannot be refunded later, even if you don't get the place. This may be called a processing fee and generally ranges between 20-50 dollars.
What's Involved in The Apartment Application Approval Process? 
Let us look at the basic steps in the process of apartment application approval:
Firstly, the application is to be received without any delay. Apartments function differently, but you can try getting the form from the website of the apartment or directly from the owner. Fill it up and email the filled-up form to the authority or hand out a copy to them 

Include basic personal data in the form- name, previous address, phone number, driver's license, job, income, etc.

Pay the apartment rental fee and security deposit if needed and provide all documents to support your statements in the form.

The approval may take 2-3 days, or even a week, depending on the managing authority or the owner. Always ask beforehand how long you would have to wait. If the owner urgently needs somebody to occupy the place, he may permit you the very day you apply for it. It all depends on their decision and the document you provide in the form.

After being approved, you have to sign an agreement with the other party. It is always better to have somebody cosign the contract with you for safety.

Always keep a copy of the form and the documents for future reference.
Is Getting Approved for An Apartment Hard? 
Even if you find the perfect place to stay, submit the form accordingly, it might be difficult for that application to be approved by the owner. It can also be rejected. Let us look at a few reasons why this process can be tough for you so that you have a detailed knowledge of how it works:
Your monthly income may be insufficient/wrong. Generally, an individual pays 30% of his total money for rent. The apartment you applied for may not fit this criterion. As a result, they could reject your form.

A disrupted or null credit: Your credit score is very critical in this case. This is an evaluation of your sense of responsibility and discipline. The owners often check if the applicant pays his/her bills timely, or has any debt. Your credit score should be no less than 600-650. Also, if you have any other loans or leases elsewhere.

Any fault in your background check will always affect the screening process.

The references you give are proof of your reliability. Any poor reference or no reference at all can lead to the application being rejected.

In many cases, having a pet or having a smoking/drinking habit can be a disadvantage on your part.
What is the Rental Application Fee?  
This fee is generally taken by the owner with the application form. It is basically to make up for the prices related to the processing of the application for rent and additional expenses of the background check and verification of the provided data.
Irrespective of the regulations of the state you are living in, if you are on a contract, you will have to pay the fee while applying. On average, this fee may range from 30 dollars to 50 dollars for every individual. Though it is considered the standard amount, it may vary based on the place and market of the apartment you are renting.
You must look for data like if charging the fee is legal in your state and if there is a limit to the amount that can be charged. States like California and Wisconsin have strict regulations regarding application fees. Another question is the refund of the fees if you do not get approved for the place.
Again, it depends on the state you are living in. While most states do not specify the refund thing, many states do. Both the owner and you must be aware that the amount paid is not to profit them and is not a source of income. Charges must comply with the work done.
How Long Does It Take to Sign a Lease for An Apartment? 
Most homeowners usually give their candidates 2-3 days to sign the contract. This gives them ample scope and time to review the entire thing but again does not keep the owner waiting for a very long time. This is quite similar to when you apply for a job.
You must understand that the last thing a landlord will do is to wait for you to sign the contract in your own time. The entire renting process is a source of income for them. You cannot be allowed to decide for weeks. 
If you do not agree to the contract after that, it will be a complete loss for them as the place will be vacant for some time, and they are possibly running out of potential clients.
Honestly, 2-3 days is quite fair. If you do not return to them within this time, they may notify you and if you do not respond, they will possibly annul the contract. If you need more time, inform them so that they can ask you to get it signed by EOD.
How Long Does It Take to Get an Apartment? 
After filling the application form properly and submitting it to the authorities or the lease manager, you can wait for about 2-3 working days to finish the apartment approval process.
Always ask them about how long you have to wait to get your form verified and hear back from them. In the meantime, they may contact you if they need more information or if they have queries regarding the form.
Finally, you can get a confirmation call from them by a maximum of 3 days, if your form is approved.
Always remember, if you want to increase your chances of getting approved for an apartment, you need to convince your owner by making a good first impression. Getting approval can be more stressful than looking for the perfect house to stay.
For this reason, it is suggested that you finish the application process as soon as possible. Finishing the form fill-up is tougher than it seems. As already discussed, supporting proof documents are mandatory. 
If you do not have your bank documents, identity proof, or reference letters ready, this will delay the procedure and it would be more difficult for you to get an apartment to stay in.
How Long Does a Background Check Take for an Apartment? 
As mentioned already, the complete procedure of application takes about 2-3 days. The background checking process involved is a very meagre part of it and takes a maximum of 2-4 hours to be completed. Deepening on the owner, your check can be quite expensive and include several things like:
Residential history to understand all the places you have lived at previously. The authority may speak to your previous homeowners to get data about your reputation as a renter. This is a crucial part and the form may get rejected if you don't mention this in the form.
Besides, the authority would like to have an exact idea of your income to check your capability of paying the rent timely. Therefore, the job history also falls under this category. If you are a fresher, you would then need reference letters to prove your reliability.
Another important element is your credit data. Your score may be less than the adequate amount but what matters is the pattern. If it shows your untimely bill payments or huge debts, that may count as a fault in your background. 
The extensive screening may trace back your activities before 8-10 years to check your abilities. Also, landlords need to be fair and consistent while performing the apartment application approval.
CONCLUSION: - These tips will be helpful for you in making the right choice. When you have all the knowledge beforehand, your apartment approval process becomes a lot quicker, so that you get the apartment easily and instantly.
Categorised in: All News