---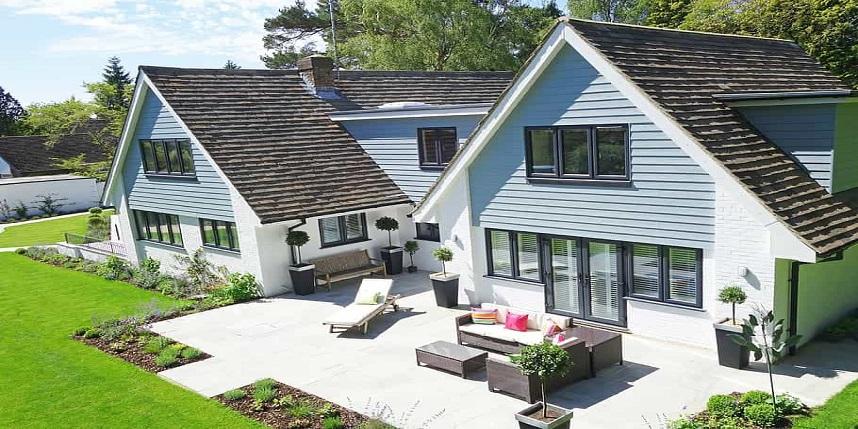 31 Jan 2020
In the UK, self-build provides an alternative house building where one tries to get more from the invested money. Though it represents a fraction of the new houses being built each year in the country, in Europe, over 50% of new houses built are by self-builders.
The stages of building a house in the UK include site preparation, laying the foundation, building a superstructure, building a wallplate and then the roof, adding roof covers and doing the first fix of electrical and plumbing.
In later stages, the drainage and external works are completed. After completing the basic structure, one can work on interiors and fix carpentry. Finally, in the second stage, electricals, plumbing and decoration are completed.
Anyone can buy land to build a house in the UK, and you do not require UK citizenship to buy land. But getting permission to build on it requires further approval from authorities. Overseas buyers may have the right to buy land, but land with planning permission to build can be hard to find. So do not buy building land without a very good lawyer in your corner.
You can achieve your dream and build a house in the UK if you gather all the information to hand to start on the journey. Below we discuss the ten important steps you need to know if you want to build your own house in the UK.
10 Steps to Build Your Dream Home
Every self-built house is different, and one way to build a home for cheap is to look at a breakdown per square metre. So let us have a look at some factors to understand how to build a house in the UK:
1. Deciding Your Requirements-
To build a home, you need to choose the location of the plot. Next, you need to look at the size of the plot. On average, building costs can be between £1,000 and £3,000/m². So if it is a large bigger house, you will have to use economies of scale in your favour to lower the cost per square meter.
The building cost depends on the region and city where you buy the plot. For example- London's land and labour costs are the highest.
Your involvement can lower the overall price of the project. However, it would help if you researched on likely costs of the land, builders, architects, fixtures, material, fitting and decoration and calculated the expenses to determine if you can cope with such a huge financial commitment and then work out the ongoing costs.
2. Selecting the Appropriate Site-
You can check out the "plot finding services" online. Explore the local area, visit auctions, and ask your friends. When assessing your plot, look for planning permission, access issues, services, title deeds and other legal factors.
Even if you plan to build a tiny house in the UK, you need to register with the local authority under the Right to Build scheme, as local authorities in England need to keep track of the demand for serviced plots in their area.
Choose the design to accommodate all the desired features, plan and work on constraints like budgets and expenses on the layout, location and looks.
You need to get approval from the local planning office to avoid any legal obstruction to your project. Self-build projects will demand so much of your time, energy, brain and money, and many hire experts to handle such projects.
While approximately 11,000 self-build homes are built each year, less than 10% of homeowners are physically involved in the process by taking on the building work. Therefore, if you are involved in building construction work, you should keep at least 10% of the budget as a contingency.
3. Choosing the Design for Your House-
The building design of your home will naturally have a major effect on its actual building cost. So to know how much it costs to build a house in the UK, you need to work with an architectural approach that has a reputation for designing projects so that they can help you bring your vision to life within your budget. You also need to employ a contractor who understands the basics of the target cost for your project.
4. List of Materials Required-
To plan how to build a house in the UK, you must prepare a list of all the aspects of the building structure that you would need as a part of the structural process so the prospective builders can understand the design more easily and evaluate costs more accurately.
5. Overall Pricing-
Since you need to buy all the building materials, you need to carefully look for all the criteria to determine the prices and get the necessary information to estimate the average cost to build a UK house. In addition, many building contractors under-quote at the outset, especially for design and build contracts but may later ask for an extra payment. So you need to keep additional money for such contingencies.
.6. Appropriate House Plan-
You need a flexible house plan to keep your costs down and ensure you stick to the budget when you build a home in the UK. Your design needs to allocate space to rooms - the bedrooms and bathrooms, living room, garden, kitchen area and other extensions.
Having the right architect means achieving the right, one-off design for your self-build home. You can see the past work of the architects to get cost-effective designs. Also, you must have a design compliant with building regulations, approved by the planning permission.
7. Custom build-
To ensure the house is structurally sound and within the given budget, you must incorporate customised or standard features, practices and materials. Self-build is not viable for some people, but the idea of custom build may work as it removes some of the obstacles self-builders face, like finding land, securing planning permission and getting services to the site. Custom builds are usually managed by developers who can provide all information on the financial requirements.
8. Adequate Finance - Mortgage –
Getting finance for an existing home differs from getting a mortgage to build your own house in the UK. Self-build mortgages tend to follow one of two structures, an arrears-type mortgage and an advance-type mortgage. An arrears mortgage is the most common form, but it requires you to put money for a stage of the build that you can get back at the end. You can get advance mortgages ahead of each stage but offer less favourable rates.
9. Hire A Contractor-
You don't need to be an expert in building works to be a successful self-builder. Approximately 40% of self-builders manage their projects, and the rest are handled by builders or package companies on their behalf. You must try to get the list of renowned contractors in the UK ready to work on your project and compare their fees to select one.
To build a house in the UK, talk to the contractor and estimate the work's completion date. Never go for a builder who offers you a low-priced quote. Instead, ask for samples of their work and talk to previous customers to check the quality.
10. Ordering the Required Substances-
You can order the building materials or ask your contractors to order them. If you buy yourself, you can lower the price by getting from specific suppliers offering discounts or choosing low-cost material.
How Much Does It Cost to Build A House in the UK?
Though it is difficult to estimate the cost to build a house UK as it is dependent on flexible parameters, like the cost of plot / built area, the stamp duty, the cost of the planning application, contractor fee, and getting services to the site(transportation cost), labour charges and other fees, if your tender documentation is accurate, your final house build cost will generally be within an acceptable range of some +/- 10%.
House building costs vary from one part of the country to another. Captial city is the most expensive. Labour accounts for 40 to 45 per cent of the total building cost. Other expenses include the cost of moving on, building design, transportation, specifications and project management costs. Building costs in the UK start from £1,750 per sqm and can go up to £3,000 per m2.
How Much to Build A House UK In 2022?
After completing all the plans and structural drawings, one can estimate the average cost, which can vary 10% plus or minus. Depending on various factors, the requirements and costs of a new build house vary.
Cost-Increasing Factors:
The costs of mortgage, plot, labour charges and project managers' fees increase the house's budget. In addition, the extensive use of expensive building materials can increase the overall cost.
The Costs Of Construction:
The construction cost varies depending on the location. To build a house UK in 2022, you need to spend a minimum of £1750 per square meter. You may have to spend 15 % more on building costs to cover the cost of hiring architects, project managers and engineers. An additional 8 per cent is needed for statutory consents and contingencies.
How to Build A Tiny House in the UK?
Most tiny houses require 20% of the cost of the regular build, where you may have to spend in the range of £50K -£65K. However, it can be more expensive depending on the design, final specification and the level of solar panels and batteries. As the tiny houses are not so costly, the people prefer to build such attractive tiny houses. You must contact an expert architect if you wish to build tiny custom houses according to your specifications.
Most of the tiny houses have wheels. But in the case of wheel-less, you need to get approval from the planning commission to build a tiny house UK.
How Long Does It Take to Build A House in the UK?
It takes 8 – 12 months to build your own house UK where you start with research to get the right plot, a mortgage, and design and planning; the overall timespan may stretch up to two years, although each project is different.
It also depends on service accessibility and the type of building material used in the project; some are discussed below -
The Timber Frames
Such types of houses can be seen mostly in rural areas. Rural two-story house built with timber frames takes time to complete. The estimated time for constructing a timber frame house is almost eighteen to twenty-four weeks until fit and finish. For the foundation, it rarely takes two weeks. But depending on the accessibility, it can take up to three or four weeks.
Build With Blocks And Brick
The modern brick houses require a week to get the foundation. And for the shell, it takes up to sixteen weeks. For the finishing and fittings, it takes twenty-four weeks or more. So a two thousand-square meters brick-and-lock house can take over a year to complete.
A Concrete Formwork of Insulating
The grand design of timber-clad self-build houses takes up to sixteen to twenty weeks. The builders and structural engineers use an insulating concrete framework to construct such a house. The superstructure of the houses takes one or two weeks. As every project building differs, you need professional guidance to get the most suitable one.
Where Do I Start If I Want to Build A House?
Before starting, research the likely cost. Per square meter calculation is not enough for building a house. The cost of land, architects, builders, materials, fixtures, fittings and everything else should be included.

Check affordability and determine your budget.

You need to consult experienced architects, project managers and other experts in building construction to move in the right direction.
Is It Cheaper to Buy or Build A House?
The average profit on a well-managed self-build project is higher than on developer estates, but you may not get a mortgage on such projects easily, and all types of financial institutions may not offer it; the traditional route needs more time and financial input, making it unfeasible for first-time buyers.

The UK government hopes to grow self-build by introducing new infrastructure schemes to help those interested in building their own homes get better access to mortgages, self-build plots and more.

Building a new house is generally complex because each project and its construction methods, corresponding structural approaches and desired levels of fixtures, fittings and material finishes are unique. But the government has taken initiatives to encourage willing homebuyers as it helps to solve the housing problem.

The purchase of building materials for a self-build project is VAT exempt. It means you can claim back expenses at the end of construction.
Conclusion:
If you build your own house, it's likely to cost a lot more than what it costs you to buy a prebuilt home. You get a chance to live in a house of your choice, and you get more space for your money and a chance to live in a more sustainable home.
To start, you need to list the average cost of the variables like land foundation, site location, building material, architects fee, contractor fee, site development, planning commission costs and other services charges.
You can estimate the cost of building in pounds per square metre and compare the rate with developer estates to find the difference. Government supports self-build homes through various schemes and plans to launch the Help to Build scheme to promote such homes.
Categorised in: All News