---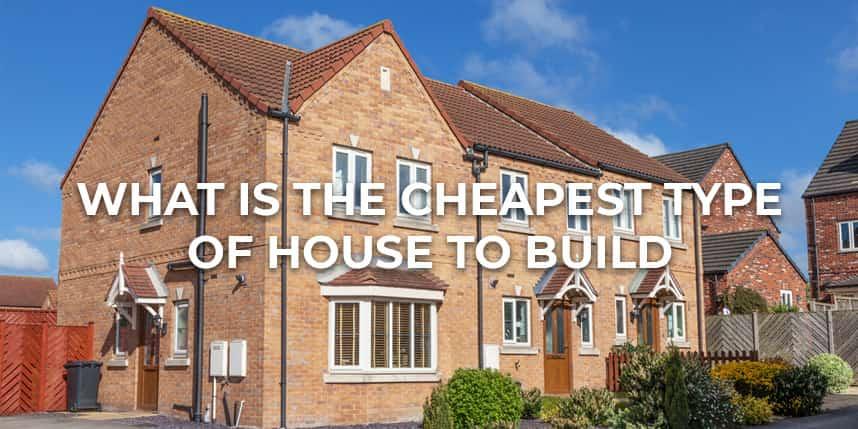 11 Aug 2021
Introduction: - Every human being in this world wants to have his own home, where he can cherish every small moment of his life. But you need to hold enough dare to give a real look to your dream. Because finding your dream home is not easy to have a piece of a cake. It is very challenging than you think. In many countries, inhabitants become frustrated about finding a home within their budget. In this article, you will know What Is the Cheapest Type of House to Build?
So, if you are too stressed out to find your perfect home, then you can move towards the following ways to build your dream house. There are several exciting ways to build your dream home by yourself.
10 Cheapest Ways to Build a House
Here are some Cheapest Ways to Build a House and you will be satisfied that you have built this on your own.
1. Plan A Manageable Home Design: -
The best way to start your dream home project is a good and manageable home plan. Without proper cheap house plans, you will not execute your project properly. You need an appropriate detailed plan to build your dream home. As you are wishing to create your dream home by yourself then try to plan an easy house plan, so that no complication will arise and no extra huge cost you have to bear.
It can be seen in many cases that building a multi-storied home is easier instead of a one-storied home. Also, you can get extra space. Because, in single storied home, you have to create multi spaces and you might not have wider space. So, try to build a double storied, which will be easier and beneficial for you.
2. Try to Take Suggestions from An Experienced Builder: -
It sounds really weird that here we are trying to find out money-saving ways of building your house, so why do we suggest such an option? Though an experienced builder will indeed charge higher rates. But as they are experienced, they will guide you according to your requirement and most importantly following your budget criteria.
Experienced builders have a lot of skills as they are pros in this field. They have faced many obstacles when a project was going on. So, by taking their solution, you will understand what problems can arise when you will run your dream home's project. You will get essential tips on where to spend and how to save from extra expenses.
3. You Can Go with A Smaller Home: -
Maybe you dream of a big home, but you must consider the reality. Not every time your pocket will permit. And you will be amazed to hear that smaller and organized house are in trend. The benefits of building a smaller house are you don't need to think extra-ordinarily that something beyond your budget.
The average cost per square foot to build a house that is smaller in size is naturally much cheaper than the larger one. Material expenses will comparatively low. So, initially try to move in a smaller home, after some time when you will feel that you can afford a bigger space, and then you must try for it.
4. Make Smarter Moves: -
When we talk about smarter moves, then it is definitely about your overall calculation and execution of your dream home's project. You are doing a budget-friendly project, so your every move should be smarter. First, you need a plan and the plan should be according to your budget. Calculate the overall budget and step forward accordingly. Try to follow strictly on your budget.
For this, you need to focus on your expenses. If you are hiring a contractor, then be very careful. Because, they often try to show you enlightened features of some designer material, which will beyond your calculation. So try to omit those and pay only for those which are essential and must required materials.
5. Save Charges by Applying Building Ideas of Your Own: -
We all have some basic knowledge of renovating house parts. Because of tiny fixtures and movements, we can take care of this on our own. Many people will suggest hiring a seasoned contractor, but if you have enough practical knowledge just like any skilful building renovator then why should you pay extra on hiring a contractor?
If you think, is it cheaper to build a house then you can think by yourself that what moves you should make to build a cheaper house. You need to make smarter choices. Gathering building contractor's knowledge will help you now to build your own dream house on a pocket-friendly budget. It will give you satisfaction, also save your extra bucks.
6. Choose Building Material Carefully: -
When your exterior plan and the room-wise plan are ready, then it's time to choose building materials. When you are on the track to saving extra expenses, then select building materials very carefully. Because many people will suggest to you that choosing the high-priced materials are only the best. But it is not at all true.
You need to roam several markets or you can search for the cheapest materials to build a house online. Compare pricing and features, before finalizing materials.
7. Approve Your House Plan As Soon As Possible: -
It is important to sanction the plan of your dream house as early as possible. Because if you will not do this primarily then several legal hurdles you have to bear. Also without taking permission from the higher authority of your locality, you will not start inserting a pin in your project. Usually, getting approved a building plan will take a minimum time.
In the meantime, you can focus on your budget for further expenses. So, it is better to get your house plan approved by the government sector as early as possible.
8. Go with Environment-Friendly Materials: -
Nowadays, people are very conscious about saving energy. Then why not you also make such moves? If you choose cheap houses to build, then energy-saving materials are the best for you. Solar and wind-produced energy has become the trendiest sources of energy. You can save more liquid cash by including such energies.
9. Try to Apply DIY Effects: -
There are loads of designer home fixtures and items that every one of us wishes to see in our dream home. But it is not possible if you are not in budget saving mode. Then what is the solution? Do-it-yourself projects are for those who wish to portray their creative sides to their visitors.
The benefit of it is you can do a lot of things, art effects; décor items and it will save your money from buying expensive designer items from the market.
10. You Can Buy Discounted Building Stuffs: -
If you wish the cheapest type of house to build you must set all quite reasonable things. Moving from high-rated materials to discounted ones can be a smarter move. Both work the same, but the high-priced material has more convenient features. But basic functions are the same. Therefore, if your budget is quite low then select building materials that are much reasonable but useful.
What Are the Cheapest Materials to Build a House?
People make their houses with great care and love. So while making it, you will also have to think about how you can maintain it. There are many cheap types of houses which you can build for yourself and your family. You will just have to gather few elements for it. Specifically, you can use the containers which are used in shipping. It is a matter of security. So contact those firms, and you can get them at a very cheap rate.
Transfer it to the place you can make your rooms. Then come the fabricated old tiles and the bricks. Undamaged and painted tiles can give the house a great shape. If you stay at a deserted place and don't have anything fragile in your home, you can make it with the help of lumber which is of no use.
Usually, people make stages and other sites of films. You can buy them on a straightforward take and make your house. People in Japan use this method to make their own houses.
How To Build a House Cheap and Fast?
Cheaply making a house is way too easy than making a simple big house. You will just new few workers, and all the plans and the materials should be ready. Get to the location and start to press the dimension of the exact place. The design should be simple. Give the border with breaks and woods of all the room.
Then make the foundation on which you will start to make the main walls and the room partition walls. If you have any hurry shifting, then just make the walls without any space of windows. Get few areas left from where the wind and oxygen can flow.
You can cut the windows section later with time. If you are building it in the rainy season, try to cover it with some waterproof cover so that no water comes in and damages the woods. According to the plans, place the water pipes where they should stay. Stick and cover it with some Mets so that it gets a safeguard from a storm or any other natural calamities.
What Is the Cheapest Type of House to Build Per Square Foot?
You can make any small structured design made straightforwardly and cheaply. If you talk about the rate per square foot, it will be around $150-$200 per square foot. At first, make sure you have all the material. The woods are very readily available in the market. Only you have to buy the type of screw and nuts.
Then call up an architect and a carpenter. They will do all the measurements and try to build it on short notice. Depending on the size of the house and the workforce, you can make it in 2 to 3 weeks.
The weather should also permit. Then come the covers and beautification. There are many repainted, well-fabricated sheets. Attaching them to the walls will protect the house from getting damp. This is the only way to have a cheap house build. There should not be any grass. The muddy and soft soil will later erupt the foundation of the house.
What Is the Average Cost Per Square Foot to Build a House?
This is a bit tricky question. That can't be said perfectly because it depends upon the quality of the soil, weather atmosphere, minimum wages of the workers, and mainly on the price of the materials. But the average price per square foot to build a house will be around $170. You will only have to do the planning and choose a place.
If you already have a place in mind, start researching which materials can make a compact, ideal house. In rain-prone areas, the best idea is to make with breaks, and in the earthquake, none should be made of wood.
But whatever you do, make the foundation with leaves and healthy new materials. Using woods will be the cheapest every but you will need to protect them. The design can be changed at any point in time, and the way is far more accessible.
Is It Cheaper to Build a House?
It is self-evident to make a house is far cheaper than buying a home. If you have the plan and the materials at a very cheap rate, you can make it at any point in time. If you own a program that will cut your cost by almost half of creating an affordable house. Making is better than buying because you can make it in your way.
If you are leaving with your family, you can ask them what kind of design they want in their room. Already ready-made house will have a plan, but that can't be changed easily. It may not be of the design or mood you like.
If you don't have any strong feeling of making a house, go around and look for options and then try to do the needful. You can save a lot if you do your planning, research work, buying materials, and other staff.
But prebuilt house may be older than it thinks. If there are any hidden damages or problems, you will never get to know. While doing this kind of work, try to ask other peoples who have already made their house.
Conclusion: -
We have given the ten finest and useful tips to build your dream home by yourself. By following these, you can surely achieve your target and save some extra bucks.
Categorised in: All News