---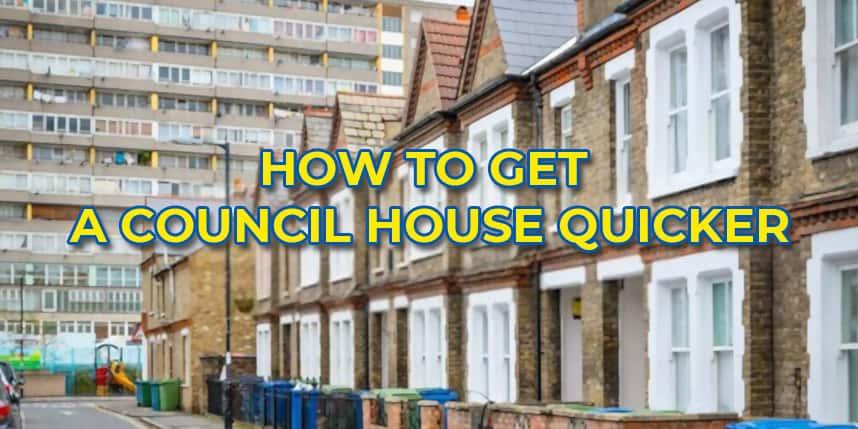 21 Jul 2020
How To Get a Council House Quicker? Subsidized housing is a very significant part of the UK council housing scheme that consists of the local authorities (or councils) and non-profit housing associations dwellings that provide low-cost rented accommodation to over 5mn households in the UK.
Such dwellings give higher security from eviction as compared to privately rented houses. Homeowners can register their properties with the regulators as social landlords to offer their homes to the scheme.
It is considered to be a good choice in case a person is seeking an accessible, adaptable and secure dwelling, but one may have to wait longer to get the allotment against their application.
To apply for it, one should meet certain basic criteria like being homeless or medical urgency. Even in conditions if you meet these criteria, the waiting time can belong.
There are other complications associated with such schemes, where one may have no option but to accept an unfurnished habitat and may have little choice over the type and location, in particular, if you do not have choice-based lettings in the area.
To apply for getting such homes or to speed up such applications, you should contact a housing advisor, who can guide you through the process where you can find ways to prioritize your case and avoid rejection.

What is Council House?
Social landlords and local housing authorities deliver residential units to homeless people where the council uses a set of rules to prioritize the applications based on who needs a home urgently. Such units should have certain minimum standards to meet the definition of a decent home.
The UK government website provides a basic set of criteria that should be met to become eligible to apply for it. Mainly, it is offered to -
Families in a low-income group, or

Without a large amount of savings, or

Those living in overcrowded, or poor condition homes, or

Those who have lived in a certain area for years and have a local connection like a family or job there.
At the time of allotment, priority is given to the homeless and those with serious mental disabilities or long-term health conditions.
People may want to shift to a certain location to eliminate hardship related to travelling or medical treatment, or there can be an urgent need to relocate due to the new job offer, but the mechanism to deliver such residential units is determined by the local authorities.
While it is no longer directly built by them, it is acquired through several mechanisms by the authority like acquiring requests for construction tenders, purchasing the already built estates or complex methods to get new private estates to transfer the ownership.
Since the 2007 financial crisis, there has been a significant decline in such constructions and increased reliance on purchasing new dwellings. Certain researchers find that there is a need for diversification and hiring specialists to handle the housing assistance programs and payment systems to be able to provide suitable accommodation with a maximum level of subsidy.
Also, there should be a relationship between the rents and the adequacy of revenue spending on such dwellings. However, there is a strong commitment among the officials associated with such an organization to provide, manage and maintain it efficiently.
Maintenance of such buildings are classified into
First is the "Response maintenance", where the maintenance includes emergency repairs or routine repairs, depending on the tenants' request.

The second is "Planned maintenance", where repairs are upgraded to protect the framework of the place and improve the basic standards.
Council housing is allocated through the process of scrutiny of the application form by the local authorities, which means there is a long list of people who are registered to the housing register.
As per law, some people are given preference over others at the time of allocation, and the applications for such housing is prioritized in line with policies set by the authorities and quicker homes.
When it becomes vacant, the authorities select the most eligible person from the waiting list to be the new tenant, and this can be a person with the highest priority who meets the desired conditions.
Councils fill some such properties, but some associations have their waiting list and rules to accept direct applications or accept referrals from other organizations like the social organizations that provide recommendations for some applicants. Still, then the allotment is not classified as allocation.
Such allotments are handled by another organization, like a contractor who allocates them on behalf of the government agency. It can be a private firm that has been given the responsibility of handling the applications and allotments, but the final decision can be altered or challenged by the authorities or the tenants.
Like council housing, sheltered homes can be offered by local associations and authorities, and there are certain rules for the applicant to get priority in such bids.
Social landlords in England can charge affordable rents, which can be up to 80 per cent of the local market rent, which means it is generally higher than rents in other social properties, but it can be lower than the private rents.
How To Get a Council House Quickly When the Pregnant UK?
At the time of applying for such residential units, the council should be informed about the medical condition of the applicant, like if you are pregnant or have another child.
Anyone homeless and pregnant can make the homelessness application to the council where your application should not be placed as the bed and breakfast because your need is related to a certain emergency condition.
In case your landlord wants to evict you from his / her property, they need to follow proper procedure.
Those who suffer the loss of a job (or loss of wages), or when are harassed at the place of residence, or if preparing to move houses, have developed some kind of medical condition, or are in urgent need to get some medical care, they should let the council know about it.
How To Apply for A Council House?
To apply for such homes, one may have to provide details related to their medical condition, current residence, proof of income, savings, personal details and other assets. The person may have to provide evidence to support the claim.

A GP letter may be required to claim such homes on medical grounds.

One may have to tell the local authorities about the illness, disability like the inability to travel a long distance, or need to live close to a particular person or shops or bus route.
Who Is Eligible for Council Housing?
Different councils have different rules for the reasonable reference group. The key preference is given to
Those who are homeless or those who live in overcrowded, unsatisfactory, unsanitary houses that lack adequate heating or are in a state of disrepair.

One can get preference on medical grounds like mental or physical illness or those with a learning disability that makes the current home unsuitable for living.

There can be conditions when a person has to move to a certain area to lower hardship, like if they need access to a specific area for medical care.

Priority is given to people who are homeless as a result of violence, or they need to move due to life-threatening conditions or sudden disability.

Those who live in overcrowded properties pose serious health hazards.

People belonging to the armed forces or those who are a member (or former member) of the armed forces, or their spouse, or civil partner of those who died in service.
Who Gets Priority for Council Housing?
The allotment is based on several factors, and one should try to assess the outcome of the application, like whether you will be given priority, if the house meets the needs or how long it may take to get it.
For the local housing market, you may not know how many such homes are available and how many people have applied for it. You can examine the level of priority; compare how many people want such homes and how many homes are available to know when you can get it.
As you provide details about the type, size, and location of the property, you need to tell if you are ready to negotiate and are flexible on such demands or not.
Certain authorities have reduced the waiting duration, particularly for sheltered housing. You should also inform the authorities if there is any change in personal circumstances.
Getting A Council House on Medical Ground
Disability can be in the form of a mental or substantial physical condition, which has a long-term adverse impact on the ability to conduct normal day-to-day activities.
For those who suffer from some form of disability, in the choice-based lettings, they are given priority. You can apply for a review of an allocation on health grounds where-
You should be able to tell about the health issue to the authority and request a review if you find that you cannot get the dwelling due to your current immigration status or are not qualified to get it.

One can request a review in the case, are not satisfied with the kind of property allocated, like the house in poor conditions or the ones that need huge repair work,

Or ask for review citing medical issues or welfare needs,

Or take into account other factors to decide the reasonable or additional preference or to get priority.
Getting A Council House with Depression
People with long-term mental health difficulties are vulnerable, and a suitable home provides them with a safe and secure environment, which is important for the recovery and maintenance of mental health.
Those with such conditions, if they are living with their caretaker, and if it places a lot of burden on the family, raise the risk of making them homeless or spending time in prison.
Council housing is not just about the place of living; it involves providing support to the tenant, which includes adaptations and tenancy sustainment services. Managers are hired by accommodation providers who hire staff to take care of the needs of people with disabilities.
Professional support services like mental health units, counsellors and therapists are hired to meet the higher needs of such people. Some of them get the needed quiet, reserved environment to be able to live undisturbed.
Council property plays an important role as -
They get the right to choose where and with whom they live.

They can stay at such homes if they are long-stay patients who need to live continuously in hospitals or if they have passed from acute to long-term care units and are staying in long-term acute units.

They can be offered security from abuse, bullying, discrimination and prejudice.
How To Get a Council House Quickly Ireland?
Council housing support is offered to people who do not have adequate money to pay for their own houses. In Ireland, one can get support like they can rent a house or apartments from the local authority or they can adopt schemes like Rental Accommodation or Housing Assistance Payment or Leasing Initiatives to get help.
Older travellers and people with disabilities can get support through the council, or one can get a grant to invest inaccessible homes.
Approved housing bodies provide houses to people who cannot afford to buy on their own.
Authorities have their own rules to determine the relative position of the applicants with certain local priorities and reasonable preferences. There are certain laws for allocation that determines the grounds for getting preference over others at the time of allocation.
The authorities can allocate some of the housing by making direct offers to people waiting where the law does not provide clear guidelines to how the offers should be made, but they can reduce the priority level of an applicant if they turn down the offer.
Certain basic rules for allotment of council property in Ireland are
You must not have any suitable apartment or flat to live in,

You must not owe money to other local authorities in Ireland,

If you are from another country, you should be living in Ireland,

And you should explain your connection with the area like family, work, medical needs, education or others.
How To Get a Council House Quicker Scotland?
You can apply for a council property, or a flat, or support accommodation, or a sheltered home, with the council in Scotland where anyone above the age of 16 can apply. If the council refuses to accept the application, you can get advice on it from the centre.
It provides access to council-backed accommodation for people with special needs like the elderly, those with a disability, mental health issues, learning issues, young with needs, refugees or ex-offender, or those taking therapy for alcohol/ drug addiction.

The eligible people need to fill out the form and wait for the council's allocation.

You can apply to the local housing register to increase your chances of getting accommodation.

There are also options to get such a dwelling at a lower rent (70 to 80% of the market rate).
How Long Does It Take to Get a Council House?
The authorities examine the application and determine the priorities between the applications of those that belong to the reasonable preference groups. The rules are mostly related to the financial resources, the local connection to past / present residence, current employment status, special circumstances, family, the behaviour of the applicant or member of the household and others.
The wait depends on the type of accommodation selected by the applicant, the number of applicants opting for the same, and the number of available lets. For example - Band A – sheltered accommodations may take on an average of 4 months to offer allocation. Band A 2–Bed takes 6 months, and a 4-bed home can take up to 18 months.
What Happens After You Bid on A Council House?
The local authorities allocate accommodation in whatever manner it believes is appropriate, and they may operate choice-based letting, which allows the applicants to bid for homes advertised in the local papers or websites.
One can apply for such homes through the online system, where you get the option to look at the home and see if it is suitable for your requirements and let the council know if you are interested in bidding.
The council may direct your application to the bidding, where you can post your bid before the closing date. Bidding does not ensure you will get a council house.
The conditions to bid council house -
The local authority can place restrictions on bids and take offers only from a specific group of bidders; bidding can be allowed only to homeless applicants or families of a certain size.

Once the council accepts bids from all the interested parties, it can make an offer to the applicant with the highest priority.

Bidders can belong to the highest priority group, or the one with a higher bid or the one who meets the priority criteria can be offered.

If you find it difficult to bid, tell the local authority and know-how to access the properties and place bids.
Many such homes are sold to tenants where the cost of the dwelling is often 40 to 60% discounted off the market value, and the proceeds are not considered sufficient to cover the replacement costs.
The affordability of financing the social sector and its value for money has been questioned and certain studies find that subsidization of private rent is a more cost-effective and flexible way to meet the growing need for housing of the low-income group than providing council housing.
Categorised in: All News