---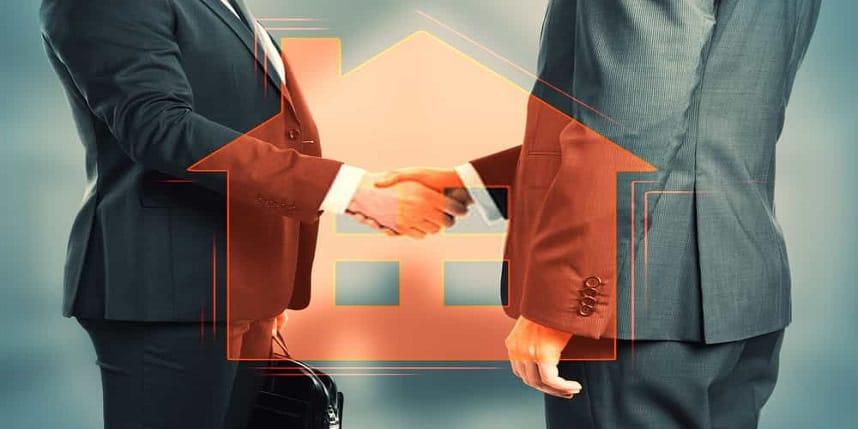 18 Jan 2020
Introduction: - An estate agent can give you an idea about how much your house is worth or what its market price should be. They have various property listings and the market price of other such homes like yours, which can provide the resources to quote the right price for your property.
The other roles of an estate agent are - to get your property photographed, get a detailed floor plan and write a description of the home for posting / uploading an advertisement on the shop windows or popular property portals like Zoopla or Rightmove. The estate agents get a commission to do all such basic works at the end of the deal.
The real estate agent also needs to do all the legal work like getting the energy performance certificate, obtaining the registry details, or managing a survey. Finally, the client pays a commission at the end of a sale to advertise the home, bring interested buyers, get feedback/reviews from visitors, prepare reports of the viewing lists, do the paperwork, finalise a buyer and make the final sale.
They may stay in regular touch with the clients and ask for feedback in the after-sale phase. Here we discuss some essential skills for real estate agents to succeed in their careers.
Here Are Ten Essential Things A Real Estate Agent Does?
1. Interpersonal Skills: -
Real estate agents should have negotiation and persuasion skills to win clients and get a deal. They should be aware of the market directions and must gain trust and reassure the clients. They should be confidents in how they talk and liaise with professionals.
They can succeed only through consistent effort, patience, and great negotiation skills. They will have to negotiate with different stakeholders like sellers, buyers, lenders, renters, and builders, and the job role is to listen, communicate, and give suggestions. They must listen to the client's requirements and finalise the deal to earn commission or incentives.
Unfortunately, some agents are too consumed with pushing their agency instead of successfully selling their most difficult client's property. A good real estate agent is the one who can get a deal for even the most challenging properties.
2. Social Media: -
Websites can provide a platform to promote a marketing agency or a brand. Yet, if you work independently or with other real estate agents, you can use social platforms to let people know more about your business. For example, you can create a profile on Facebook, LinkedIn, Twitter, Instagram, YouTube, Pinterest, and others and answer some of the buyer's common questions.
Some may even ask about your business, like what does a real estate agent do? Or how much does a real estate agent make? Then, you can upload the marketing brochures, business ideas, pictures/videos, post blogs and other relevant details on social media to tell people about your job.
3. Applying Technical Skills: -
A successful estate agent will use technical skills to gather resources from multiple sources and answer the clients' queries. In addition, they can use such skills to market the deals online and use technology tools for follow-ups, online registration, legal work and other activities related to customer service.
4. Mentorship and Consultancy: -
You may have to do time management, inventory management, credit consultancy, bank lending consultancy, and also provide legal advice. Real estate agents should be aware of the latest news in the property market.
They could do online courses or follow industry experts on social media to gain market understanding. With the information, you need to be accessible on the internet to provide consultancy and mentorship to others.
5. Home Inspection and Credit Facilitation: -
A real estate agent will arrange viewings of the seller's home and guide potential buyers around the property, answering their questions or queries. The agent must ensure the property is secure when bringing any client to the place for viewing.
Once a seller is interested, the agent may have to arrange an open house or auctions for viewing where many buyers visit the house during a specific time.
The benefit of using an estate agent to conduct viewing is that one can be seen as a neutral party by the potential buyer. In addition, the customer may ask the agent questions they may be embarrassed to ask the owner themselves.
Some real estate agents work online, earning fixed pay for advertising the properties and contacting customers for their clients.
Some hybrid estate agents allow local property experts to do the viewing for the client.
6. Helps in Property Searching Out of The City: -
A property agent's job is to choose the property that suits you the most, and they may have to go outside the city or country to find information to answer your queries. Work is office-based, but you'll also spend significant time visiting properties for valuations, marketing opportunities, or viewings with potential buyers.
A real estate job description requires them to meet many people to conduct property viewing, advise clients, market / advertise properties, negotiate the rates, value properties, book surveys, get assessments, collect rents, and manage the rental/ lettings.
7. Look for A Property Management Company: -
Real estate agents typically work with other agents, brokers and property management companies to discuss new listings, get updates on current listings, or discuss their client's requirements. It allows agents and brokers to quickly gather first-hand knowledge of properties available in the local market.
Many people think an estate agent's job ends once an offer is accepted, but this is where an estate agent's work starts, ensuring that the offer moves forward to the critical points of exchange of contracts. During this period, the estate agent works as an adviser and negotiates through the sales process.
8. House Vacancy Management: -
Selling and buying allow the real estate agents to earn a commission. However, those working in retail, logistics, and industrial sectors use many other mechanisms to progress.
For example, they need to manage vacant properties, work on renovation or modification of apartments, handle repair work; need to ensure the tenants empty the house as per the agreements, get new contracts with new tenants and collect rents from non-vacant properties.
A commercial real estate agent does not require specific qualifications to start a business; however, they are regulated under the Estate Agents Act 1979, which provides all the details related to buying and selling properties in the UK.
9. Temporary Residing Place: -
Agents may be involved in providing temporary living arrangements to those who want to get a low-cost dwelling option for a short period. Living in a hotel for a short time, like one week or less, can be expensive, and renting requires lots of documentation.
Whether looking for a house for one day or three months, renting requires multiple stages of personal checks that one can avoid by contacting a local agent.
10. Miscellaneous Work: -
A real estate agent must vet prospective tenants by collecting references, performing credit checks, ensuring the properties meet legal, health and safety requirements, getting tenancy agreement contracts, collecting rents, resolving disputes, and handling legal matters.
What Is A Real Estate Agent?
In the UK, a real estate agent works for a company often for long hours, and the job can be very high pressure, though it can be highly rewarding. Depending on the firm, it may not be a normal 9-5 hours. Some estate agents have only evening and weekend appointments, while others may only have a few viewings daily.
Securing the right deal can be a huge thing for both buyer and seller, so being a real estate agent can be very rewarding, where you get a commission at the end of the deal. Furthermore, you will meet and work with interesting people daily and may get a chance to earn incentives.
What Does A Realtor Do?
In the US, realtors must subscribe to the standard of NAR, and real estate agents need certain educational qualifications and licenses to work in this field. In addition, the seller typically pays both the listing agent and the buying agent, and each receives about 3% of the transaction cost.
But in the UK, the equivalent of realtors is self-employed estate agents who earn commissions, though they may operate under a real estate brokerage or a realty. As a result, customers are accustomed to estate agents who play a huge role in the UK property market.
What does a realtor do? They help buyers find a home, manage investment properties and help sellers make money on an investment. Unfortunately, property purchases can be very difficult for most people as many rogue builders and unscrupulous property developers wait to take advantage of inexperienced people with little industry knowledge.
So, an estate agent can be helpful in many ways. In the US, an agent must work under a broker and pass the needed examinations, along with continuing education; on the contrary, in the UK, agents are less regulated.
What Does A Real Estate Agent Do for A Buyer?
In the UK, agents work with their branch. They need to liaison with solicitors, and legal advisors, search for the property, advise clients, do the promotions, negotiate prices with the buyer and the seller, value properties, conduveys and assessments, sell properties, collect rents and manage rental properties.

They may work in other areas like lending or renovations, where they may have to estimate the repair costs, or they may even advise the client on how to get a mortgage for their new property.
What Does A Real Estate Agent Do for A Seller?
Often less experienced estate agents aren't aware of the law, and those who are proficient advise on how to advertise, get a buyer, and provide other services. However, if the seller fails to get the right person to handle their properties, they may not be able to gain the desired profits.
Know some points on "what a real estate agent does for a seller."
They prepare the property for sale by measuring the rooms, taking pictures and sending them to potential buyers.

They do market research to determine the best selling price. However, buyers may not contact the seller if the price is not as per market rates. So it is necessary to hire an estate agent with existing regional market knowledge who can accurately estimate the price for your type of property.

They list the property and prepare a list of potential buyers with whom they've been in contact. Then, they'll vet these prospective purchasers so that you deal with those who are serious.

They have the relevant negotiating skills for counter-offers on your behalf.

They also do all the paperwork with the conveyancers and solicitors on your behalf.
What Does A Commercial Real Estate Agent Do?
A commercial estate agent provides professional services to support those seeking to acquire or dispose of non-domestic property. But, first, let's discuss some points on what a commercial real estate agent do.
For the Seller:
They assist clients with purchasing and selling a commercial property via auction to get the best price.

They are involved in private valuations, commercial mortgage valuations, CGT valuations and building insurance assessments.
For the Buyer:
Commercial estate agents can host property auctions to ensure better access to affordable and suitable commercial property. They assist the investor or buyer locate a site that meets the client's needs.

They assist the owner by leasing and managing the day-to-day situations that arise in any real estate investment.

They conduct a market study with the help of Real Estate Appraisers and engineers to determine the highest and best use of a property.

They find long-term permanent tenants for the property owner.

They help get a tenant, write a tenancy contract, collect rent, and manage properties.
How Much Commission Does A Real Estate Agent Make?
The standard real estate agent does the work to get a commission or get a fee that is 1.42% of the selling price of the property in the UK, and the average earnings made through commissions and other incentives are around £40K a year. In addition, many estate agent companies offer excellent benefits such as healthcare insurance and a competitive pension.
As per Zoopla, the average sale price for a single-family home in Central London in the last 12 months was £1,224,047. However, different property types in Central London have had different average selling prices over the last 12 months; detached was at £1,394,833, Semi-detached was at £2,806,125, and the agents get a chance to earn a 1.42% commission on the sale of such homes.
What Is the Difference Between A Realtor and A Real Estate Agent?
'Realtor vs real estate agent – There is no major difference between the two real estate job descriptions except that in the US, the person who sells properties is called a realtor, and they are called estate agents in the UK. They should have a license and be an active member of the NAR (the realtors association), but the UK does not require specific qualifications or licensing.
At the start, real estate agent makes between £14,000 to £20,000 on-target earnings, and experienced ones can make more. The average salary for a realtor is $97,019 per year in the US.
Conclusions: -
Real estate agents liaise with clients, advertise properties for sale, list properties at competitive rates on websites, handle sales communication, negotiate sales, and collaborate with solicitors and other property professionals to handle the sale of lettings residential or commercial properties.
They assist the investor, and the buyer locates the site that meets the client's needs. In addition, they facilitate and manage transactions, provide appraisal and legal services, assist in insurance and lending paperwork, conduct property viewing, hold auctions and manage escrow accounts. Their main role is to determine the best course of action to maximise a property's sales price and find the best buyer.
Categorised in: All News