---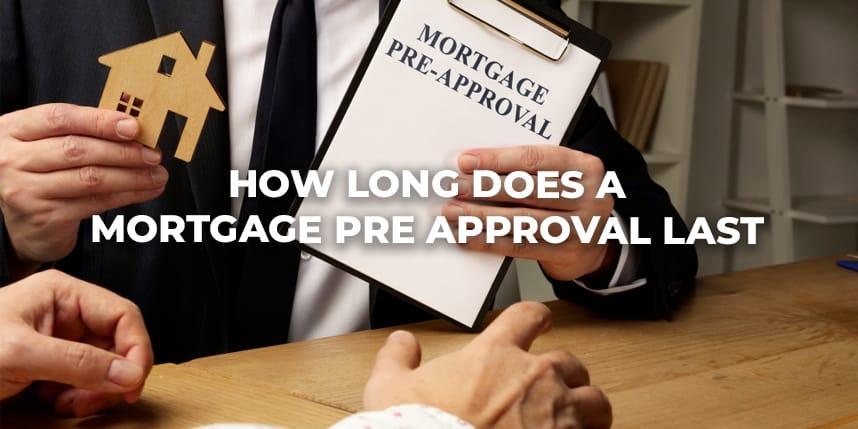 19 May 2021
Introduction: - A mortgage pre-approval is required for homeownership as getting pre-approved early streamlines other processes that come next. It is an attempt to understand the actual mortgage process. The process requires you to submit your financial details (credit score, income, assets, etc.).
The information determines the loan size and the interest rate you will be eligible for. Also, you'll receive an estimated monthly housing payment needed for budgeting.
It may be impossible to purchase a home without a mortgage offer. However, the lender may approve your application once you provide them with all the financial details required to carry out affordability checks and a property survey.
In this article, we try to find out How Long Does A Mortgage Pre Approval Last?
How Long Do Mortgage Pre-approvals Last?
Mortgage pre-approvals are made for three months or 90 days. As the interest rates keep changing and the credit scores are modified monthly, your financial situation can change with time. All such things modify your maximum purchase price for better or worse. If you haven't yet found a home when you're close to that 90-day window, contact your mortgage expert and tell them you'd like to get your application reviewed.
You'll have to provide some latest documentation, and they'll refresh your credit report and go over all the details again. Once they complete the process, they'll let you know if they find your application positive or negative. And you'll be given a fresh mortgage pre-approval note good for another 90 days of house hunting.
Benefits of Mortgage Pre-Approval Note: -
It gives an idea of how to search for homes and beyond what amount a buyer can't afford.

Sellers will feel that the buyer is serious and committed.

Buyers will get priority when they show a mortgage pre-approval letter.
Pre-Approval In Opposition To Pre-Qualification: -
Preapproval and pre-qualification are often used interchangeably. Here, we compare pre-approved vs pre-qualified mortgage loans to find the difference. You'll often find pre-qualification is a quick process, and it might get an immediate response from a lender. The most important work for a homeowner seeking a pre-approval letter is collecting all the required documents.
The paperwork gives the lender a full picture of the applicant's earnings, debts, and financial history. The information helps underwriters calculate how much of a loan one can afford and the level of risks that you present to them.
The lender may ask you to give the documents to ascertain your income, debts, and other financial details in the pre-qualification stage. You may be tempted to get a pre-qualification letter before shopping for homes as it's faster than pre-approval. However, it doesn't require a rigorous process as a pre-approval and is not considered, in isolation, at the time of actual approval.
Prequalifying requires a soft credit check, but a pre-approval requires a hard credit assessment and a complete review of financial paperwork. A lender can confidently say that you're ready to secure a loan through the pre-approval letter. Whereas pre-qualification relies solely on the details you provide and your credit score, it can just provide an estimate of the loan you would be eligible for in the later stage.
A pre-approval mortgage loan or card is considered more reliable, and it lasts for up to three months. However, it takes up to 10 days to complete as there are multiple stages of submitting and reviewing financial paperwork. On the other hand, mortgage pre-qualification is like an external review of your application needed to get a loan.
5 Things You Need To Get a Mortgage Pre-Approved
We can move on to the five necessary things to keep in mind to get a pre-approved loan-
1. Evidence of Earnings: -
Clients must present the proofs of earnings to the loan provider to secure any personal loan. You'll be expected to submit the latest payslips, often the last two pay periods, to confirm you have a stable income. In addition, the proof of monthly earning will help the loan provider understand the applicant's capability.
2. Evidence of Belongings: -
You may have to provide the bank statements and investment details to give a larger picture of how much money you might have to spend since it's important to know if your income is low or inconsistent.
Whenever a person applies for a loan, they must show necessary documents regarding their assets. For example, an applicant must have a statement from their bank that has a permanent savings account, so the loan provider will convince the applicant to have savings for down payments.
If a person makes down payments against their assets or belongings, they must present proof as evidence to the loan provider.
If an applicant pays a down payment amount that they receive as a gift from their close relatives or friends, they must get enlisted with the loan provider.
3. Impressive Credit History: -
Most mortgage lenders obtain scores from different organisations for score checks.
If an applicant scores higher on the loan providers' criteria, they get the loan quickly approved once the deal is finalised. Therefore, the previous and current credit score record is vital to secure any loan. In addition, it is crucial to determine if the loan will be approved or rejected.
4. Confirmation of Employment: -
Before mortgage pre-approval, the loan provider will check the employment history of at least two years, checking the record of monthly earnings, bonus amount, or incentives. All the necessary documents must be presented for a mortgage. In addition, they check if the applicant is stable in their career.
5. Additional Documents: -
An applicant must present other important documents, such as a driving license, existing contact numbers, socially identified proofs, etc. In addition, you will need to list the debts to determine how much of a mortgage loan you can afford.
What Is Implied by Mortgage Pre-Approval?
It is advised to get pre-approved with a mortgage lender before contacting a real estate agent to search for a property.

It gives credibility to the sellers as it shows them you are a serious buyer.

It helps build credibility by proving to sellers that you can secure mortgage funding.
What Can Be Done Before the Pre-Approval Of A Mortgage?
Once you have pre-qualified, you go for pre-approval. A pre-approved loan means a lender offers you a pending loan, but it is fully approved. Some of the points checked by the lenders are –
1. Considering the Budget: -
The lender may review your credit report and financial situation to approve you for a specific mortgage loan amount in the pre-approval process. That pre-approved for a mortgage should understand there is a shelf-life to the sanction letters, and its best to apply when you are truly ready to buy a home. In addition, it will allow you to make full use of the letter's duration and mortgage points.
2. Looking After The DTI: -
Often lenders calculate the DTI ratio, which means the percentage of the income regarding the debt one spends in paying back.
The banks try to ensure the individual should not spend more than 27 per cent of their salary in paying the debts.
Secondly, the mortgage loan with all other debts should not exceed 40 per cent of the monthly salary.
3. Financial details: -
The process evaluates your financial situation - like your credit score, income, debts and assets to determine the loan size and interest rate you're eligible for. Plus, you'll receive an estimated monthly housing payment, which is essential for budgeting.
4. Organising Evidence: -
It lets buyers know exactly how much they can buy. Next, one must prepare and arrange for all documents for the process to complete. Finally, Payslips of the past month and tax bills are produced to calculate the earnings and expenses. Of course, all these steps don't guarantee the application will be approved, but it increases the possibility of the approval of the mortgages.
Can You Purchase A Home for More Than You're Pre-approved?
Every individual looking for a mortgage pre-qualification wants to know if they can buy a home for more than pre-approved. The answer is - yes, you could certainly spend more on the house than what you've been pre-approved for, but you'll probably have to bear the difference between the loan amount and the purchase price out of your pocket.
In case of a huge price difference, the buyer can adopt any of the following strategies:
The buyer can pay more as a down payment to pay the difference between the loan amount and the house price. It applies only when the individual can afford such costs.

Secondly, the buyer can choose another house that the mortgage loan will cover.

Or they can try to get modified letters where the amount can be adequate to meet the requirements.
So, one can proceed with the pre-approval depending on the budget, bank balance, and other factors.
Total Pre-Approval Letters One Gets: -
During this stage, the lender provides an in-hand official letter. The seller gets assured that the buyer is serious about the house through the letter. There is no limit to the number of times you can get pre-approved. Mostly there are more homes for sale than buyers who want them, and in such markets, many house hunters find their perfect home within weeks or a few months.
And they find it easy to get their offers accepted. So renewals are required less often. All permissions are gradually completed after this stage.
In most situations, the dealers want a minimum of one mortgage letter from their customers. They prefer the buyers who have approved mortgages for financing.
In every pre-approval letter, the following information is available:
The loan amount/buyer's price

The program

The rate of interest

The date of expiry and address.
The letter may contain the credit details and bank statements. Once you sign a purchase agreements/sales contract with a seller, you will provide a copy to your lender, hiring a home appraiser to evaluate the property.
The appraiser aims to determine the current market value of the property you're buying, where the lender tries to find out if you are offering more on a home than it's worth.
The approval method can be time-consuming, but one can apply for loans through multiple loan providers.
How Can You Compare Mortgage Prequalification And Mortgage Pre-Approval?
The bank seeks applications where the buyer has a pre-approval or pre-qualification letter. The letters will support their eligibility to get a loan. Still, there is a difference between the two - pre-approved vs pre-qualified as pre-qualification is about the unwritten discussion between the loan seeker and the bank authorities.
During pre-approval, the bank officials follow a detailed verification process to determine the applicant's eligibility.
Homebuyers need to compare -pre-approved vs pre-qualified letters to determine how to proceed with homebuying. A mortgage pre-qualification estimates how much a borrower can be approved based on their earnings and income. The pre-qualification process is simpler as compared to the pre-approval process.
It can typically be conducted through a phone call or online form that provides some basic financial information to a lender. Because a pre-qualification indicates what you might be able to afford and doesn't require official documentation, it doesn't expire.
How Far In Advance Should I Get Pre-Approved For A Mortgage?
It is often very simple to get a single pre-approval. While having one appraisal is necessary, paying for multiple appraisals isn't the best use of your money. Once you make an offer on the house, you are free to purchase a first-rate mortgage contract.
Such an offer from a lender typically lasts between 90 and 120 days, which gives you enough time to find a home. However, if a lender' completes an assessment on your property, collects your documents in advance, and adds them, it may take a few minutes to get the approved letters.
Does Mortgage Pre-Approval Affect Credit Score?
If you get pre-qualified for a mortgage, it won't affect your credit, but it can help determine how much you can borrow.
A pre-approval letter is proof that a lender has reviewed your credit and validated your earnings. After you buy pre-approval on a property, the creditors get your full credit check to ensure your details. Therefore, pre-approved applications are considered comparatively trustworthy when you offer to buy a property.
Conclusion: -
Pre-approvals let buyers know exactly how much home they can buy. The letters are required for house hunting as offers aren't considered serious when the bank report does not back them—getting advice from a loan provider before the homebuying is helpful to the buyer in many ways.
By adopting a proper plan, the applicant can surely avail of a pre-approval of the mortgage loan. One must try to speed up the pre-approval process by collecting all the paperwork in advance and providing it to the lender right away before starting -the search for a house.
Categorised in: All News