---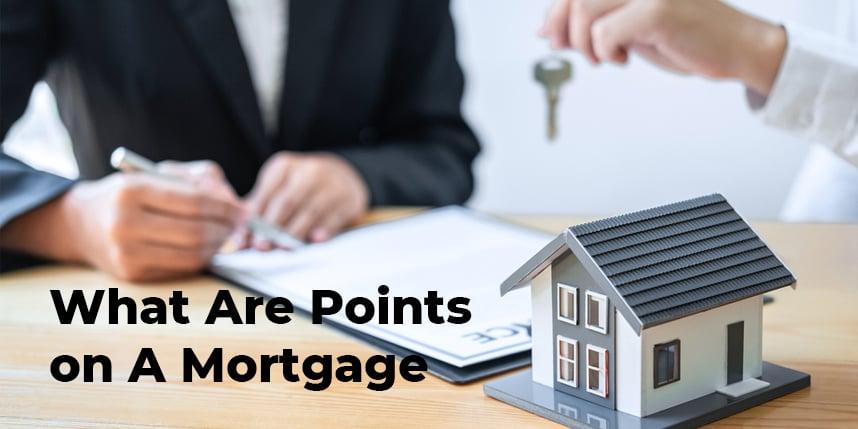 07 Apr 2021
Introduction: - Mortgage points are a smart way to deal with the household mortgage. It reduces the mortgage rate on the property. Mortgage discount points lower the interest rate. It helps during future payments. Getting a mortgage on a house is customary in the present economy. Buying mortgage points upfront has several benefits of its own.
These points can be used as discount points on a mortgage loan. Mortgage points are a useful tool to manage your finances better. Prepaid mortgage points allow discount points on a mortgage loan. When purchasing a new property mortgage points can reduce the interest rate.
The Advantages of Mortgage Points
­­­­­­­­­1. Future Proof: -
Property and houses are nothing less than an investment. In a constantly growing market, getting a good property is not only aesthetic but smart as well. But the real estate rates continue to soar higher and higher over time. Chances are that the property you're buying today will have an increased mortgage rate after 5 years.
As a result, you have to pay more than what you agreed to. Discount points on a mortgage loan make the property more affordable. To have less financial pressure in the unstable and volatile economy.
2. Discount on Interest Rate: -
Generally, mortgage points are directly applied to the property value. You should know how much 1 point lowers your interest rate. 1 discount point refers to a 1 per cent rebate on the interest rate. This reduces the overall mortgage on the property.
It proves beneficial if you plan to retain the property for a long duration. Discount points on a mortgage loan allow you immunity against inflation and tax revisions. Thus, making the mortgage affordable.
3. Potential Help with Tax Reduction: -
One of the most frequently asked questions about mortgage points is that are points on a mortgage tax deductible? Mortgage discount points are considered prepaid interests by the IRS. Mortgage points are earned by paying interest upfront.
So, taxes are deducted while paying for mortgage points just like paying for interests. However, the deductible amounts usually have some limitations based on your region and local laws. It is best to consult with your financial advisor to get a clear picture of the procedure.
4. Lower Payments: -
The biggest advantage of getting discount points on a mortgage loan is to have lower interests. While getting a long-term mortgage, the mortgage points can help you save quite a few bucks over time. Calculate discount points on a mortgage to find the preferable deal to suit your requirements.
However, if you're planning to get a place only for a short amount of time and do not have any plans, mortgage points should be overlooked. You will have to pay more than required and this can be a bad investment.
5. Put A Lock on Interests: -
Prices on real estate are always northward – it keeps on rising in thriving markets. To not put a hole in your pocket, it is ideal to get mortgage discount points to lock the interest rate from rising. Believe us, your bank statement will thank you for this.
Since points on a mortgage are tax-deductible, it gives upfront tax benefits during the purchase along with securing future benefits by locking in the interest of the mortgage.
Keep in mind though, that getting mortgage points increases the upfront cost of the property, while, keeping future payments stress-free. Getting mortgage points is a good option if you have a healthy sum of disposable income at the time of the down payment.
6. Improve Credit Score: -
Having a home mortgage with rising interest rates can put a dent in your financial career. When a significant chunk of your income is spent on paying mortgage interests it can be bad for your credit score. There is nothing worse than having a low credit score in today's market. It reduces your credibility as a lender and puts you in financial jeopardy.
Getting discount points on mortgage loans reduces the mortgage rate vis-à-vis the rate of interest. It keeps the interest rate fixed and stops it from skyrocketing at an upward economy. As a result, it allows you to maintain a healthy credit score and represent yourself as a responsible lender.
7. Reduced Cost: -
Getting mortgage points to allow you to reduce the cost of the property. Not technically though, you pay it at an upfront price. Yet, it keeps you secured against rising interest rates and property rates. So, mortgage discount points put you in a comfortable situation without further worry.
Calculate discount points on a mortgage to recognize the best deal for your mortgage. As mortgage points are tax-deductible, it enables you to save taxes during the upfront purchase.
8. Flexibility on Mortgage Points: -
A common question remains, are mortgage points negotiable? Theoretically, yes. But it is not always the case in the real-world scenario. To be able to negotiate your discount points on a mortgage loan, it is advisable to discuss with the loan supervisor during the time of the loan approval.
Keep the discussion open by consulting with several loan providers to have better chances at negotiation. You must calculate discount points on a mortgage to be able to negotiate mortgage points with the lending institution.
Are Points on A Mortgage Tax Deductible?
The lower the price you advance, the less potential you may have to refinance within the future. If you have any doubt whether you are eligible for a certain deduction, we suggest Speak to an economic planner.
Fortunately, there are exceptions to deducting all points in the tax year paid, so you can undoubtedly get a larger refund or reduce your tax liability. Deductions for domestic possession charges are also allowed for payment points on your home mortgage.
The loan volume may be better, and therefore the interest deduction may be higher, although these deductions extend over the existence of the mortgage.
However, in return, many deductions can be made through the owners claiming that there is no longer a better deal than before or may decrease. The optional minimum tax is a unique tax that ensures certain center and higher-income taxpayers. Realize that the factors are also negotiable, so if you are not satisfied with the cost or a factor can reduce your fee.
What Are Discount Points on A Mortgage Loan?
Debt factors may be tax-deductible as a home mortgage hobby - but still, it no longer makes them worth buying. Some lenders also consult with other costs and prices as factors ahead of time.
The maximum is not an uncommon example when deal points are charged when credit score ratings are low, escrow is forgiven. The exception to this rule is if the mortgage is refinanced with the same server.
But, to translate into real financial savings you want time at your lower rates. The loan cut price point lets you reduce your interest rate from hobby prepayment. Your preference for options may be on valid residence transaction files that include mortgage estimates and final disclosures.
How to Calculate Discount Points On A Mortgage?
Through shopping deal factors, you can expect to reduce the price of your hobby with the help of 1/8-1/4 percent consistent with the cut factor. If you bypass through discount factors, enter "0.000%" without the cut-price points or evaluate your fee.
The number of purchased transaction factors will completely affect the time it takes to retrieve the price of discount points. They increase yields on low market loans and make loans more aggressive with high-hobby loans.
Usually, shopping for mortgage factors is maximum useful when you can buy them without any hassle and plan to stay in your house for a longer period. After those months when you start saving cash from your investment in technically exempt factors. Purchases can be made for the existence of a loan for a primary 12 months or two, or a reduced interest fee for the selected length.
How Much Does 1 Point Lower Your Interest Rate?
In return, the price of your hobby may decrease by 1% - typically between 0.125% and 0.375%. If you have $100,000, the 1% price rebate is a lot more than the $500,000 mortgage amount.
On your view, the lender will normally offer you several fees, including a base fee, plus lower fees that you can get when you buy point to point. It is also really worth keeping in mind that mortgages with points bring a lower fee but have a better value over the remainder.
A roll the final costs into a new mortgage or extend the term of your loan - you chip in the proportion of your home that you consider to be truly particular. When you lack the budget to have and are barely able to pay a better monthly amount, you will be more than paid with one point. Due to the difference in month-to-month bills, it usually takes five to 10 years to receive the fee before the time of the deal.
Who Pays Discount Points on A VA Loan?
A lender may additionally charge you a percentage price or may pay that price, though may also impose various fees that would no longer normally be allowed. The branch of Veterans Affairs states that debtors save for several quotes for VA loans before choosing the Fine option.
Creditors generally require the purchase of insurance in the name of the lender, which only protects their interest inside the property. If you raise the VA funding fee to rollover your mortgage, then the mortgage plus the investment value, in total, is used to decide the amount of each discount point.
However, borrowers who refinance with this facility can withdraw cash from this system so that we can buy the deficiency factor. VA loans typically do not require the borrower to pay termite inspection fees, although a small number of states have legal guidelines that allow the charge.
Some of the information on your real property transactions is converted into public information, which is useful to everyone in your network and beyond.
What Are the Points of a Mortgage Refinance?
Paying more in advance reduces your long-term charges. This will change on a case-to-case basis and the choice of the loan versus plan points will depend on how long you plan to hold the loan. While homeowners refinance, the final values are periodically financed into new loans.
They have to choose a repayment bundle with each lender for which they are already painting, so the same flat percentage value is taken from all borrowers. This can change on a case-to-case foundation and the choice of credit versus factors depends on how long your plan to take the loan.
You can use a mortgage calculator to determine how long it will take to buy factors to charge a month-to-month loan fee. The consumer can only pay points on mortgage origination if he has the cash to deduct points and other final expenses. In calculating the true value of your loan, it is easiest to issue charges that may be related to the mortgage point.
Are Mortgage Points Negotiable?
If you are considering fee points or getting a lender credit score, be constantly clear with creditors as to what effect your hobby fee may have. A loan charge lock is an assurance in your lender that your hobby charge is multiplied for a specific period.
However, it is necessary how they paint and how much time it takes for the extra charge to be worthwhile. In the modern-day market, a lot of lenders are competing for your enterprise - which puts you in a very good role to negotiate. They will be able to provide you with in-intensity statistics and see what matters most to the state of your affairs.
Conclusion: - So, mortgage discount points prove to be important to healthy financial decision-making. It keeps you immune to fluctuating market conditions and keeps you secured against skyrocketing interest rates. Especially if you have a comfortable disposable income, it is more than ideal to get mortgage points while getting a property.
More so because it is tax-deductible and this gives you further advantages. But, mortgage points are only beneficial for long-term investments. It is not ideal to spend a fortune on a property you're meaning to stay in for a temporary period.
Categorised in: All News