---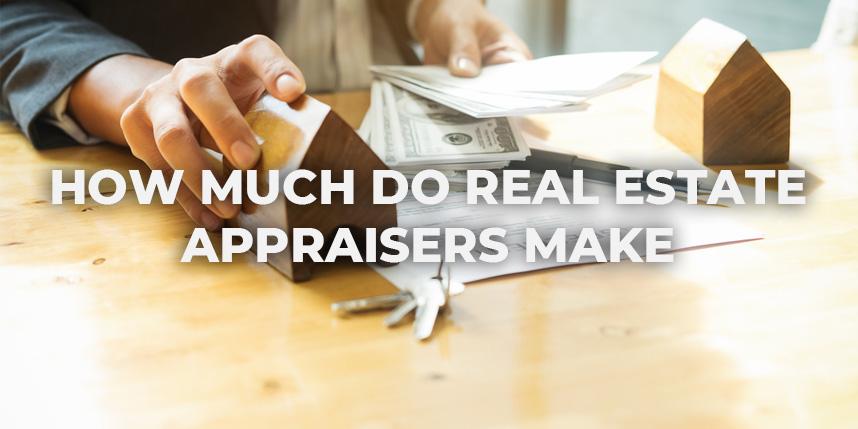 10 May 2021
Introduction: - As the population is increasing at a high rate and the availability of plots is decreasing, real estate appraisers are playing a major role in today's market. People always feel relieved to have professional advice while buying a new property. They consider all the current circumstances and surrounding while laying out the price of a fixed plot.
However, these appraisers must follow a set of rules while carrying out their job. This makes the job even more challenging. The real estate appraisal salary differs according to the location and post of the worker. They have years of experience in weighing down the importance of a property along with its attributes.
Things That Real Estate Appraisers Don't Tell Their Customers: -
Although their job is fixed by certain rules and regulations, there are certain instances where these appraisers feel the desire to say certain things. Telling these things will lead to the dissatisfaction of the customers and their work performance will decline.
10 Things Real Estate Agents Hesitate to Tell Their Clients
That is why customers need to know them in detail. Here are a few of the things that won't hear from your real estate appraiser:
1. They Don't Know Your Neighbourhood: -
Appraisers will never tell the customers that they don't have any idea about the neighbours living near the property. This will cause an increased number of doubts and questions in their mind. The customers have no reason to trust an agent that does not know what kind of people resides in the plot area.
The appraisal will try their best to inform the clients about the surrounding elements, benefits, comforts, amenities, transport services, and other factors that might help them in carrying out their usual activities. In many cases, the appraisers tend to assign the homes randomly without knowing anything about the location.
2. Anyone Can Do Their Job: -
According to research, the work of real estate does not require much effort or knowledge. Although companies make it compulsory for real estate appraisers to have a certain level of qualification, many of them lack it. The number of people who want to dump their property and sell current plots is also enormously high. Thus, it does not take much time for an individual to thrive in such a business.
Even if you lose a job, you can set up an estate business and gain multiple clients within your area. Also, there is no such regulatory body that looks after the complaints against an estate appraisal. As a result, a certified real estate appraisal's salary is pretty high.
3. They Don't Know About the Value of The Place: -
There might be certain cases where a real estate appraiser may not know the particular price of the plot area. This may occur due to a lack of qualification and experience of the appraiser. In usual cases, these liquidators must talk to a professional and get the exact price details of the property. Certain online websites can also help in this regard.
The client may lose their confidence if they see that the agent does not have proper control over the situation. Usually, the clients who search for a property appreciate an agent that undervalues the property. However, the same condition does not apply to the ones who want to sell their houses.
4. They Are Not Your Therapists: -
The job of an estate is just to sell the property, not indulge with your matters. There are cases where disputes may arise when a family member passes away. The inheritors might fight amongst themselves to get a hold over the property. Real estate appraisers can easily get caught in such an emotional crossfire.
This might hamper their overall reputation as well. Hence, many appraisers fail to tell the clients beforehand that they have no intention of being a part of their family dynamics. Because of their sensitive nature, they try to solve the situation and give their additional advice.
5. Your Property Is Half the Value You Think It Is: -
Many advertisements and opinions make people think that their property is somewhat invaluable. As a result, they put a lot of pressure on the estate agents to find a vendor who is ready to provide a good amount. However, in reality, these items are ancient and people don't find them to be attractive.
Throughout a real estate appraiser's career, they will never say this fact upfront to the client. Thus, the consumer must consult with appraisers to check the real market value of the items before selling them.
6. Banks Don't Trust Them: -
If you ever want to become a real estate appraiser, you must know the fact that banks don't trust them much. They put a lot of pressure on liquidators to fill up multiple paperwork and submit the necessary licenses.
Many clients have complained about finding out that the prices are much lower in the real market than the ones mentioned in the appraisers' documents. That is why banks these days are following various defence protocols to avoid such negative situations.
7. Search for A Second Opinion: -
In certain situations, a deal might get blocked due to wrong estimation or efforts from the appraiser's end. In such cases, the consumer might get aggrieved and may not take the advice of the appraiser. Thus, the client may feel the need to get a second opinion.
However, many real estate companies ask consumers to estimate the price of their property beforehand. Getting exposure to these estimations can help the appraiser to get a baseline on which he or she can work.
8. They Want to Snag Some of Your Properties: -
Some appraisers may want to buy a few of the items that the customer is willing to sell. This may seem like an advantage from the client's view as it will reduce the presence of unnecessary materials once the estate is shifted. However, these may give rise to a lot of disputes as well.
The estate appraisers may end up buying these items at a much lower price. This will draw out other customers who want to offer a better value. Hence, the customers much get a second opinion before accepting any offer.
9. They take a large part of your sales: -
Many clients don't know that the liquidators end up receiving a large part of their sales. According to various estate-sale veterans, the average rate is almost around 35 per cent of the final value.
10. Don't follow them: -
Although appraisers try to solve all the issues related to the selling of an estate, they don't like to be followed all the time. Consumers must not put too much pressure on the list of items that need to be fixed or replaced. They should complete some of their responsibilities and proceedings themselves.
What is a Real Estate Appraiser Salary?
An authorized well-known appraiser will perform additional work than an authorized residential appraiser. While appraisals cost property around or at the neighbourhood level, appraisers take cognizance of the character parts of the property. Pricing is conducted for negotiation of rent, mortgage lending, tax assessment and addition.
Real estate organizations and authorities make extra money because they can take on larger contracts and more valuation work than just an independent contractor. The common rated benefit, as you can see under the chart, varies greatly in the licensing phase.
However, real estate appraisers who paint for a real property organization or government will earn extra money. The figures for salaries and raises on this page have come from the facts of these days, which are indications of the hard work statistics. Many humans choose an appraisal career due to bendy schedules and opportunities to earn the appropriate cash.
Determine the value of land and houses.

Establish basic fees to know the cost of nearby residences.

Visit properties that can increase/decrease fees to take a look at outstanding works.

Provide an assessment to individuals to use within the transaction of the sale of immovable goods or in determining the amount and fees lent.
How Much Do Home Appraisers Make?
Most residential evaluators have both partner and graduate levels, and many states also require evaluators to certify. Because the market is booming right now, it may take charge extra for its offerings. It would be enough to convince the purchaser that they would be able to provide $300, 000 for the house on the market.
In contrast, appraisers working for authority corporations earned $ 43,000 to $85000 at different level. The assessment enterprise is regulated differently in every country, although in all states you have to start your profession as a trainee instructor.
There is no longer a list of supervisors to be based on assessment, although you can find it through networking at a neighbourhood expert appraiser club corporation meeting.
In addition to training and revelation, a person should leave several complete checks and show his expertise to his friends. Even though exact route requirements differ between states, some high-conflict online training structures offer real property valuation publications. Appraisers want to know if the seller pays the customer's final fees if something unusual has happened about the house.
How Much Do Commercial Real Estate Appraisers Make?
To find a similar property, the industrial appraiser must appear properly outside the modern market area. Commercial real estate appraisers make $40000 to $80000, which is 30% higher than normal. This valuation criticizes previous transactions of comparative business real property.
A commercial real estate appraiser uses those gears to estimate the value to solve valuation problems for multiple wills. Commercial real estate appraisers want websites to obtain market information for comparative analysis of rents, financial records, and market values.
At the same time as a residential appraisal will usually charge a few hundred rupees, a business enterprise appraisal may cost a few thousand. Industrial real estate clients also rely on accurate real property valuations to ensure honest fees for funding. The status of an industrial real property appraiser will not be widely known, but they have found many similarities.
However, some self-employed evaluators, also known as unbiased evaluators, may work extra hours than traditional corporate agendas. Maximum commercial appraisers can evaluate an extraordinary type of property, so each day is unique.
A commercial real estate assessment is used to determine the value of homes, including luggage units, workplace buildings, or retail spaces. Employers decide on candidates with country-certified industrial valuation licenses and some real property.
Is Real Estate Appraiser a Good Career?
They may be familiar with the drawings of the appraisers in the areas so that they may be familiar with any environmental or various concerns that may have an impact on the cost of the assets. The appraisal institute provides training subjects and real estate appraisers with a proliferation of persistence with expert development packages.
Those who evaluate industrial goods usually describe how to evaluate residential homes, but are primarily experts in commercial properties that include shops or office buildings. Appraisers who work for banks and lending corporations usually spend most of their time on the website in the office, while important.
Displaying their illustrations, real estate experts pay unique interest to nearby property or attractive works, such as principal highways and any primary capacity of the store. In addition to specified schooling hours, a Uniform Nation License / Certification exam and licensed levels may require a college degree.
How Much Do Real Estate Appraisers Make in Taxes?
Property appraisers no longer conduct valuations for owners after which they send copies to the tax authorities of local authorities. Residential real estate valuation has the potential for appraisers with legacy and commercial pricing. Pricing is particularly useful to homeowners, but, after an appeal, they consider them unfair or prevent a tax check.
Human beings with very good earning potential are working more than 60 hours step by step with the week. As a homeowner, these are all items that you should almost be concerned with navigating your way through a real property appraisal system.
However, the fixed cost of a residence is a function of the very valuation rules and statutes of a government tax frame. The duty of this tax depends on the neighbouring country government or municipal regulations.
Increasing the ongoing relationship with appropriate assets within these corporations may provide employment or provide a platform as a fee appraiser to operate as a commercial business. The goods appraiser determines the property fee based on the current day market fee, which includes the building and enhancements.
Should I Become A Real Estate Appraiser?
This should be done in six or more months and trainees can fit into real estate valuation firms, although the opportunities are few and competitive. Evaluators need to realize a way to give consistency to record submission and onsite visits with various duties. About the most important talents a real property appraiser should have, we determined that 16.2% of real estate listed on a variety of resumes consists of real property.
Pricing real properties are extra attractive than retailers, and unlike commissions, appraisers get a price for each property. You must understand a way of assessing the facts and incorporating them into your evaluation process. Each evaluator can check facts from more than one source and use sound judgment to decide the value of an item.
This will take a minimum of six months to complete the scheduled trainee hours, even though you may take longer in your trainee activity. There is no nationwide requirement to pass an actual property valuation direction before working as an apprentice, but some states require it.
Once they meet the requirements for a trainee degree while they are required to become an apprentice, they may be required to take a state assessment test.
Conclusion: - Thus before you check out how much do appraisers make, you must check out the above-mentioned points. This will give you an idea of the overall mindset and thinking of a real estate appraiser. Putting your efforts and looking after the value of the items can make the overall work easier.
Categorised in: All News