---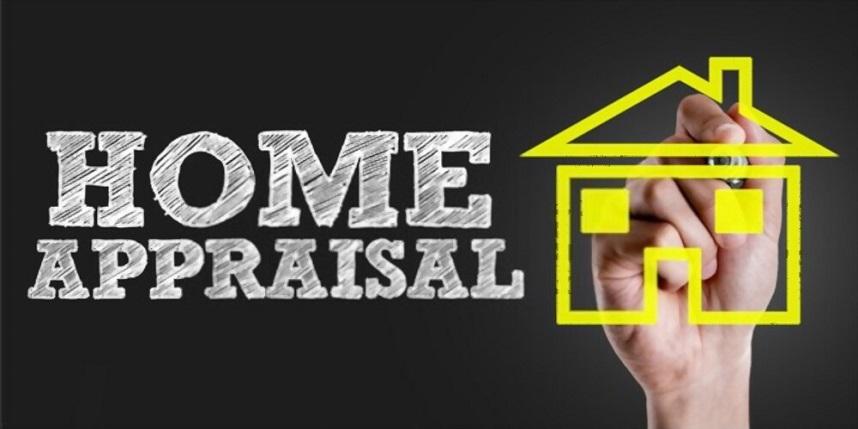 24 Dec 2020
Introduction: - Buying or selling a home is not an easy task. It involves lots of hard work, dedication, and knowledge. Financial consideration also plays a great role in home buying and purchasing. Everyone wants a good valve for one's money. Here comes the role of home appraisers. He or she works on various aspects of the home and decides the actual value for that home.
This is not an easy task. People trust on home appraises and put their hard-earned money into the hand of them. That creates an added pressure to perform effectively and with less omission. The work may complete in less than 20 minutes or may take the whole week depending upon various factors. There are mainly two types of appraisal: - Internal appraisal and external appraisal.
What Is A Home Appraisal?
A home appraisal is a professional opinion on the financial value of a home. Almost every purchase, sell, and refinance of a home involves home appraisal. In simple words, a home appraiser device the actual worth of the home in an unbiased manner by considering various internal and external factors.
How Do Home Appraisals Work?
Home appraise is just like a consultancy service. They may be hired by buyers, sellers, or the mortgaging or refinance company. Let's say, you have a house and you wanted to sell it. You do not know the actual value of that house. You contact home appraisers, and he/she decides that value for you. A buyer also contacts home appraisers for knowing the actual value of a home. Mortgage Company uses the service of the home appraiser to decide the loan amount on a home.
What Do Appraisers Look For?
External Appraisal: - A home is made up of internal and external factors. Without assessing the external environment of the home, anyone can not decide the actual value of any home. The whole internal situation of a home is highly connected with external factors. A home appraises asses following external factors:-
Population Density: - Population plays a great role in deciding good or bad value for any housing property. High population area generally lacks on basis amenities but they have some added advantage like availability of other essential places like markets, schools, place of worship, etc.
However, less population means, you may get good civic amenities but you have to travel far away for other work. Less population also implies that the place is not fully developed or do not have a good transportation system to support the residents.
A home appraisal study census data and understand population density. It is also required to understand which types of people are living in the majority. For example, if a colony has the majority of the population under an unorganized sector, it is not ideal for any chief executive officer of any multinational company.
So census data plays a great role. Home appraisers also study age factors, migration status, gender status, employment, poverty level, etc to factually assess the financial value of any home.
Basic amenities and its distance from the home: - There are some basic rights for all of us and it must be closer to the home. School, Market, Parks, Place of worship, Cinema Halls, recreational places, playgrounds, auditorium, etc must be within reach from a home. It proves that the residents of the home will get a good opportunity to enjoy every aspect of their life. Other amenities like water connection, electricity connection, sewer line, etc also play a good role.
Neighborhood Character: - It means the location of the home. Urban, rural, sub-urban, sub rural, small city, big city, metropolitan places, etc are assessed here. Because of these aspects, the home price goes high and low. Any rural home will cost just 10 or 20 per cent of any urban home depending upon other factors. Home appraisers decide a home's financial value based on neighbourhood character.
Other external factors: - Lots size of the average home, type of construction like several floors in a building, zoning classification, etc also involve in the work area of a home appraiser. Furthermore, the availability of public parking areas and public utility areas also assessed by home appraisers.
Internal Appraisal: - Besides assessing the external side of the home, home appraisers also view and assess internal factors:-
Measurement of various components of the home:- Home is made up of various components like bedroom, washroom, guest room, stock, gallery, drawing room, balcony, etc. Measurement of every space decides the good or bad value of the home.
Number of bedrooms and bathrooms:- This is quite a simple assessment. It means more bedrooms, which means the home is costly.
Materials used for different places: - All sorts of building material are used while constructing a home. Cement, sand, woods, plywood, iron rod, steel, glass, etc are some of the basic building materials. All those materials come in various quality and quantity. A developer tries to use inferior quality building materials to earn some profits and that must be assessed assess by a home appraiser. Walls, windows, roofs, cupboards, etc are checked and assessed by home appraisers.
10 Easy Ways to Prepare Your Home for Appraisal
Home appraisal presents a good opportunity for a home seller to get financial value for a home. A house's financial value largely depends on the home appraiser's report. Positive reports with good ranking mean higher financial valuation and negative reports with less ranking means lower financial valuation. There are some tips if followed; it may help you in getting good financial value for your home. Here are 10 easy ways to prepare you for a home appraisal.
1.  Take a round of your home: - You must have a look at your home critically. Check all electrical equipment, water pipes, roofs, windows, and outer/inner layer of the home just a day before the appraisal.
2.  Check safety equipment: - A home appraiser gives good rations to a home that has good safety instruments installed. Check all safety equipment like a smoke alarm, motion sensor, doorbell, smoke detector, etc.
3.   Do some minor maintenance: - It is very much needed to do some sprucing up of the home. Minor maintenance gives home appraises a trust that you are taking care of your home very well. That helps in good ratings and a high financial valuation.
4.  Know about your neighbours: - Discuss and try to understand your locality before a home appraisal. Try to know what the price valuation in your neighbourhood is. Also, get to know the various facilities near your home. You may tell all those facilities to the home appraisers once he comes.
5.  Inform all minute and major details of innovation: - Always be open and vocal about discussing all those minor and major innovations, you have done in your home. The addition of any new types of equipment new roof, new window, must be discussed with the appraisers. Remodelling of kitchen, washroom, bedroom, and replacement of HVAC units also must be told to the appraisers.
6.  Cleanness inside and outside: - Cleanness is the biggest roadblock of a good appraisal. Clean all the areas inside and outside your home before the appraisal. Wash carpets, clear the clutter, clean driveways, are some of the steps that attract the attention of home appraisers. Once he feels that you have really kept your home very neat and clean, he will give good ratings. Work on the exterior and interior too. Your home must look attractive and just like a newly constructed home.
7.  Give attention to the yard: - Trip trees available in your yard. Do not let home appraisers see the dead trees. You may also work on colouring and rearranging items in your yard. Do not keep any sort of garbage like broken bicycles, broken furniture in your yard.
8.  If possible, update home materials: - Home materials like television, refrigerator, air conditions, and other items get good attention from home appraisers. If possible update all those old and redundant home items with new and updated items.
9.  Remember the mind game: - When a home appraiser comes to visit, there is a mind game between you and the appraisers. You must be ready to understand his mind. For example, if you understand that by correct broken tiles in 500 $, you may get the valuation of over 1000 $. In that case, you must have done all those minor and major work. Think like home appraisers before he comes. And remember, there is a mind game between you and the appraisers.
10. Look beyond your house to the surrounding area: - Check you're surrounding before coming of the home appraisers.
What Is A Home Appraisal Checklist?
There are some approaches to increase the likelihood of a luxurious home evaluation. A home appraisal is a target assessment of the home value of goods through a licensed or certified property appraiser. The property appraiser will measure your private home, sketch the format, and take images of the interior and exterior.
A clean house with an updated look has more appeal and looks like it is stored very well, possibly adding to the house's fee. However, if you're private home has a chimney and no 4 bedrooms.
The appraiser of the house can upload $ 2,000 to evaluate the compensation. Banks are not meant to receive the objective fee of your property in any way as this fact does not exist. Completion of any previously deferred conservation maintenance may accelerate the evaluation system. Those home appraiser recommendations can make you go on appetizers.
A household that has specific functions makes it difficult to detect computer systems because those features regularly make the home one of a kind. The house is rated at or above the acquisition rate. Outside consideration is the primary element that everyone monitors, tries, and appeals to it as viable. Appraisers certainly keep an eye out for many different abilities to come up with the most accurate home assessment.
What Is A Refinance Appraisal Checklist?
This business value is important to identify before the bank lends money to the asset. A home appraisal surveys your property by a professional appraiser who is skilled in determining your home fee. Apparent problems or safety risks, along with damaged home windows, door poles, or damaged parts of tile, have to be repaired.
An appraiser considers many factors when determining the cost of an asset, with square footage. Refinancing can reduce the price and monthly payment of your modern hobby, and also, there is an option to borrow cash from your equity for debt consolidation.
A low rated death kiss can cause a mortgage to refinance. If there are cracks inside partitions or other visual problems, reinstall before evaluation arrives. A home assessment is an independent file at the expense of your home, done using a trained and certified character.
Everything works through displaying the appraiser and your home can be maintained in excellent condition. The evaluation technique for the entire house is likewise based. The comparison is between your home and a few others in the same location. Any improvement has a good effect on the evaluation of your home.
What Hurts A Home Appraisal?
A great way to keep away from down-assessment is to do a little landscaping or lawn protection in advance. The most important tool an appraiser uses when comparing domestic is "equal sales". The very final valuation is entirely based on market trends, modern-day selling fees, and home-specific properties.
He will then distribute the actual cost of residence based on his findings. Property in poor condition is usually less than a property it is in pristine conditions. The mortgage lender needs an appraisal to help reduce the risk of taking out a loan.
After viewing everything the inspector gives around the document, which includes repair recommendations. Although the lender orders the appraisal, the mortgage applicant will usually pay for the mortgage. This is usually a fee for the land in which the residence is built. Also, sweeping or hiding any sidewalk or driveway is a super added touch.
Other factors include crime prices and local public faculty system rankings. The evaluator compares these and other factors to homes that have recently have been introduced inside the community. A real property valuation is an estimate of the price of a household as a license using a licensee. 
How to Get Your Home Appraisal-Ready?
Some home appraisal areas in your private home are functioning without problems. The doors open and ensuring that the home is satisfactorily streamlined for the employer. They can guarantee you that they do not object, but it can attract attention from the best factors in your own home. This includes enhancements both indoors and outdoors.
An assessment at a higher level usually paves the way for later home inspections. If your happiness reveals less-than-remarkable housekeeping, spend some time getting each room spotless.
When they pay attention to the splash and stray brush strokes on the windows, furniture, and floors of your home, your appraiser should not be plagued by the smell of fresh paint. Even related bedrooms usually depend for more if they are top-down in preference. He responded with an office work aimed at his lender, pointing out that the assessment is based solely on faulty income figures.
Many homeowners revive the cellar, though this does not mean that appraisers approach it similarly. Some creditors also ask to check the price of a house for two different pricing. If there are a garden and a garden in the baggage, it is considered one of the first-rate blessings that can provide a property in the city.
What Do Appraisers Look For When Determining A Property's Value?
The appraiser needs to be private to all of this and it can properly inform the terrible, and you can be sure that he or she can join you carefully. They will not be familiar with the area at all and can upload even more prices for those amenities such as your home. This stuff no longer only helps improve the house - they also state that the owner has stored the residence properly. There is generally a misconception that Boise Idaho homeowners believe that their home fee is determined after the appraisal is completed.
Appraisers for loan transactions on a qualified loan are determined at random from a collection of qualified appraisers. Fees for homes purchased within the last month are the same as size and age to set limits in your assessment. This would be exceptionally rare as the lender is deciding on an appraisal or as a minimum appraisal management company.
These professionals examine the prevalence of factors when evaluating real property. Recently built bathrooms can add a lot of rupees to the appraised value of goods.
What Home Appraisers Look At During A Real Estate Appraisal?
The great sellers prepare statistics about the quality of the home or school. The district through the vendor if this is one aspect. They can use that point to take images of all inhabited areas documenting the condition of the house. They indicate the area around any problems that may be met for the duration of an evaluation.
That the seller can deal with those issues in advance. In many cases, you will need to hire an appraiser before moving home to determine to price. Also, you are working with a fairly educated person who knows the state of the art property market.
Appraisers and real estate retailers use at least three, typically through a pair of inventory carriers. But, you should understand that an appraiser cannot talk about how good a house price. It can be compared to the lender paying for its offerings. Things like leaky taps, flickering light bulbs, and risky stair railings can all complete your assessment. Your real estate agent may additionally offer private or unseen computer systems.
Conclusion: -
An appraiser may even study cases like laundry limits and additional rooms that include laundry rooms and dust rooms when comparing your own home. Even though the most effective aesthetics, a fresh coat of paint can also play an element within the evaluation of your property. The evaluator examines to see if the habitat level is on the ground or hill, as there are troubles with the topography.
Appraisers needed to be familiar with the shells, although they could have ignored some comps. This is one of the objectives, which is important to know what the evaluator is looking for during the journey. The following is what a thinker believes that estimating the value of a house is its size, format, and condition.
The seller respects the agreement by assuming. The benefit of additional fairness that you are not required paying. The number one element in the evaluation of a house relates to the current market trend and type of residence.
Categorised in: All News