---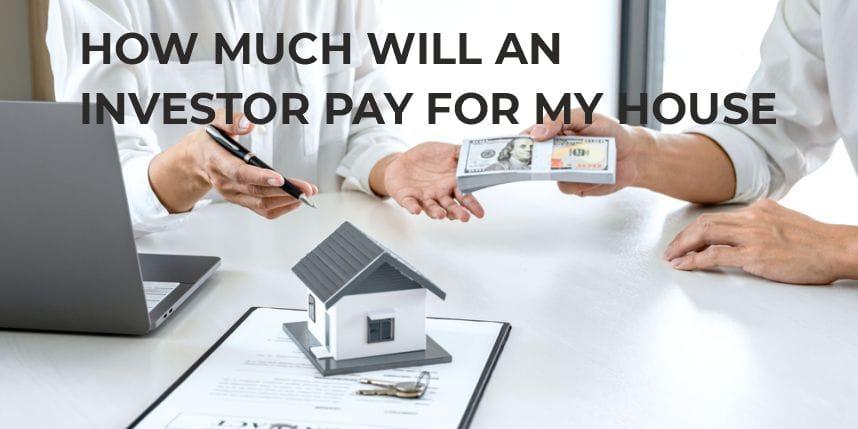 23 Jun 2021
Introduction: - If you're looking to sell your home and are worried about the lengthy transaction chains, you can consider selling your property to an investor. Every home seller expects to get the best price for their home; while there are obvious advantages of selling your home to an investor, there can be some issues.
Even though you will be dealing directly with the investor, getting professional advice and appointing legal representatives is recommended to protect your interests. Unfortunately, we have seen fraudsters and scammers targeting the industry, leading to the loss of sellers in the past.
How do I sell my house to an investor is discussed in this article, where we try to see How Much Will an Investor Pay for My House? If you sell yourself, your interests are protected, but you can get an investor to ensure the sale is completed as quickly as possible.
The selling process can be complex and may take months before you get a call from a buyer, so you can hire a home investor who will get you a quick response.
But you should be ready to lower the selling price as you may have to accept a price up to 30 per cent below the market rates when selling your house to an investor.
Who Are Home Investors?
With so much property available, you could find yourself waiting months or longer to get a fair price on your home. So when you have to find a buyer, and there is no guarantee that you will get one in the given time, you can try to sell the house to an investor.
Home Investors are the professionals who purchase the assets from the buyers by providing them with a lucrative deal. They are people or companies who want to purchase your home to make money.
Independent home investors buy homes or help the seller get a buyer. They invest in multiple homes, repair them, and use them to generate revenue, either as rental units or sell them for a profit. Even during the pandemic, investors earned by 'house flipping'.
Is Buying A House Worth It?
There are plenty of things you need to consider before piling cash into any home on the market right now. First, you should see the risk factors to know if buying a house is worth it.
Before you decide whether to buy a house, you need to consider several factors like your individual circumstance, personality, career, and of course, plans before you start thinking about the financial aspect of taking out a mortgage. It will depend on whether you want to own and manage an asset for long to grow in value over time or sell quickly.
Research as much as you can to make that choice. The main advantage of being a property owner is that you're much more secure. Besides, you don't have to pay for the rent, and you can save more. In addition, you can stay in the house and be part of the community, and the next generation gets a chance to inherit the property.
But if you'd always planned to take time out of your career to sail around the world, then maybe buying a home will not get you the same benefits.
Buying a property is more expensive than renting, and the initial purchase may have many hidden costs that you may not know until you go through the process. For example, some buyers do not earn much, so getting a mortgage may be difficult.
Sometimes, they do not get any benefits on taxes, or they may spend a lot on maintenance, repair, refurbishments, travel to the property, and pay more on the mortgage. Also, falling behind on mortgage repayments bears serious repercussions as it affects your credit ratings and plans.
However, if you are financially protected, you should invest in a home, as buying a house is worth it.
Should I Sell to a Home Investor?
When you work with a property investor, there are usually no fees. You don't have to worry about paying the agents' commission, as the investor will cover all the related costs like repairs and legal procedures.

But property investors are often looking to purchase homes at a discount, allowing them to fix up the house if it needs repairs, then sell the home to another homeowner.

Many don't consider the hidden costs of holding on to a property.

Extra months of mortgage payments, utilities, maintenance costs, and other fees could quickly add up. So by selling at a slight discount, you could potentially end up with a larger sum in the long run.

By selling to home investors, you're saving yourself possible months of headache, and you can fast move on to your new home. In addition, you'll avoid high closing costs, and investors will purchase your home as-is, assuming the costs of restorations that you'd have to pay if you were selling via more conventional means.

Many homeowners automatically presume the investors look for perfect opportunities. In reality, property investors every day get many client offers, and they are looking into a vast range of different assets that include -

Rental properties, developing /existing properties where they buy properties that require multiple levels of repairs/refurbishments to update and resell, redevelopment properties, land registrations, and flipping. Some property investors are just looking to get cash flow by building up a portfolio of rental properties.
Pros and Cons of Selling Your Home to an Investor
Pros –
Investors tend to negotiate with a seller differently than a home buyer. Their main aim is to get a profitable deal for the seller.
Many investors look for old or outdated homes to fix them up and flip them.
Home investors may enhance your place before putting it for sale. The homeowner may not have to fix the defective pieces.
They may even take over the mortgage and rent the property before selling.
If you decide to sell the property to an investor, you can get a rapid closure.
Cons -
Some illegitimate investors have no license, and they can take advantage of your lack of experience. You can hire a reliable and reputable real estate agent to avoid such scams. Carefully research the company's details before seeking their services.

If the investor offers the property in a hurry, you may also lose the chance to access better deals in the market.

They often buy at 20 to 30 per cent lower prices than market rates. However, a local agent may serve better and offer higher rates for your property because they are connected to regional buyers.

Hence, you can sell the house to an investor to get an early deal, but if you want a higher rate, you can contact a local agent who is ready to take over and willing to look after the property.
Is Trading A House to A Real Estate Investor Worth It?
If you are confused about whether you should sell your house or not. Know some of the benefits –
You do not pay the estate agent fees, as the cost is deducted as a commission from the property sale where the buyer pays for it.

You may not have to contact numerous buyers, show them the property, or negotiate a price.

You can get a quick sale.

There are no sale chains involved.

If you do not have the funds to do repairs, you can leave it to the home investors who will pay for the repairs before selling or renting it to others.

If your house has a structural issue, you can contact investors who will consider it and pay for the house.
How Much Do We Buy Houses Pay?
The home buying process involves numerous phases of paperwork and transactions. Home investors are coming to the buyer with various offers.
You have to take several things before buying a house from an investor.
The convenience of living

Commercial value

Legal or proprietary elements

Tax-related factors
What investor pay for my house? It depends on these factors and the location and accessibility to services.
Why Should I Sell My House To An Investor?
So, should I sell my house to an investor? Most people find it easy to sell the property to an investor. Some of the Pros and Cons of Selling a Home to an Investor.
Pros of Selling Home an Investor
Investors generally repair the house and sell it at a higher price. However, they may generate income by increasing property value by flipping, renting, or getting better planning permission. So you can sell without paying for such an extra job.
Investors are flexible when it comes to bargaining. They are experts in negotiating with a buyer and earning by renting.
Most buyers need to get mortgages approval to pay for it. Lenders ensure if the deal should be approved or not to know if is buying a house worth it for the given price. Sometimes, they reject the application, and the person buying the house has to bear the cost of preliminary procedures.
However, the investors can provide instant deals and pay in cash, and the seller may not have to wait for mortgage approval or too long to get a deal.
Most investors purchase with all cash; the seller can get a deal as soon as two parties agree on the terms of sale. The average time to close with an all-cash deal is 14 -20 days. However, if you're selling to a buyer who requires mortgage approval, it'll take you over 60 days.
Cons of Selling Home an Investor
Sellers often get a low price for the house.
Some bogus investors do not have proper licenses, and the seller may have to suffer legal issues due to their lack of experience and knowledge.
There are risks of scams in the real estate sector where the buyer may pay through illegal money.
Also, if you want to sell a house to an investor, choose a reputable realtor or agency.
What Happens When an Investor Buys Your Home?
Home investors are those who are keen to purchase your house in exchange for a good amount of revenue. Investors can present themselves as an individual or as an owner of real estate companies whose business is to invest in houses. Home investors invest in homes for many reasons. For example, they may be into flipping or multiple property deals.
But, most investors spend their money in a deal only to earn more. So, before selling your house to an investor, think thoroughly and negotiate carefully.
If you do not want to handle the complexities, you should go for an investor. Most investors pay in cash, and you can immediately get the funds in your account. Some investors agree to take over your mortgage, and some may rent the house back to you through the sale-leaseback transaction.
But, investors aren't legally required to inform who is buying your home, so if your house goes to a landlord who is into illegal practises or a developer who wants to turn your house into an apartment, you may not know.
Most investors try to get homes at below-market rates. Or at least at a bargain, and you may sell at a low price without knowing the actual value of your home.
In some cases, the cash customer is potentially a scam. However, if the cash buyer is a reliable foreign investor, it may take weeks to close than a domestic buyer who needs a mortgage.
In short, the Pros and Cons of Selling a Home an Investor –
Pros: -
You can get immediate cash against the sale.

You do not pay for repairs/ damages.

You do not pay the commission to an agent or middleman.

It saves your time and money on the sale.
Cons: -
You get less as compared to the market price.

You may fail to see you are dealing with illegal/bogus buyers.

Foreign buyers may take longer than locals to close the deal.
Can I Refuse to Sell My House to An Investor?
Suppose you do not want to sell the house to an investor; in that case, you can reject the offer by giving certain appropriate reasons, like if you suspect the buyer is not reliable, you can refuse to sell.
Some negotiations would go differently if the buyer lived on the property. But sometimes, the investors' intention could give you pause. With the volatility in the property market, buyers are unclear about how to proceed with the purchases and property owners want to sell their properties quickly before any drop in prices.
If you suspect investors are paying through illegal methods, you can get a checklist to answer such queries if you suspect certain legal loopholes in the deal.
Know why should I sell my house or why should I not? Some reasons for cancelling a deal are -
You Are Not Sure About the Given Offer: -
You are not happy with what the home investors pay for a house.
Suddenly Your Plan Has Changed: -
You meet someone in the family interested in buying, or you no more wish to sell it to someone.
Not Confident if the Buyer Will Get A Mortgage: -
If you suspect the buyer will get a mortgage or will not be able to pay for the deal, or you suspect their employment details or are unsure if they have certain legal issues or criminal charges against them, you can reject the offer.
Conclusion: -
There are many pros and cons of selling a house to investors, and key points have been extensively discussed in the article. If you want to sell, firstly ask yourself if you are ready to sell your house or not, and then you should research the market to estimate the price of your home. You can even consult a legal advisor to know more about the process.
After discussing all the pros and cons, you can place ads for selling your property. Subsequently, you will have to contact experts to find out how much will an Investor pay for my house, or you can contact a reputable investor to know more.
Categorised in: All News