---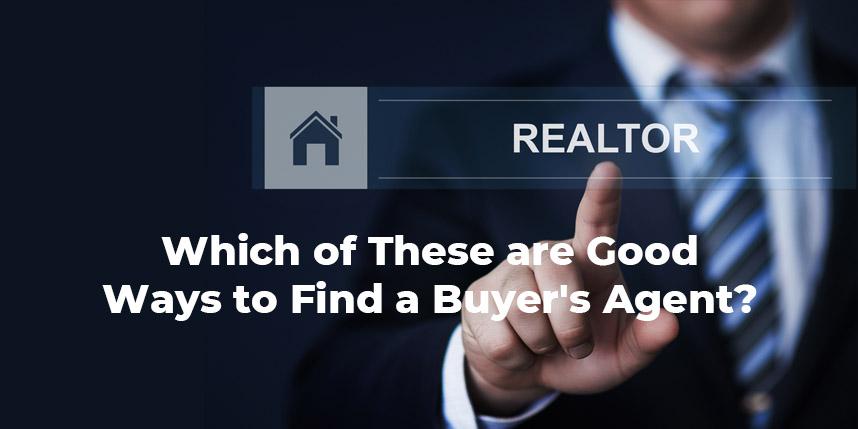 24 Mar 2021
Introduction- Purchasing or selling a house is an exhilarating affair in itself. You have to go through the excitement of searching for the perfect house and signing the deal. The entire procedure is amplified if you find a real estate agent who has knowledge and experience in the market.
But with a variety of brokers and negotiators available at your disposal, it is a huge challenge to search for the perfect one who can match your expectations.
How to Find a Good Realtor to be Your Buyer's Agent
To assist you with the procedure of selection, here are 10 points to remember while you are thinking about how to find a buyer's agent. Let us have a look at the suggestions mentioned by real estate professionals: -
1. Always Choose the Person, Not the Professionalism-
You should always choose a buyers' agent who completed his duties with you and for you. It is not mandatory to select a broker, just based on the experience he has. It is an important thing to consider, no doubt. But it does not matter solely. Since you would have to spend a lot of time with your appointed agent, it is important to establish good communication.
Therefore, you should always go for someone responsive and genuine. Remember that you have to find a real estate agent for yourself and not the property. Your appointed person should be communicative.
2. Chemistry Comes First-
Before selecting the appropriate broker, engage in an interview session with a minimum of 3-4 negotiators. Also, ask for the opinions of other people who have worked with them previously and look for adjoining projects handled by them. Ask these questions- "What does a buyer agent do?"
"What is the nature and extent of their marketing?", "Are they trustworthy?" When you find a broker whose work matches all of your requisite criteria, you can appoint him and then work with him accordingly.
3. Look for References from Other Property Owners-
As mentioned earlier; it is always good to get references and advice from previous clients of the buyers' agent you are planning to appoint for yourself. Despite major technological advances available to you for searching for your requirements, a man-to-man selection of the perfect buyers' agent is still the way to do it.
A word of assurance or a compliment of satisfaction from a client is the best way to understand the reputation and find a real estate agent, best for the job. Ask house-owners about their personal favorites and also talk about the difference between a buyer's agent and a seller agent and the experts available within your area in both sectors.
4. A Broker with Your Major Concern at Heart-
Always ask yourself- "What does a buyers' agent do and while he does it, does he keep my major interests at heart?" You should always be honest and clear about your requirements and preferences and if your appointed buyers' agent is incapable of fulfilling them and cannot place out the required choices.
It is very obvious that they are not looking for the right houses but are rather trying to benefit from the buyers' agent fees you pay them regularly. Keep your negotiations straightforward and do not hesitate to find a real estate agent again, if the current one does not feel right to you.
5. Trust Your Instincts-
When you decide how to find a real estate agent perfect for your needs, think deeply with logic. Also, you must always trust your intuitive feelings. When you interview an agent, research their professional perspectives in the field and their customer satisfaction reports. Also, trust your gut feeling, and if you feel the broker be okay to work with you, go for it.
6. Find A Reliable Broker and Research All Track Records-
Although you are the person who has to initiate the conversation, you should also be attentive to the response of the broker and if he/she listens to you properly and counter-interrogates you. Despite several technological services available to the brokers regarding the purchase or sale of a specific property, they also need to be humane enough to understand and help you achieve your specified target.
Do not jump in too fast to find a real estate agent. Take your time and make the right choice. Renowned buyers' agents will never jump out of the cake for you. They must have spent a lot of time creating a track record so that premium quality stock.
Reciprocation is the edict in the case of houses when single families reside but in the case of the commercial one, it is exceptional. To get the best dealings and offers in your area, you have to be in constant touch with several renowned brokers at the same time, based on the type of the selected property or its size.
7. Look for A Passionate, Honest, And Ethical Agent-
Always remembers the buyers' agent fees you pay are dependent on the quality of work they facilitate you with. Research their activities- listing products, online sites, pamphlets, and sigils. Also, the external outlook matters largely. They must be dedicated, honest, and convicted about the job.
Also, one of the most important factors to keep in mind while conducting business relations is that the appointed agent must have strong core values. Moral conduct is essential so that both of you can work effortlessly with the same basic rules to be followed. 
8. Look for An Agent Who Alleviates Risk Factors-
Despite the difference between a buyer's agent and a seller agent, both of them must be honest and informative about the risk factors in purchasing or selling a property. Flattery and shaggy brokers are going to be of no good to you. All you need is your buyers' agent to be more realistic and highly efficient in reducing the effects of any risks you counter in your entire procedure.
When you interview prospective negotiators, always be attentive to those who prefer using authentic data to their responses when you speak of investment scrutiny, market presentation even at the regional level, and long-term effects of your plans to purchase or sell a property.
9. Search for Lucid Communication Lines-
As already mentioned, you and the buyers' agent need to communicate effortlessly with each other. Since you would have to work with each other for a long time, you should be able to feel comfortable in each other's presence. If your instincts sense awkwardness in the conversation or if you find a real estate agent who puts unnecessary pressure on you, he/she may not be the perfect choice for you.
10. Surf Through the Internet for Additional Information-
No wonder a personal authentication of your buyers' agent is a good choice, but you should also do online research of their activities. Check them out on Google or Yelp. Look for their website. Utilize the technological resources available to you and do thorough research before making the perfect decision.
What Is A Buyer's Agent?  
There are many job opportunities available in today's world. A buyer's agent is one of them. A buyer's agent can be thought of as a link between potential buyers and potential real estate. Although they operate on behalf of real estate agent sellers or purchasers, they are referred to as "buyer's agents".
A buyer's agent is someone who negotiates a real estate deal that will benefit the client in every way possible. They are dedicated to providing a profitable offer to the buyer of the property in question.
What Does A Buyer's Agent Do?
If it is the question that "what does a buyer's agent do", then the possible answer is that much simple. Because a buyer's agent has to do plenty of things at a time before the real estate deal. These works are as follows-
Listing the Assets-
The buyer's representative must provide all of the pertinent information on all of the choices that could be useful in the property transaction. Therefore they need to make a list of properties that can be showed by them when a real estate purchaser comes for his help. So the basic duty of an agent is to enlist all the assets according to their location, size, and type groups.
Real Estate Showing Schedule-
Another important aspect of a buyer agent's job is to set up a time when he can meet with the buyers to show them the land. They have to fix a meeting with the buyer at the relevant place where he or she can show the asset to the purchaser. As there can be several buyers whom the agent has to meet, so he or she should maintain a file to arrange all the steps accordingly.
Agent as A Pricing Manager-
They also participate in the negotiation between both parties. Actually, they play a major role here. Because it is their duty to provide a good deal to those who have hired them. Apart from that it will also beneficial for their career growth too. And it will enhance their reputation as well.
How to Find A Real Estate Agent?  
When someone thinks about purchasing some real estate than a frequent question that might be on his mind that how to find a real estate agent. Now we will deliver the relevant points against this necessary concern. Real estate agents can be found in several ways. You can make an online search for the concerned purpose.
And you will get countless options near you. But choosing the most genuine one. By surveying thoroughly by their ratings and reviews you can fulfill your search. Apart from that classified platform is an all-in-one place that also can be helpful in your search for a real estate agent.
How to Find A Buyer's Agent?
When anyone considers purchasing real estate, one of the first questions that come to mind is how to locate a buyer's agent. Now we will present the pertinent points in response to this critical concern- how to find a buyer's agent. You may conduct an online search for the required information. And there will be a plethora of choices available to you in your immediate vicinity.
But go with the most genuine choice. You can complete your quest by carefully surveying their ratings and reviews. Apart from that, the classified website is a one-stop-shop that will assist you in your quest for a real estate agent.
How Does A Buyer's Agent Get Paid?
It will be a very helpful tip for you if you are planning to buy a home or some other real estate. A buyer's agent does the job in exchange for a fair fee from both sides. So, if you're a buyer, you should be aware of the agent's fee. Therefore make valid research on the fees of them before hiring someone.
Choose the individual who offers you less commission and profitable deals with all your criteria. Here are some prongs mentioned beneath that are related to the concerned aspect-
Aside from that, the commission may be influenced by negotiations.

Furthermore, the location of the property site may be a controlling factor in the commission demand.

All of the variables that contribute to a large commission can be attributed to the agent's diplomatic conduct. He must earn the confidence of both parties. Only then will he be able to gain more than he deserves.
What Are the Differences Between Buyer Agent and Seller Agent?
Now this portion of the writing will be contained with the very relevant topic- the difference between buyer agent and seller agent.
The one other basic duty of a buyer's agent is to find real estate for the buyer that can be fulfilled from all the buyer's requirements such as good location, cost-effectiveness, size of the concerned area, etc.

The significant duty of the seller's agent is to find a potential client for a handsome deal for the seller's side.

When it comes to the end of the seller agent's job, the most important thing for the concerned person to do is to make the selling property great. They could assemble a team to clean the related property site to make it more appealing before joining the queue.

The negotiation process is regarded as the most important aspect of the transaction. This is to make the negotiation more equitable for all sides.
What Are the Differences Between Real Estate Agents, Realtors, And Brokers?
Real Estate Agent- 'A real estate agent acts as a catalyst between the purchaser and the property owner when any real estate-related deals are done,' according to a precise description for a person who has chosen the discussed industry as his occupation.
Aside from this, the agents are thought of as the intermediaries between the two sides. As a result, all sides place the burden of negotiation on them. Furthermore, it is assumed that the concerned agents have a wide range of options when it comes to the land.
Realtor- When considering a property purchase, you can look for a reputable representative of the industry. However, you can come across two similar terms: first, "real estate agent," and then "realtor." In the previous session of the paper, we addressed the introductory category. Let us now discuss the final word.
As a result, you might wonder, "What does a realtor do?" 'All realtors belong to the agent community, but only a few agents belong to the second section,' may be a plausible response. They devote a longer amount of time to your property search needs and also wait a long time for an answer. Realtors help people buy and sell homes in a smarter, simpler, and more qualified way.
Broker-   Now the relevant idea on the broker of the real estate sector could be discussed. Brokers are considered as the inseparable persons of the concerned sector. While purchasing, selling, or renting any real estate then the need of a broker can come forward.
As all such aspects can be performed by a broker perfectly. Brokers must have a legal certification to be entered into the concerned business. And real estate agents can be controlled by the brokers sometimes, though brokers are permitted to work individually if they desire.
Conclusion- These points should be beneficial to your requirements of how to find a real estate agent. Appointing a professional and reliable buyers' agent can prove to be beneficial to you and make sure that your property is sold at the highest price or you can purchase for the best in the market at affordable prices. 
Categorised in: All News