---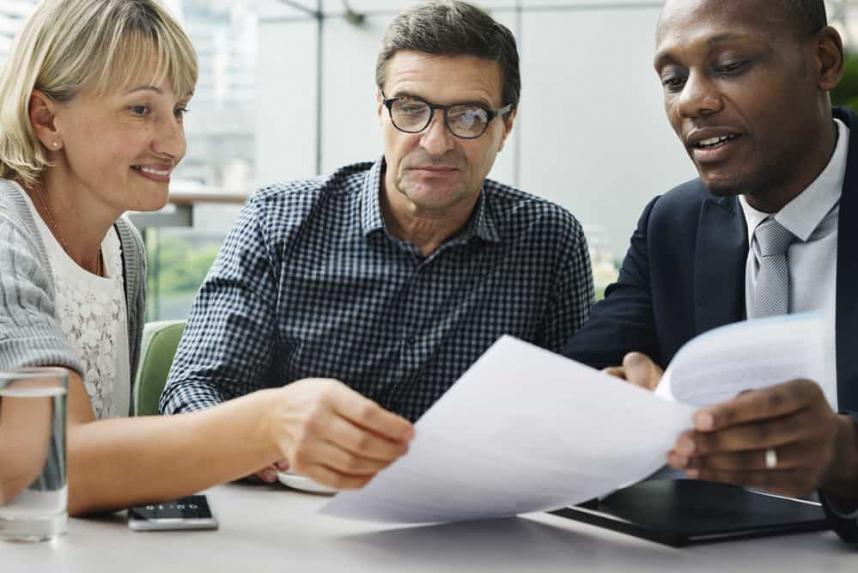 07 Nov 2019
An investment banker's career is one of the most lucrative professions' where most aspirants believe it requires an MBA degree from top universities to enter the Goldman Sachs (or other such banks like J.P. Morgan, Morgan Stanley and the RBS Group) or you need to get a four to a five-year degree from a business school at the undergraduate level.
Of course, many hold a technical degree at the graduate level, but they shift into such fields and sometimes, those with a degree from top institutions fail to get a reputable job. So if you are thinking about how to Become an Investment Banker UK, you should know what it is like and what educational qualification is needed to be one.
To know - How to Become an Investment Banker UK, first make sure it is the right job for you where you may have to join a related profession and may have to either do research or handle investing in UK securities or trading. Individuals from various backgrounds use their skills and knowledge to work like investment bankers.
Those working in the sector often fit a certain personality profile. So to know how to become an investment banker, you need to have a certain educational qualification or a graduation degree and be ready to work in potentially stressful work situations where you may be working in areas like investing in European bond funds, commodities, options, exchange-traded funds, or stocks in your local stock exchange.
You can work as a corporate investment banker to start your investment career in the UK or become an operational investment banker. Both jobs are challenging but offer huge financial rewards.
Below we discuss some of the points to know how to become an investment banker in the UK and the related career options and roles for those working in this sector.
How To Become An Investment Banker Without A Degree?
Business firms hire those with a business-related undergraduate degree or a one/two-year program from reputable institutions.
Sometimes, those working in technical fields or as a lawyer shift to management jobs by getting a one-year degree, as there are multiple ways companies benefit from their previous experiences in those jobs. Some of the employees in financial companies are recommended by their bosses or management to join certain educational courses to move up the ladder.
How to become an investment banker without a degree in finance or business?
Most banks will accept only people who have completed a graduate-level education in finance. The top investment banks typically require a grade of 2:1 or above. In addition, you should have a strong understanding of mathematics or do a three-year full-time BSc in Finance with an affiliated CFA programme. You can also have a science degree if you want to work in pharmaceutical investments.
Entry-level CFA certificate course offers the threshold competency knowledge in research analysis, portfolio management and other key investment activities. Yet, you can apply for a master's degree in finance and study part-time Retails & Digital Banking MSc, or you can do a Master's degree in finance.
Many organisations and investment banking institutions recruit from universities or offer graduate schemes and higher apprenticeships that let you gain practical, real-world experience while studying or after graduating. As a result, job experience in the sector reflects your commitment to the profession.
What Does An Investment Banker Do?
Investment banking is all about helping companies to grow. The job is about raising capital through stocks, bonds and interaction with institutions and government. An investment banker acts in an advisory capacity; helps clients raise money from capital markets to expand their businesses.
They also have a role in pricing capital, deciding the cost of the money companies need to raise from investors. In addition, it requires skills to manage mergers and acquisitions.
Many top banking institutions, including Barclays, Goldman Sachs, and the RBS Group, offer summer internships in investment banking where you can learn key technical skills by working on deals and transactions for the company's clients. Many of them also offer internships or work placements.
These schemes are very competitive, and an offer of one of these sought-after positions will give you a real head-start to getting offered a permanent job On-the-job-experience. Practical skills training gives you the perfect grounding in investment banking. The best-performing students may receive full-time job offers upon completion.
However, it's important to get the facts you need before applying to make an informed decision. So, first, learn about the different work experience opportunities and choose one that best suits your interests.
The entry-level investment banker UK salary can be around £30,000 to £40,000 annually. It may also include additional perks in the form of bonuses and other types of compensation. After three or more years, the income rises to £50K, and with a significant experience, they may earn a base salary of £150K gross per annum.
After three years at Morgan Stanley and Goldman Sachs, London salaries rise to £90k at such banks offering an accelerated promotion to associate. A managing director in the firm can earn more than £150,000 gross a year.
The work requires exceptionally long hours where a twelve-hour working day or more is not uncommon. So if you are interested, be ready to handle the pressure as it can be a highly demanding job with work hours exceeding 80 to 100 hours a week.
One of the roles of an investment banker is to oversee the companies' portfolios and ensure that the transaction occurs in the most reliable way possible.
If you want to know more about investment banking, the best way to go is to look at websites where you can find more information. You will also find several books available online that will give you more information on how to choose a good investment banker.
Do remember that investment banking is not as simple as it seems. You have to take a lot of time and effort into doing so.
How To Become A Banker?
People who have worked in the field of finance for more than two years can get a degree from certain institutions; they may have to clear the banking tests or get a management degree, to get better access to recruiters.
The competition is very tough in the area, and prior exposure to business school can be helpful, but it does not guarantee success.
If you are interested in becoming a banker, getting a finance degree will help you have a successful career in banking. Once you have your bachelor's degree, you can try to get an internship with an institution. Some investment management and banking employers ask for a CV and cover letter, but most employers use online applications.
They may also ask you to appear for online tests, such as personality tests or general psychometric tests. If your application catches an employer's eye for the right reasons and you've done well enough on any required tests, you'll probably be asked to attend an interview and assessment centre.
Application dates for some organisations are open all year round, and closing dates for internships are often a bit later than those for full-time jobs.
If you do not get a job, try to gain a Master's degree in finance or business from a reputed institution, or you can get professional certification to land a position in banking and investment.
As you can see, the internet provides a wealth of information on how to become a banker. From researching colleges and choosing the one that is right for you to how to choose a career, you can find out all you need to know about the career.
By obtaining a college degree, you'll be well on your way to starting your career in banking and, in turn, create a positive impact on the entire banking industry. In the long run, a rewarding career in banking will benefit you and the communities you live in.
Best Degree For Investment Banking UK
Thousands of universities offer full degrees; every year, thousands of young graduates get a degree from these institutions. Still, only a few hundred are recruited by the top firms, and less than a hundred can reach the desired position in the company and investments.
It has been observed that those with full-time experience in the fields are considered more employable than the fresh graduates.
Most banks want people who have worked for more than six years in a normal banking job.

The search for the best degree for investment banking UK starts with knowing what this kind of job entails. First, you should consult the training manuals issued by all the major training institutions.

The first step is knowing the qualifications you need to apply to work in this industry.

Investment banking UK requires at least a bachelor's degree, but it may also take more than a bachelor's degree. For example, the most highly qualified people have Masters in Finance. So, after you have obtained your bachelor's degree, you can complete your master's degree in Investment Banking or move on to a doctorate in the same field.

The second step involves training and getting a job with an investment bank. Certain criteria like personality traits and skills need to be met when you seek employment in this industry, so it is important to look into the requirements carefully before you start finding a job.

The next step is searching for investment banking companies that can offer internships. Again, there are a lot of companies around, and you can find several of them on the internet.

It would help if you got in touch with the HR managers to find out whether they offer internships.
Investment Banking Skills
Without an MBA degree, one requires skills and experience in finance and investments. One can talk to the prospective employers and explain the absence of a degree and investment banker qualifications.
Certain basic traits like commitment, resourcefulness, motivation and good communication skills are required. In addition, one should know the popular trade language and terms associated with market trading and know-how market acquisitions and mergers work, they need to price capital - the money the companies need to raise from the market, and they need to design strategies for the companies to help them advise the financial goals and make long term and short financial plans.
The key task required by the multinational is to raise funds to grow their business to help high-net-worth institutions, government organisations, or investors manage funds through strategies to generate profits.
You need to be able to depict how equipped you are with the knowledge of the market and can manage wealth efficiently in tricky market conditions.
If you are looking for career opportunities in Investment Banking, you need to understand the basics of banking thoroughly. In addition, to become an expert in this field, you must know how things work.
You can take the most comprehensive introduction to bank courses offered by local schools, universities, and colleges. You can also opt for those classes that offer specialised courses in this field. In any case, you will have to deal with the basics of bank management, investment banking, financial planning, etc.
If you are not eligible to join a management post, you can work as a junior associate, middle associate, or even a partner in a bank. These positions normally involve working under a director but are extremely well paid.
At the top levels, these jobs may get higher salaries than assistant partners. So, it pays to have knowledge of the industry and be an expert in banking before you begin your career. Just like any other specialised career, you will have to train yourself to use all of the tools of the trade.
If you decide to go into the actual practice of your abilities, you will have to have a fair bit of networking. It means you should meet people in banking and earn their trust and respect. Only then will you be able to get the work that you want.
Categorised in: All News