---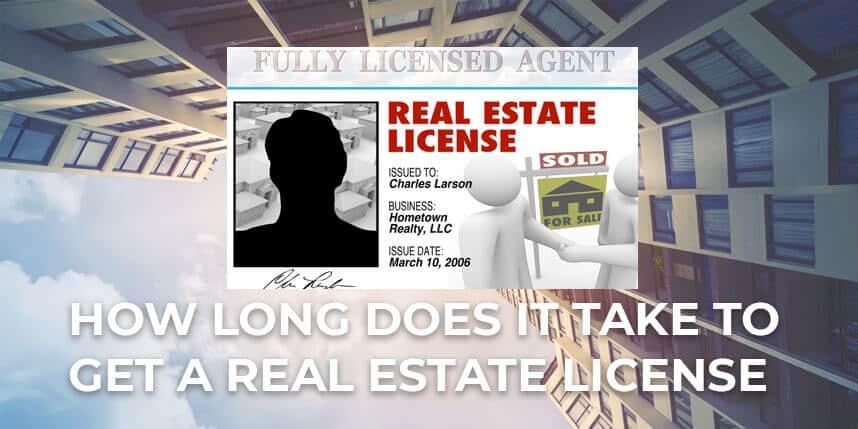 04 Aug 2021
Introduction: - A real estate agent works closely with the property seller/ buyer and the investors. They assist buyers or landlords in renting out their property as per the facilities and location to get the desired price range. They have licensed specialists who can handle real estate deals. They serve as representatives who conduct negotiations for the two parties involved in the deal. 
So being a real estate agent is a responsible job that requires much effort. Becoming a real estate agent could be a fantastic career decision if you have great communication skills, know the laws, and know, how to bargain with clients. In this article, you can know How Long Does It Take to Get a Real Estate License? 
In the state of Texas, USA, the real estate market is growing. Thus, becoming a licensed professional may be rewarding. The most common skill required for real estate jobs is communication and customer service. A real estate agent typically does the following:
• Arranging for viewing the property.
• Ask for deposits from the clients.
• Advise the clients (buyers and sellers) on market conditions and rates.
• Advertise 'for sale' properties online.
They may ask the customer to visit their office to negotiate a deal, arrange for documents, conduct legal checks and value properties. They are also responsible for Booking surveys and assessments, collecting rent, and managing rental properties (letting agents). Nonetheless, it may not be easy to earn at the start of a career. However, if you want to enter the business, apply for a real estate license, gain experience and grow in the sector. In addition, general knowledge of the local laws related to property transactions and the market condition can help in the long run. 
What Is a Real Estate License?
How to become a real estate agent? If someone wishes to pursue a career in the real estate industry, they must apply for the pre-licensing education. A real estate agent's licence is nothing more than permission to teach the skills of selling and buying homes and other properties. Each country has a specified legal procedure for registering a real estate license and certain government regulations governing the process. So, if you want to work as a real estate agent in Texas, USA, you must adhere to the relevant jurisdictions.
The procedure begins with applying for a legal and verified real estate licence. To apply to become a real estate agent in Texas, USA, you must have the educational qualification, and you need to clear the exam and pass the qualifying tests. Once you get the paperwork done, the government's legal authority judges all of your paperwork to approve your claim. In this way, you'll be able to begin the process of applying for a real estate licence.
How to Get Your Real Estate License? 
To get the license, you have to complete the pre-licensing education equal to six courses, and one should ensure to get approved courses. Also, there can be a final course exam where you need to get a score of over 70 per cent to qualify. 
Once you clear the exams, you will have to undergo various checks like passing the criminal background test, fingerprinting and other checks. Texas, USA Real Estate Commission is responsible for sending the exam results to the participants. In addition, it is responsible for license issuing, renewals and disciplinary investigations.

If you want to make sure the agent is legally allowed to buy or sell properties in Texas, USA, you can check it on the TREC search pages – the name and license details of the agent. 

The exams are conducted regularly, and it is not a very difficult exam; you can easily pass by learning from the course material. There are 125 national and state questions, and the candidate gets 3 to 4 hours to clear the test. If you fail, you can retake, but you should not repeat the mistakes to clear the exam.

You should be steady at the exam centre to quickly eliminate choices to clear the exam. Time management is important. Try to single out the choices relevant to the question at hand.

It is standard test-taking wisdom where you need to read all of the choices before choosing your answer, which applies even in this exam.

Make sure to save some time to double-check, revise and look over your answers before submitting them for grading. Once you submit your answers, your results will be posted or emailed directly.
What Do You Need for A Real Estate License?
If you want to give yourself a better career option, you could get a degree in real estate by enrolling on the real estate license school. You need to know a few things before starting. Without a license, you cannot work in any state you want.
There are several online platforms where you can learn about the practices in the real estate business. After clearing the exam, you will have to work with a broker or real estate agency that can help you gain practical knowledge of the market and legal procedures involved in property deals. In addition, you get on-job experience and learn tips to apply to communicate with prospective clients. 
Cost Of Getting a Real Estate License
Although many people say that you need zero investment to get a real estate license, it is not entirely true. You may have to pay $200 as an application fee, and you will have to pay the fingerprinting service charges and examination fee( $54 per attempt) to start the educational process. In addition, if you fail to clear the exam, you will have to pay for it if you apply again. Also, you may have to invest at the start of your career to gain experience and build your profile.
How Much You Have to Wait for Your Real Estate License?
The license is required for those who are into licensed real estate activities under the supervision of a licensed broker (as mentioned in the Real Estate Law). For example, a salesperson's real estate license helps a person conduct transactions that are not allowed to people who do not hold the license, so if you want to grow in this field, you need to get the license. 
If you apply for a real estate licence in Texas, USA, the initial licensing period can take up to two years. To renew your Texas, USA real estate license, you will have to fulfil 90 hours of Qualifying (SAE) courses and two TREC Legal Update courses criteria within the two years.
The basic requirement is mostly the same in all states, where the age must be 18 years or above. The applicant must be honest and truthful and shouldn't be convicted of any crime. If you try to become a salesperson in California, USA state, you may have to follow the same procedure and the eligibility criteria are also the same. 
You can take the help of the Internet if you need to know more about California's (USA) real estate license. Also, you can find the best location in the US where you can increase your network with clients. Also, those who submit evidence of completing the eight statutory college-level courses may take the broker examination and are eligible for the salesperson examination without further evidence of experience or education.
Is It Tough to Become a Real Estate Agent?
In reality, there are many risk factors that people never consider before entering the sector. Without proper skills, you cannot make as much money as you see in the advertisements. Furthermore, there is nothing regular in this business. The industry parameters change due to several geopolitical and external factors. You won't be motivated to contact so many clients after failure to get a contract. Also, you may not earn anything when a deal fails after long term follow-ups.  
Besides, you will have to travel from one place to another. It can affect you emotionally as you will have to spend days far from your family. There will be situations when you won't receive any calls for months. You will have to set expectations and fill them up on your own. 
The reason why people choose this career is that there is no limit to success. You can make as many sales as you can to increase your savings. However, the rate of competition in today's market is extremely high. Hence it would help if you went through all the pros and cons wisely before paying for real estate license costs. 
How fast can I get my real estate license? 
It will take at least 180 classroom hours to complete the required real estate courses. Then, you need to apply for the specific exam as there are separate licenses for an agent, a broker or an inspector. Finally, you will have to complete the application form and fill out the supplement form to claim credits for any military experience. You can apply for a fee waiver if you have military training or a license by another jurisdiction equivalent to Texas, USA. 
TREC can offer an applicant the option to demonstrate competency by alternative methods like competency in other exams, educational courses or real estate business experience. 
To prepare for the exam, follow the steps – 
1. Collect Real Estate Guide Books: - 
Different types of rules apply in different states for real estate licenses. When you apply for a real estate license, you will require the guidebook for the exam. 
2. Take Advantage of Online Classes If Necessary: - 
Many don't have the time and opportunity to take classes. They can opt for online classes. You can continue your exam preparation at home. 
3. Make It a Habit to Practice Regularly: - 
Practice how to answer the questions quickly in a limited time. Also, try to allocate time to review answers emphasising all relevant aspects. You may have to check the authorised websites to know more about getting Real Estate License.
Should I Get My Real Estate License?
Judging by the current times, if the real estate business is your goal, its license is required. The license provides you credibility and helps to grow in the business. In the Texas, USA Real Estate Agent's license-related educational course, you need to learn the principles of Real Estate, laws of agency & contract, and finance-related courses depending on the factor if you are going for a salesperson or agent's license course. 
Prepare yourself for the work involved in the process like 
Get A License As Soon As Possible: - 
Know about the legal procedures to get the license and then apply for the educational course to prepare for the exam. Once you clear the exam, you can get the license. 
Select Workspace: - 
The real estate business is an independent business that is not like a permanent secure job. You can work with any agency or a firm, or you can start your estate agency. You can join as marketing or salesperson or work as a broker. You can even join the management / administrative team of a popular real estate firm. 
Decide How Much Time You Can Spend on Business: - 
Many real estate traders or agents work full time in this business, while some go part-time. 
Conclusion: - The process of getting a Real estate license in Texas, USA, is straightforward. First, you need to apply for the educational courses. Then, before you take the exam, you must first meet the basic educational requirements set forth by the TREC---the institute that governs Real Estate practice in the state of Texas, USA. Next, you will have to register with TREC if you give the salesperson exam. Finally, you will have to produce all the documents to take the exam and get your certificates of completion. 
It would help if you remained focused on your goals. Ignore those who try to distract you or warn you against the exam or tell; it is difficult to clear. Instead, remind yourself why you are doing all of this in the first place. Just keep your cool and know that you will be fine. Try to remain physically fit by doing regular exercises and staying focused on your dreams to clear the exam. 
Categorised in: All News