---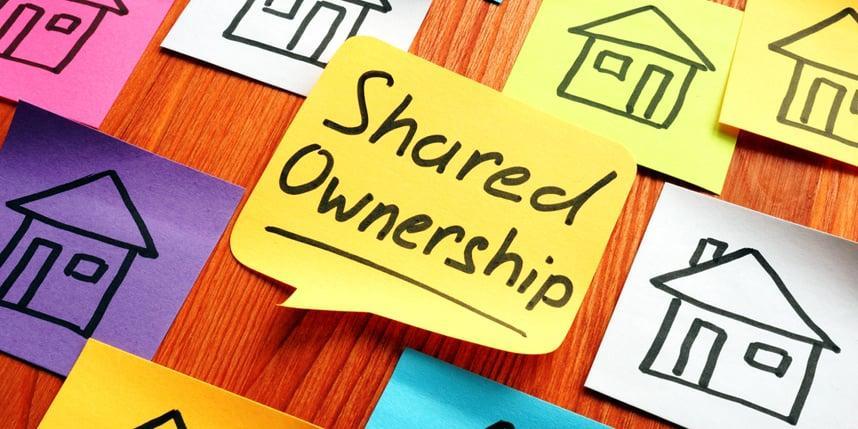 29 Jan 2021
Introduction: - All over the world, real estate is regarded as a necessity and investment tool. People invest in buying homes for their staying and at the same time get some good returns on the invested money. But this is not a cakewalk for everyone. Home property rates are skyrocketing due to various factors like low-interest rate, renting is costly, people inclination towards owning a home, and non-availability of the required number of flats and houses.
As per recent surveys, UKs property rate is very high in the last year as compared to the last five years. This upward trend in property makes it impossible for many to buy the home of their dream. However, there is a ray of hope for those people too who have less amount to put into buying a home or property. That's called shared ownership. To know more about that read further.
What is Shared Ownership? How Does It Work With Example?
Shared ownership is a government-supported plan for less economically advanced people. Here a person owns property or house along with the housing association. For example, you are going to purchase a property that is beyond your capacity and you cannot afford it despite taking a home loan from financial institutions.
Here you go for shared ownership. As the name itself suggests, you have to share your own with the association, builders, or any individual or company for your home and property buying. Just like a shareholder in a company, you will hold the shares of property value following the money you have invested.
So if you are on rent and paying 10 to 20 percent of your monthly income for paying that rent, go for shared ownership. Just pay whatever you are capable of and keep increasing your shares in the house by earning more money. Now you have 50 percent of shares in a house thanks to shared ownership, but you may increase it to 100 percent in the coming years by paying or buying the remaining shares from your shared ownership companion.
Why Buy a Shared Ownership Home?
It is not so easy to purchase a new home or find a home for rent. While facing trouble in search of an affordable home to buy, you can go for this scheme. At the time of buying a house with this scheme, you will get two ways ownership ( to buy and to rent). It helps an initial buyer to decrease the problem of paying the total cost of a residence. One confusing question occurs to the buyers- why to buy a shared possession. Below is the answer to their confusion,
If you have an insufficient income, you are eligible for getting a mortgage loan as the lending payment will be less. And by this, you can own a house of shared ownership.

The security money of the procedure is less, as the mortgage is less. The money is not taken as the price of the entire property; it is taken as a percentage of the share price.

It allows you to prove that you're able to afford the monthly rent along with mortgage expenditures.

It is also desirable for renting. The fraction value of the purchased home grows with the price of the property. In that case, you may need some equity for helping you to take the next step on the property ladder.

In this scheme, the expenses of rent are less than private rents.

People who earn less than £60k per annum and want to buy a house for their own, shared ownership is the best option for them.
Benefits of Shared Ownership
Why would you go for shared ownership if it is not beneficial for you? So you must consider reading more to understand the various benefits or Shared ownership pros and cons of it.
You Can Afford High-End Property Too: -
Just opposite to the buying, here there is no need to pay the full value of the property at the time of purchase. People prefer this new scheme because they get to live at a nicer property with lots of basic amenities and an extra layer of safety and security. Living at a high standard place is quite beneficial for the overall development of human beings.
You get a good education for your children besides getting excellent medical facilities, etc. Just in case you are spending a handsome amount on renting and cannot afford to get a house right away due to a finance issue, go for shared ownership. Here pay whatever money you have saved and live it peacefully. Then you have to pay some sort of charge to the shared partner and you may convert your shares to 100 percent once you have more money to put into the property.
You May Call It Your Home or Your Property: -
Just like your own property you have excellent authority over the interior of the house along with the exterior. You may decorate it; you may go on for improving some parts of the property too. But here it is advisable to take prior permission from the housing association before going to make big improvements in your interior or exterior. Minor changes are not a big deal with major issues is.
However, many times, all the terms and conditions are written into the property document. Points like where can you make improvement and where can you not make any improvements are clearly defined in documents. But it does not stop you from feeling intact with the property. You just feel like owning a property. There is no immediate homeowner to interrupt you into your privacy just like renting. In renting, you get all time interruption and disturbances from owners for doing this and that.
Deposit: -
Here you need not deposit a large sum of the amount to the builders or sellers to owing a house. You just deposit according to the share you wish to own. If you are in a low-income group and do not have a good source of income, go for shared owners. By considering shared ownership pros and cons, it is clear that pros supersede the cons. So whether you are a low-income group or a high-income group, you can afford it.
You also note that a mortgage is not a quite simple thing. Some people might think that why should they go for shared ownership UK when they can take mortgagee and then they can fully own the house. For all those people out there, the mortgage is just like a credit facility and you get the amount depending upon your credit eligibility.
It's not like you will go to banks and asks for a high-value loan and they will sanction it. They will consider your earning ability, liability, and other sources of income, age while sanctioning it. Here shared ownership gives you the golden opportunity to own a house with very less deposit.
Prospects: -
Future is bright for shared ownership holders. There is always an option to buy the remaining shares and own the property fully up to 100 percent. So as you are paying some sort of rent or charge on that shared property, you will save that money. The future is bright and even your children can own it by earning more money.  
Safe and Secure and Trusted:-
You put your hard-earned money into buying shared ownership so it must be trusted and your money must be going into the hands of a good person. Be assured. This is completely legal and has the government backing. This is like a dream for all those economically weaker sections. High-income people have lots of options to own a home, but those options are not available to low-income group people.
You may sell your share any time, you may increase your share any time and there are no hard and fast rules. Association or the other partner works just like a companion; you get your dream property and staying into that. On the other hand, your shared partner is getting rent or some charge by giving you the full authority of that house.
Step Guide to Buying a Shared Ownership Property
In the advanced world, there are various types of business associated with various types of technology. In this field buying the shared ownership property, UK is one of the most popular trending assets. The purchaser who wants to buy any property for the first time, they can choose it as a good option. It is mainly a criterion which is handled by the purchaser and house provider.
In case of sharing ownership, you can't buy all properties-despite parts of the property. But you can borrow a bigger part of the property as a share. The person who wants to earn money not to buy his or her property, he or she can apply this type of process.
Sometimes the property is sold by sharing opportunities before the construction. Most of the developers' countries are attached to this type of business. For this type of shared ownership in London, income sources are less needed. But it is important for stable income including a shared ownership calculator. So here some tricks have been explained about buying shared ownership property.
Choose the House:-
First, you have to gain knowledge about all the features of the owner's property. In case you can get help from any agencies of shared ownership properties. Then you can survey the shared property in your area or another side. Nowadays there are various types of online websites which are very beneficial for this as well as there are various types of eligible features to impress the viewers. There are numerous types of criteria in offline searching too.
Consultation of Monetary:-
When the buyer should have decided about the voice on any specific property then you have to know about all details of the property. After this, the purchaser can examine by going to the place or get an idea to see this on an online website. But it is more efficient if it can be possible to go to the place and assess the property in his or her own eyes.
They have to also keep in mind the economic criteria by the shared ownership property. The purchasers have to be sure about borrowing the property. It can occur by mortgaging or paying the rent for the other properties that are not them. The buyer has to confirm the amount of the percentage which you want to buy because there are no clear ideas in any guide about this.
Keep Ready For Your Recommendation:-
There are various steps for purchasing shared ownership property. But after the step by step procedure, a purchaser has to keep in mind his or her recommendation about this property after doing the needed procedure. Sometimes they may have to pay some cost but most of the time it is dependent on the persons who agree to buy his or her property. When the buyer can confirm the property for buying. Then he or she reserves it for prepayment. For that, he or she can discuss with the seller about the procedure for it.
Organize the Mortgage:-
After all the above procedure they have to decide about the quantity of the property which they want to buy and the buyers also get to know about the court of the char which you have to pay. Sometimes the purchaser applies the mortgage strategy for buying any shared ownership property. There are various types of items for the mortgage which can be done for shareware ownership property y.
But before this, the borrower has to be sure about purchasing the house in share. Before taking any decision, any advice can be taken from the adviser or they can decide by working on their clear financial criteria should be made from the bank from which the mortgage is applied.
Make Legal Documentation:-
As it is required to buy any shared ownership properties, and it looks like a  big deal  Legal attention should be given for this so that there will not be any problem in future. However, this type of process is very helpful both for sellers and buyers. So to know the details of the legal aspect for this type of buying, lower has to be authorized who can be able to make the buyer and seller understand all the criteria of legal documentation of it. It will be very good if any experienced person guides the borrower for buying any shared property as they know all the financial transactions about it.
Make Communication:-
When the purchase is sure to purchase any shared property and the buyer is also well known about it, then good communication has to be made with the seller. So for this contact number can be taken from the buyer to communicate with him or her. Most of the time communication is important to make sure about the property which the purchaser wants. For this, prepay can be done most of the time. By this contract, other things associated with this property can be discussed.
Fulfilment of the Procedure:-
After all, above the procedure, the exact budget is to be paid for the shared ownership property to the seller or the home provider. Besides this, it is also made sure about the mortgage fund which is the big asset to buy this. The other charges associated with sharing ownership property should be understood properly.
What Is The Difference Between Shared Ownership And Shared Equity?
Shared ownership and shared equity are the schemes that are a requirement for the buyers who are going to buy a house for the first time. The income of the family should be less than 60k pounds. In terms of shared ownership eligibility criteria - the buyer should be18 year's aged, annual family earnings must be less than 80k pounds.
Shared ownership calculator helps to acquire knowledge of the mortgage portion you may pay for. For shared ownership London - the family earnings of the buyer must be less than 90kpounds per annum. It is significant to know the differences between Shared Ownership and Shared Equity. 
1- Shared  Ownership
In a shared ownership scheme a buyer can acquire only specific parts of a property with an option of future buying from that housing association. The residence community provided residences are mostly recently constructed, some are for re-sold. These schemes are conducted for those who haven't enough earnings for buying a home. Shared ownership means when buying a house - you can purchase and live in a residence by paying only 40% of the property price and pay rent on the remaining 60%.
2- Shared Equity
With shared equity, one occupies the entire residence at the start and has to pay the value of a proportion at the time of selling. That is equivalent to the government equity proportion which you acquired. The agreement of a Shared equity scheme is a very acceptable contract for the first time buyers. Because it allows for purchasing a house without a vast payment of the price.
In terms of shared equity, a buyer can pay little sediment of the purchase price at the first time of buying a residence (approximately 5%, later increase to 20% of the price), with a no-cost loan.
Conclusion: - If property buying is in your cart and you are struggling between managing finance, high property rate, difficulty in getting handsome money from financial institutions, go for shared ownership. You are not alone, there is like a boom in the UK for that new scheme. Realize your dream of home and get more respect from society. Why should you postpone your plan of house, due to your finance factor? Put the money whatever you have, and enjoy your staying with full authority. 
Categorised in: All News