---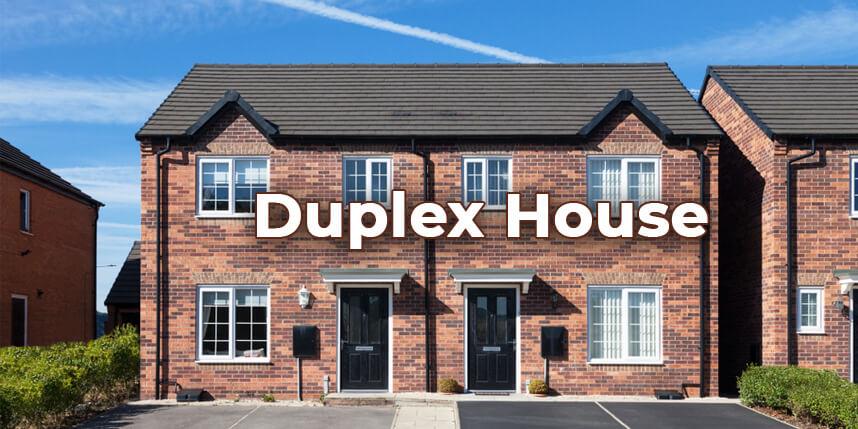 18 Dec 2020
Introduction: - A duplex house is a type of residential building that consists of two floors. Here is the trick. You cannot call a duplex house a double-story building. In the duplex house, there is a single dining room and a single kitchen. Unlike double-storey buildings, it has a common central wall. These types of houses are owned by a single individual.
It is like a double-story building with lots of common points. Any duplex house always has two floors, not more than that. For the convenience and comfort of the residents, it may or may not have two separate entry points.
What is a Duplex?
Duplex has two separate units but connected. The residents mainly use the first floor for the kitchen, dining room, guest room, bathroom, and other purposes like stores and they reserve the first floor for bedrooms. When someone enters the house, a big hall is welcome in any duplex house.
This type of house is mainly constructed for high net worth individuals who have a big family and all wanted to live together. A middle-class person cannot afford this sort of house. It is very costly to purchase or rent a duplex house.
What is a Duplex Apartment?
In big cities like London, Tokyo, Mumbai, time and space are scarce. Families try to live with each other to save time and money. In that situation, a Duplex apartment is the best possible solution. Here we are counting some of the benefits of owning or renting a duplex apartment:-
It is ideal for big families. There is no need for family members to stay away from each other. More than 5 family members can stay in a duplex apartment lavishly.

One saves the time of commute for any family gatherings and festivals. When all the members stay together, it saves time and money. There is no need to spend on travelling between places.

Duplex apartments are generally located in high-end places in the city. So one will get a good environment and neighbourhood when deciding to purchase or rent a duplex apartment. People living nearby you are generally rich, well educated, well mannered, and friendly. One gets a good opportunity to hang out and develop long term friendships with the people living nearby.

Generally, we all know that posh areas have a good mode of transport, communication, and open spaces. It also holds a good amount of other necessary places like schools, colleges, museums, auditorium, stadium, temple, mosque, churches, parks, playgrounds, and others. So in case you have a duplex apartment in your possession or you have taken on rent, there is no need to travel anywhere for other curricular and extracurricular activities. One gets all those required places within the ambit of the buy a house.

Basic amenities like electricity, water, sewer line, broadband connection, etc are well maintained and organized in duplex apartments.
What are the different types of Duplex Houses?
Duplex houses are a type of family homes that mainly hold two units in a single building. It hardly matters whether the units are side by side or placed on top of others. The main characters of this house are the entry points. House has two units and two entrance and exit points for the residents. There are mainly five types of duplex houses found all over the world.
1. One Floor over The Top of Others: - When we talk about duplex House, people generally understand this type. Here one floor is stacked on top of the other. A guest enters the lobby area and from there he or she goes to the first floor. The first floor of the household's guest room, washroom, a big hall, and maybe a kitchen and storeroom.
The first floor is for residents to sleep and hold a bedroom. This sort of house also comes with separate entrances. Here the owner earns some extra income by renting the other floor without any problems. Two separate families also stay together due to the presence of two different entry and exit points. This type of duplex is very comfortable, costly, luxurious, and high in demand all the time.
2. Side By Side House: - yes, it is true. Some types of duplex houses are side by each other still they call duplex. Here both houses are not separate entities but they are all together. These houses come at very high prices. Here house will occupy double space as compared to the over the top duplex. These houses are very comfortable too because no family member is required to climb stairs.
Elderly people, ill people, physically handicapped people prefer these houses more. Further, these houses also look spacious because of the vast space in front of the home.
3. Ranch Style Duplex: - These houses are mainly found in high altitude and high earthquake zones. They are easy to construct and manage. There is no need to use stairs because the ceilings are very low. It comes in large sizes horizontally.
4. Mansion Style: - These duplex holds good values and features with all the modern amenities. High windows and ceilings along with a modern look are the main characters of these duplexes.
5. Single Storey Duplex: - If you have more space, then you may prefer to construct these types of house. Here more than one house is connected in a single storey. All the rooms and other common areas are connected from inside also.
What is a Semi-Detached Duplex?
Type of duplex where two houses exist but there is one common wall. For example, your house's all sidewall is also the wall of the other family living beside it. It looks like one house is the mirror image of another house. More than 30 per cent of property transactions in the UK involve these houses.
These houses are not costly as compared to other types of the duplex but provide the same type of comfort and luxurious feelings. Villages and most small and medium towns have this house in large numbers.
Duplex House Design
Owning or renting a duplex house is not a small deal. There are lots of points, you need to ponder upon. Carpet area, location, permission from the local authority, cost of construction or rent, types of neighbours nearby, etc are some points to consider before finalizing the Duplex house design. Depending upon all those factors, you may go for any type like side by side, single storey, ranch-style, and mansion or block style or one floor over the other duplex houses.
Search for various designs available online and also consult a property consultant or architect before starting the work. Also, talk with your neighbours about the pros and cons of every style of a duplex house, it helps in taking the right decision without or with less risk. Do not take hasty decisions in respect of design.
What is Duplex House Plans? 
Duplex house plans are like multi-family homes that consist of two distinct living areas but apart from each other by floors or by walls. They are various famous in different countries of the world and mainly in the UK. They are economical because they use less building materials and also save space. These houses are famous among the economy class people in large cities as well as villages. 
How Can Build A Duplex House?
This is probably the longest successful recipe for becoming financially independent and financially wealthy and success is real estate. At first, you need a job as much you may be looking into passive income a real estate investing. SO\o you have a job because that's how to qualify for a loan to buy a property. The next thing you need to do is work on developing credit, if you do not have credit it is incredibly difficult to prove that you are capable of paying back a loan.
They are not going to give you a loan unless you have developed an established credit history. Beyond building that credit history and that work history you need to save for your down payment most people in most places in the country will be able to qualify for a three and a half per cent down loan.
Now different loan types may require more than three and a half per cent done but you should be able to get into your first property with three and a half to five per cent down on it. So if you got the job, credit ad saves your down payment there are only two things left you need and the desire to fulfil the dream of this third to pursue this s dream to start this journey. 
What is the difference between a Duplex and an Apartment?
First off when you walk into an apartment you have to have a key to get into the building first. You do have to the same thing with a house whereas you just unlock the door and walk into the house.

In the apartment, it takes a little bit more because you have to go into the door unlock it and get in the elevator. It is not that much bigger of a deal than it is going into a house because have to unlock a house door but with an apartment, you have to unlock two doors. Not that huge thing but it could be just somebody does not want to have.

The next thing is the neighbour situation in a duplex you have other houses that are next to you and in an apartment, you are a lot more close-knit with the people around you.

If you plan on being loud having parties then don't go into an apartment if you are more of a chilled out relaxed want to be quieter and then to for an apartment.

Because you are going to find that atmosphere. If you do have a pet then it is a little bit harder to find an apartment that was pet friendly rather than one that is just humans can be there.

So it is a little bit more difficult to find ones that just pet friendly and that allow everything into the building. In your own house or duplex, you can live freely whether in an apartment there are some restrictions.  
How Much Money Do You Need To Buy A Duplex?
Duplexes are great for an antibody that is interested in real estate investing does not know where to start. They are great investments for beginners simply because they are designed. In a duplex, you can live on one side and a tenant can live on the other side. Now many people don't understand the importance of this. When you live me the duplex the tenant pays for your mortgage and your expenses and you don't have to live anywhere else.
The expenses that you would ensure renting another place or maybe having another mortgage are non-existent. And it can allow you to save more. The second great thing about duplexes is their price and not only the relative inexpensiveness of them but also the fact they hold their value well.
Ans they hold their value well because when an economy goes done the first person that is going trove out looking for deals is going to be investors. And that demand holds the process relatively well now number three this is probably one of the most overlooked parts of duplexes is that they qualify for a government-subsidized loan.
So you want to make sure you buy a duplex that is in good condition and is not beat up. Lots of duplexes in very bad shape simply because investors did not take care of them and when something is old and neglected then the price of these Duplexes becomes cheap than others. However the average cost of a normal size duplex is around $250,000, each unit has 700- 900 square feet.
What is the Difference between a Penthouse and a Duplex House?
Penthouse: - Any apartment or suite from which you can see a lot of beautiful views from the outside and which is usually located on the upper floor and which is very expensive and luxurious that is called a penthouse.
Duplex House : - Whereas a duplex house is a house where there are two separate units to stay. There will be only one main road to enter this house and two living quarters next to it that called duplex.
What is the Difference between a Duplex, Villa, Bungalow, and Apartment?
Duplex : - A duplex is a place where there are two living places it can be a two-story building it can be next to each other.
Bungalow : - The first bungalow in England was usually built-in in 1869. The bungalow could be a small house or a single storey or a second storey built.
Villa : - Villa is a mixture of house and unit because villa property is attached to other property.
Apartment : - The apartment is a very different place from any house. An apartment is usually a large building with many small units. And there are common areas which the owner of this apartment has to share. 
Conclusion: -
Job, credit saves for down payment have that strong desire because you are going to need it. Lastly, knowledge of those things is what you have to get started if. If you have done that then you take all of that and you walk into q bank or you apply for an online lender for financing and you have and duplex house.
And when you have that financing you call up a few real estate agents and you interview them and you tell them what you want and you can go. You just go purchase that property you have everything built so that you can't the financing.
Once you have that financing and wind-up through a pre-approval letter you couple it with a real estate agent and let them find you a property. The agent well hopefully if you interview them right and if you picked a good one will helpfully help you navigate the minefield. That is poor investment decisions to find something you can focus your money time energy and effort onto and be successful. 
Categorised in: All News