---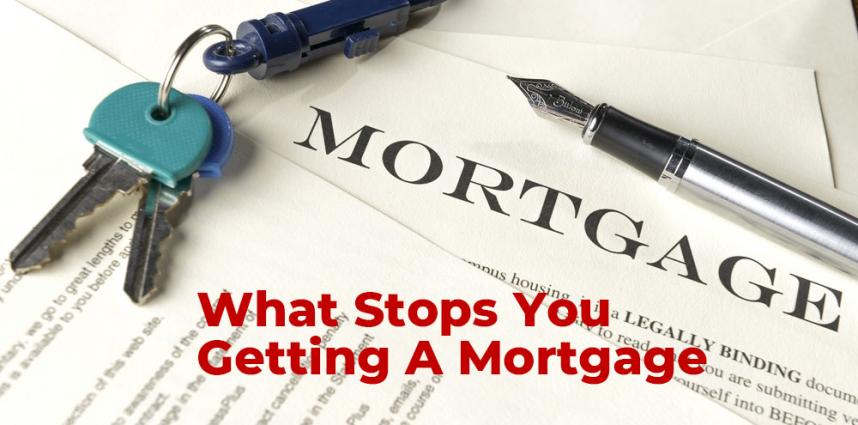 10 Mar 2021
Introduction: -  The banking sector is a sector with a huge divergent nature. The mortgage is a very commonly accessed aspect with due facilities among the financial services. Mortgage can be considered as the process of placing some pledge on your property or real estate. The fortunate part of having such a loan is that it belongs to the secured group of financial services. The borrower can be superbly benefitted after finishing the finance period successfully.
Because then he had already fulfilled the desired work with the amount and also going to recover his asset. For a beneficial deal, you must talk to the lender. Due to this reason, it is fair if you have to seat with him plenty of times.
Because this financial decision will be a milestone in overall wealth and future as well. If there is any other choice to Stop You from Getting a Mortgage then go for it rather than go through the mortgage process.
10 Prime Tools that will put an End to Get You a Mortgage
1. Credit Record: -
The topmost pre-qualifying measurement for the applied mortgage is to check out the credit record of the second party. The lower history in previous finance options can be the frequent Reasons Why Mortgage Applications Get Rejected. Therefore, initiating the process is not that convenient.
Just make sure that you are belonging to the upper credit score scheduled by FICO (Fair Isaac Corporation). After having the appropriate or satisfying score then only you can jump for this wide decision. And while maintaining the loan you must take care of the track record as well.
2. Your Remuneration: -
It is a common question by the lenders- what's your net income? Don't be shy. Just be transparent and give the genuine documents against your statement. This question arises due to the reason that- the lending authority wants to be sure if you are eligible enough for the monthly payment thoroughly or not. If you found a little bit less than a qualifier then you can go for a smaller amount loan.
3. No Credit History: -
If you are all new in the loan sector or applying the first time for any loan, then the lender can be a little husky to provide the mortgage. Because he has not any proper measurement tool to judge your efficiency. So in such a case, you must provide your income documents properly.
If they are convincing enough then you will qualify the extremities scheduled by the authority. Therefore it is suggested to apply for a mortgage after having a well-structured credit background.
4. Excessive Dues: -
The credit score falls because of excessive dues in most cases. But it is not a good sign if you are a frequent borrower in the concerned sector. In the banking sector, everything depends on your credit scores and reputation as well. To have extra-ordinary due hampers your reputation.
Apart from this, also hampers your process of getting new finance options such as a mortgage. Besides the relevant question is Can You Get a Mortgage with Outstanding Debt. The unfortunate answer is 'no'. You can try, but a max of the lenders will not going to allow it.
5. Not Voting Properly: -
Often, we don't take the election seriously. We often miss the vote events genuinely led by our lack of interest. It is perfect with being apolitical, but the election is not a political event. It is also a qualifying factor in different issues. It is also eligible to provide your proper residential place regarding information to the lending authority. With this due duty to the nation, Hard Is to Get a Mortgage UK.
6. Errors in Application: -
Make sure that, you are doing perfect work in your application process. It may sound silly, but it is a very often found problem in applications for any financial choice such as mortgages. Because the authority makes an extreme checking procedure before giving you the money.
If the authority finds any irrelevant information or mistake in the form then the process can be stopped due to the filtration program. So before submitting make a recheck of your information provided in the concerned form of the mortgage application.
7. Your Work History: -
The professional experience of the client is also a significant tool to measure the eligibility for the loan against the mortgage. Typically, the lending authority is trying to know about your monetary attitude. Or try to be judgmental regarding your future finance attitude after taking the mortgage loan.
If they found your eligibility for qualifying for the next finance choice you are applying for then you are going to qualify the factors of applying for the mortgage loan.
8. New Loan after Applying for Mortgage: -
Applying for an all-new financial plan can be the foremost reason for a mortgage. But while initiating the process you have to go through a strict process of checking credit background. This entire process can be done after two ways of filtration. You have to apply first and thereafter the process of previous finance closing.
If the question in your mind is that Can You Get a Mortgage with a Loan then the certain answer is 'for sure'. But you have to come across the proper process. And here is a request learns before you leap in the process.
9. Wrestling with Finances:-
If you are not qualifying for the next process of having a mortgage loan due to your lower background in the financing arena, then you can consult an expert person. With the due help of him, you can go for a smaller amount option. Apart from this site, it is also suggested to clear all the debts as soon as possible. It will provide you a sudden hike in your credit measurements. Thereafter you are going to qualify the finance process for sure.
10. The Erroneous Money Lender: -
The last but not the least point is to find an eligible lender. That's why we talked about to make research on the financial market for a mortgage option in the above section of the discussion. You can also take the help of online searches to survey the lenders near you. Check all the relevant points before going to the lender. Choose the particular option that will satisfy your requirements from all the manners.
Reasons Why Mortgage Applications Get Rejected
Mortgage applications sometimes get rejected despite providing all the required documents. Below are some of the reasons mortgage applications get rejected -
1. Age Matters: -
At the time of applying for a mortgage one should keep in mind the age of the borrower. Because if someone is applying for a house loan before his retirement, he or she will not have sufficient time for repaying the loan. But a lender can consider providing a loan only after assuring that they have enough income to pay back the loan before they get retired.
2. Insufficient Documents: -
A mortgage or personal loan gets approval only after proper documentation. In case all the required documents are not provided, the lender will not able to give someone a mortgage or home loan.
3. Low Credit Score: -
Credit score has an important role in terms of the mortgage. In case the credit score of an applicant is not adequate, the lenders put it under consideration. It helps to track all the records of someone's existing credits.
4. Huge Debts: -
If someone has huge outstanding debts with high-interest rates and several loans, they can not be able to apply for a mortgage. It generates uncertainty on the repayment policy.
5. Credit Report Mistakes: -
Despite having a good credit score, someone may have errors in the reports. It can reject a mortgage application. So, all the mistakes should be improved before making an application. 
6. Changing Job Repeatedly: -
People changes job frequently, only if they get better opportunities there. But it may prove that a borrower is not so decisive. And by this, a lender has to make consideration before lending him a loan.
7. Certificate of No Dues: -
After repaying the entire loan amount one needs to take a certificate, which proves that there is no dues debt. It approves someone to get the next mortgage loan easily. But if someone is failed to provide the certificate the application may be rejected.
8. Delay In Previous Loan Repayment: -
If someone is failed to repay his prevail loans on time, it proves that his credit score will not be so good. Also, there remains a problem to get a mortgage loan. So, if a mortgage loan is needed an individual has to compensate all the repayments which were guaranteed by them.
9. Property-Related Problems: -
If a property is not so modern or too ancient, a lender does not always provide an applicant mortgage for that house. Because it may break the guidelines. 
How Hard Is It to Get A Mortgage UK? 
Getting a mortgage is always hard for some people. Authorizing for a mortgage has always had some difficulties. Nowadays, lenders are not authorizing an application easily. Despite having a good credit score, many people are getting rejected to get a mortgage uk from borrowing a mortgage loan.
Lenders became so strict that they are asking for more and more documents for approving the calculator of mortgage affordability to get an indication of the payments a borrower can repay for the loan.
The difficulties of getting a mortgage mainly vary on an applicant's qualifications and eligibility. At first, the lenders ask to submit the household income, which includes the basic salary along with bonuses or additional income one may earn from freelancing, commission, etc.
Nowadays the lenders also go through the detailed process of checking affordability to get a mortgage uk. They prefer to check all the conventional household bills along with the loan debts. It needs to be checked only to make sure that someone can cover the monthly mortgage repayments.
How to Get A Mortgage on A Low Income?
Having a low income is not a curse for getting a loan, because there are various tips and tricks one must follow. A person is also eligible to get a mortgage, though an income report is essential for borrowing a loan. At the time of applying for a mortgage, the lender checks if an applicant can afford it or not.
They consider the monthly payments by looking at the income of a person, their monthly expenses, etc. Still, one may be able to receive the acceptance.
There are some ways of getting a mortgage on a low income:-
One must contact an agent.

Must look for the best mortgage which they can afford.

Make a comparison with other mortgages.

A huge deposit should be saved for future needs.

With a larger deposit, one can apply for a smaller mortgage. As it is not so risky for the lenders.
Find some mortgage on a low income schemes that can be helpful. Several schemes are there which includes - If a mortgage is borrowing from someone else, it can be beneficial for both the applicants. If someone purchases a residence jointly with someone else, they can get a joint mortgage.
Then the lender needs to look at the combined salary of the two people. There is also a scheme of shared ownership, scheme of help to buy, the scheme of right to buy, etc.  Lastly one must check the condition if they can afford a mortgage, or not.
How to Get Approved for A Mortgage?
For, get approved for a mortgage for a loan, one must go through some procedures. There are some important points, one must remember to provide.
1. Acceptable Credit Score: - One of the most important points to get approval for a mortgage or home loan is a good credit score. Only by the prove of credit score one can get a loan or a loan may be rejected. Before approving a loan, most lenders expect sufficient scores according to their requirements.
A good credit score also allows someone to get the lowest interest rates. The lenders also suggest the people who have lower credit scores - how to get improvement in credit scores.
2. Verification of Job and Income: - A lender often asks for employment verification, if they doubt the applicant's job or their earnings. So, they can even call or contact the employer for verifying his employment. Practically, lenders want to make sure about their repayment situation - if a loan applicant can repay his loan amounts or not.
Moreover, a borrower has to submit the statements of his last two years' earnings. As it shows his income along with the date and year of income. Expect all these it needs to provide the proof of the last two year's tax return papers. If someone can provide all these as early as possible, they can get approved for a mortgage.
Can You Get A Mortgage with Outstanding Debt?
If some have get a mortgage with outstanding debt. Though there remain various problems, which can destroy the chances of getting the loan. At the time of applying for a mortgage or home loan, one should come across some impressive steps to satisfy the lenders. We all think that having an outstanding debt may impact the next mortgage. But there are reasonable ways to improve the difficulties.
1. First of all, one needs to confirm the economic connections. An applicant may be dominated by all the coordinated accounts, only if someone has shared a bank account with his previous mates for paying bills.
Perhaps an economic link is something that someone is having a financial relationship with other people, through a combined credit card. But in case, an individual is already isolated from someone, it needs to eliminate all the financial links. 
2. Another important way to get a mortgage despite having huge unclear debts is to check the credit files. Lenders have various criteria for the borrowers. At first, they will check the credit report of an applicant. It is one of the vital parts of starting a mortgage process.
Before applying for a mortgage, one should keep in mind to register their names on the electoral roll. If someone has unclear debts or not, that doesn't matter, but many lenders use this registration data for lending the loan. So, registering to vote can help to get a mortgage with a loan.
Conclusion: - We hope this discussion will help you to make you an eligible choice while having your mortgage loan process. So please think carefully before making such a huge decision. Because mortgage option is not the only way to get rid of the financial crisis. Other options are good enough. If you are determined for the concerned process then make a recheck on the above points.
Categorised in: All News