---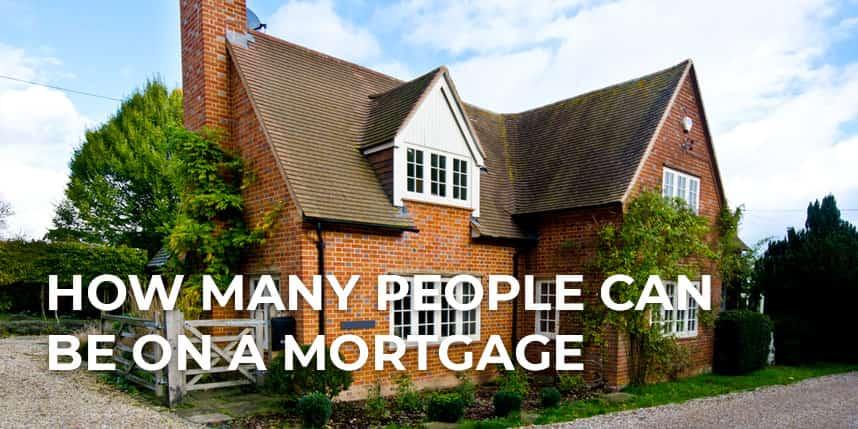 06 Aug 2021
Introduction: - Buying or having your own home is an alluring dream of many. But it can be quite an overwhelming process. Before buying a property, your budget plays a key role in your decision. Knowing how much you can afford is a good option to consider your dream house. If you have a clear picture of your spending patterns, saving money becomes easier. Another easy way to purchase a home is to apply for a mortgage. In this article, you can know How Many People Can Be On A Mortgage?
The term mortgage is often intimidating for people. But if you study more about it, you will find that a mortgage or mortgage loan is nothing but a type of easy loan that you can take against a property.
In cases, where you do not have cash ready with you, you can easily take a mortgage loan. It is a more secured type of loan because the lender is promised by the borrower to pay the loan. In case, the lender fails to pay the loan, the borrower can always take back the possession of his property.
It is an easy ride if you do your homework very meticulously before applying for a mortgage. A good lender is understanding and cooperative. The lender and the borrower should be well-informed about the current rates of interest. This avoids a clash between the two parties.
An Overview on Home Mortgages: -
The interest rate on the mortgage loan is decided by two factors prominently, one is the current rates of interest in the market and the second is the level of risk that the lender is encountered for lending you the money. The transactions in a mortgage take place in two parties, one, the lender and the second the borrower.
The amount of money you pay each month to the lender is your 'mortgage money and the period throughout which you pay this money is termed as the mortgage period. A mortgage can be applied jointly as well. Joint mortgage requirements vary from bank to bank. Multiple co-applicants can be present for a single mortgage.
To know how many names can be on a mortgage follow the below part of the discussion.
Top Five Things to Know About Mortgages When You Buy a Home
The more you study mortgages, the more befits you will get. Let us have a look at the following points:
1. You Can Take a Mortgage Loan Even with A Low Credit Score: -
People often have this misconception, that to take up a mortgage loan, one needs to have a high credit score and make a huge down payment. The latter myth will be busted in the coming point. When you apply for a mortgage, possessing a good credit score is always advantageous, but it is not always mandatory.
Due to the lack of the right information, people are scared of mortgages. A lot of mortgages allow owners with less income to have their own house. The best-suited loan for you takes into account your financial income, your employment, your history of loans and your financial goals.
2. Know How Much to Pay for The Down Payment: -
The down payment of mortgage can range from as low as 0% (for rural housings) to 20% (for non-government loans that have no insurance). If you have a credit score above average, you can have plenty of options. Sometimes you can punch two or more mortgage loans to buy a house.
You just need to have the right information. With sound knowledge of mortgage rules, you do not have to pay a higher down payment amount always.
3. Your Closing Costs Can Be Paid by The Seller: -
Various fees are involved in a mortgage transaction when you buy a property. A seller concession is something that allows the seller to pay the closing costs for you. While buying a home, you not only have to think about arranging the down payment amount, but also the closing costs. But we have good news for you.
As a buyer of the home, you can make the contract in such a way, where you can instruct the seller to pay any and the entire closing costs. The closing cost requirement can also be brought down to zero.
4. Your Employment Period Matters: -
The minimum requirement of your employment period is not always two years. It depends on your financial history and your future scenarios. You may be an unpaid intern, but you can still get a mortgage loan. Young, newly employed people are also eligible for mortgage loans. With the right knowledge of mortgages, you can also achieve your dream of buying your home.
5. You Can Have a Trial Mortgage Loan: -
Yes! It is true. The transition from a rented home to own home is the most common financial goal for people. But it is the greatest headache of all. Before taking the risk, it is a good idea to run a kind of test-drive mortgage. To see what is affordable for you, this can be practically a good idea. If you face any problem during this test period, you can always take your further steps more carefully.
What Is a Mortgage Loan?
Loans are secured in exchange for cash down payment or downing some portion of an asset that is equivalent to the cash amount, that required by the loan provider office or bank. A mortgage loan can be secured by exchanging the land property, gold ornaments, and personal car. In the mortgage loan system, the loan applicant must deposit something that they possess and the price of that property must fulfil the loan criteria.
Depositing your property for securing a mortgage loan is a kind of security for the loan provider company or the bank. The loan-providing organization or the bank adds this property depositing clause for a security purpose, so that, no one can cheat them. Some of them escape from it.
That's why, to stay away from the heavy load of cash loss, bank or loan providing office requests to deposit property or asset. So that if anyone tries to escape without repaying the loan amount, the bank will sell their property and close the mortgage deal. This is the whole method of a mortgage loan.
How Many Names Can Be on A Mortgage?
If you would like to add more than one name to a mortgage deal, then you can but your loan provider should agree on it as well. The loan provider must approve multiple loan mortgagors because it can be critical in the future. Loan provider officers are quite familiar with joint mortgage requirements, but it has few valid reasons.
If an aged person applies for a loan, then their children or grandchildren can enlist their names as multiple mortgagors. Apart from that, a group of friends may wish to buy a property, so that the down payment and monthly instalment amount will be evenly distributed among them and no one has to take an extra load of the monthly repayment amount.
Buyers can apply with multiple people on a mortgage; also they can invest to rent a house so that the cost will be split among them. All these actions will be counted when the higher authority of the loan providing office or the manager of the bank will approve the whole matter. Relevant documents must give to the higher authority so that they will inspect and finalize the deal.
How Many People Can Buy a House Together?
Homebuyers can apply for a mortgage with a group of individuals; they can take the joint initiative to invest in a house to rent or purchase. So that the cost is shared among them. Applying for a mortgage with two or more people is very common in the leading countries. Jointly applying for a mortgage loan can be benefited for all. Because it will reduce monthly costs for each person.
But all of these acts will be counted once the loan supplying office's higher authority or the bank's manager has approved the entire situation. The relevant paperwork must be presented to the higher authority, which will inspect and finalize the transaction.
Not only married couples, cousins, siblings, grandparents with their grandchildren, non-married couples, and a group of friends can avail the option of securing a mortgage in a joint venture.
Whoever will do the joint venture mortgage deal, must have a strong mutual understanding, because if they share financial conditions with you, they also have the same right on the property as you do. Therefore, you and your fellow companion must think before entering into the joint mortgage deal. It only requires the same commitment from both sides.
How Many Co-Signers Can Be on A Mortgage?
Before moving to the main part, first, we must clear the concept about the co-signers. Co-signers are those who sign the mortgage deal with you as your guarantor. If you fail to repay your mortgage loan, according to cosign mortgage loan the co-signer has to bear all the responsibility on your behalf. A co-signer is also bound to bear all your debts if you fail, escape, or refuse to repay the loan amount.
Legal terms and conditions are also applicable to co-signers. But here you may ask why we need co-signers? The reason behind involving co-signers is if you have a not-so-impressive credit score, then you won't be able to qualify for a mortgage or any personal loan.
Here co-signers will take all your responsibilities if they wish to be your co-signers. Co-signers can be more than one person.
A person can be from your family or your friend circle. Anyone who wishes to sign as your co-signer must be aware of all the legal rules and regulations. Because if you fail, then the total repayment amount should be paid off by your co-signers. Co-signers are not only for mortgage loans, they can be included too in personal loans, educational loans, and car loans.
Can Parents Guarantee a Mortgage?
The guarantor of a mortgage is the second person who helps one to get a mortgage. In many cases, if the mortgage payment is not paid on time, the guarantor pays for it. This guarantor can be any person, be it parents, close relatives or friends. Here are some points that can be important if your parents are the guarantor of your mortgage –
The Legal Aspects of The Guarantor Must Be Kept Error-Free: -
The mortgage guarantor needs to have the necessary documents and an idea about the terms of the guarantor. Because it is a legal matter so it's good and bad need to be known from the beginning.
The Responsibility of The Mortgage Rests Equally on The Guarantor: -
If the mortgagee's borrower fails to pay on time, the guarantor is responsible. So this issue should be taken very seriously so that there is no problem later. Because both the borrower and the guarantor of the mortgage may risk their property if they do not pay.
Close Relatives Will Be the Guarantor of The Mortgage Borrower: -
Mortgages are a legal matter and always involve a financial issue. You need to see if you can contact the guarantor at any time and what is needed. So choosing a parent as a guarantor does not create any complications in this regard.
You Have to Have a Good Credit Score and Good Earnings: -
Many people who applying for a mortgage for the first time do not have a good credit score. Also, keep in mind that people with good earnings need to be chosen as guarantors. In this case, not only parents but also friends and relatives can act as guarantors.
What Is the Difference Between the Name on The House's Title and Mortgage?
If you are on the way to get a mortgage you have to understand Houses Title vs Mortgage. When buying a home you can first decide what the title of the home will be. If a couple buys a house together, they can decide whose name will be given in the title of the house. Of course, as time and circumstances change, so do these things.
An individual homeowner often shares a home to reduce the cost of his mortgage. In many cases, it can be an interesting thing if you don't have your name in the title of the house. If you do not have your name in the title of the house, you are homeless. Then even if you pay the rent, the person whose name is in the title can dispossess you.
Even if you have your name in the title, there will be a problem if you do not pay properly. Lenders can take legal action to seize or forfeit your property. However, the person whose name is in the mortgage has put a lot of risks.
Also, keep in mind that you must have a trusted person in the house title or the mortgage. Because he can sell his property to any other person only by following the law. He does not need any prior permission from you for this.
Conclusion: -
It is more beneficial to go for funding before you make a serious decision about buying a house and making deals. Mortgages can help you get your dream home. You just need to do your research well. le bit tricky. Being prepared about what to expect during the mortgaging process enables you to plan and higher your probabilities of receiving a loan with satisfactory terms.
You can simply increase your income and lower your debts to find yourself in an advantageous position. You should start saving for the down payment of your dream house at the earliest. Nothing can completely ensure that the whole mortgage process will be a smooth ride.
However, if you are prepared in advance of time, the process becomes easier for you to handle. So it is important to have your paper woks well ready in advance.
Categorised in: All News