---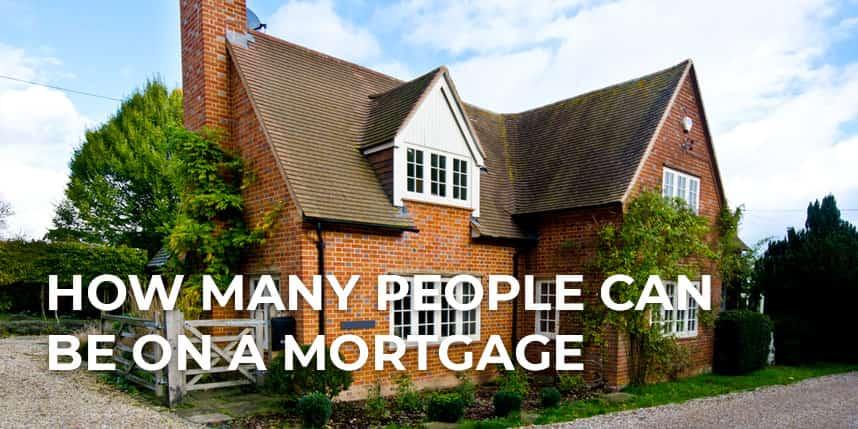 06 Aug 2021
Introduction: - Lenders limit the number of applicants on one mortgagee in many cases to just two, but there are certain alternative plans where more than three people can get their names on one mortgage to buy a property. 
It is often referred to as multiple applicant mortgages where two, three or more friends or family members are named in the title deed. However, many lenders restrict the number of applicants only to those whose income can be declared. 
Buying a home can be quite an overwhelming process. Before buying, you need to arrange for funds. Try to know how much you can afford while spending on your dream house. Multiple mortgages boost affordability. Adversely, you can apply for a mortgage with the help of a guarantor. 
A Mortgage Loan
A mortgage loan is nothing but a type of loan you can take against the property from a bank or a building society. Individually you can borrow in the range of 3 to 4.5 times the income, but when you apply for joint income, it can be four times. 
After the financial crisis of 2008, lenders are more cautious, and they generally avoid approving loans for risky projects. They conduct affordability checks on all the applicants to ensure you can pay back the monthly repayment. 
Affordability is calculated from income, your expenses and the total debts. 
They conduct stress testing to ensure the buyers can meet the monthly repayments, where they check your credit file to see if you could afford the repayments if the rates are increased from the base rates. 
To secure the mortgage, the homeowner has to pay at least a 5 per cent deposit. One cannot get cheap loans unless they have larger deposits. The loan amount versus property value check is conducted to get the 95 per cent LTV mortgage. If you want to reduce the monthly amount and save more on buying a home, you can offer to pay up to 20 per cent deposits. 
In such conditions, you may consider the option of joint mortgages where grouping with friends can help you get larger deposits, and the involved parties can split the cost of mortgagees and regular bills. It can be like sharing rent with friends where the money goes to the lender instead of the landlord. 
The UK has one of the largest mortgage markets, where over 11.1 mn mortgages worth around £1.3 Tn have been offered. However, it can be complex when owned jointly. In this article, you can know How Many People Can Be On A Mortgage?
An Overview on Home Mortgages: - 
The interest rate on the mortgage loan is decided by two factors, the current rates of interest in the market and the level of risk. The amount of money you pay each month to the lender is your 'mortgage money,' and the period throughout which you pay this money is termed the 'mortgage period.' 
One can apply for a jointly owned mortgage, where multiple co-applicants can get a single mortgage, and the criteria and process of approval for joint mortgage requirements vary from bank to bank.
Before applying for it, you should know the complex criteria to get it approved and how many names can be on a mortgage.
Top Five Things to Know About Mortgages When You Buy a Home
1. You Can Take a Mortgage Loan Even with A Low Credit Score: - 
Each lender has a scoring system where they count scores through various parameters, and in general, having more marks counts against you as it may suggest you are desperate to get a credit. If your application is rejected, it further hurts your credit file. If you have a poor credit rating, you may still get a  mortgage loan. 
Nevertheless, you will have to search for a lender willing to give you a loan, you will need a larger deposit to counter the bad credit history, and the best mortgage rates won't be available to you.
2. Know How Much to Pay for The Down Payment: - 
Even in the case when you do not have a deposit and need to borrow 100% LTV ( or the full amount), you can get a loan, but your options will be limited as all lenders do not provide 100% and the interest rates for zero deposits are very high. Further, you will have to pay for a longer back term.
3. Your Closing Costs Can Be Paid by The Seller: - 
You will have to pay many different fees to get a mortgage to buy a property. A seller concession allows the seller to pay the closing costs for you. While buying a home, you have to think about arranging the deposits and the closing costs. As a buyer, you can get an agreement with the seller to pay any and the entire closing costs to bring the closing amount to zero.
4. Your Employment Period Matters: - 
When determining how much of a mortgage to offer, lenders spend a lot of time assessing your financial situation- your job situation and prospects to ensure your ability to make the monthly mortgage repayments.
Most Agreement in Principle (AIP) require a soft search on your credit file where no changes are made against your application to get funds; however, a real mortgage application will put a mark on your credit report that all other lenders will be able to see.
5. You Can Have a Trial Mortgage Loan: - 
Yes, you can get a loan for the transition phase when you are shifting from a rented home to your own home.
What Is a Mortgage Loan?
In the mortgage loan system, lenders will look at your salary, expenses, investments, and any other revenue you have on your application. You will have to prove your earnings by submitting the payslips and the bank statements. Self-employed have to undergo additional checks where the lenders will closely examine all their outgoings.
You can contact a mortgage advisor who can access the latest rates and lending offers not available on the high street. So talk to experts, especially if you're self-employed. Professionals will tell which lenders are most likely to accept your application and reduce the chance of credit-score damage caused by rejection.
How Many Names Can Be on A Mortgage?
You can own a property jointly with up to three others. If you are buying a house with several others and at any point one of you wants to sell it or apply for a loan against its value, all the owners must agree. 
All joint owners have legal rights to occupy the property unless a court order rules otherwise. Those who get property through a joint mortgage will concurrently be liable for mortgage repayments.
If you're sharing a mortgage that allows you to take on a bigger property or make higher profits on sale, it may not be the best plan for you. There are many complications associated with such ownership. 
For example - If you're buying as two couples, consider how living in such proximity to others could affect your relationship as it has less privacy than an individual house.
How Many People Can Buy a House Together?
In general, up to four people can jointly own the property, and banks lend mortgages to up to four individuals for a property. You can borrow with someone with a regular income as it increases affordability to buy expensive property. Applying for a mortgage jointly defrays the increased cost of monthly payments and equally spreads the responsibility.
How Many Co-Signers Can Be on A Mortgage?
Co-signers sign the mortgage deal with you as your Guarantor. If you fail to repay the cosign mortgage loan, the co-signer has to bear all the responsibility on your behalf. A co-signer is also bound to bear all your debts if you fail, escape, or refuse to repay the loan amount. 
Legal terms and conditions are also applicable to co-signers. For example, suppose you're bringing three or four or five people in due to poor credit rating, you might face disappointment when every person on loan submit their credit scores and income information to qualify for the loan and when your credit score is lower (in the 400s) than others. 
As a result, the lender probably will opt to leave you off the mortgage, especially if the others applying with you have higher credit scores and better debt-to-income ratios.
Can Parents Guarantee a Mortgage? 
Many choose to get a joint mortgage with their parents, as soaring house prices often make it impossible to buy alone.
A joint mortgage with your parents may require you to include their names on the title deeds, and they may be jointly liable for the repayments, even if you plan to pay in full yourself.
If they own their own home, you will have to pay capital gains tax (CGT) liability and an additional 3% as a second home stamp duty surcharge.
Some lenders offer mortgages that allow two incomes to be used, but they put only the child's name on the property's title deeds to avoid the stamp duty surcharge. 
The Guarantor of a mortgage is the second person who helps one get a mortgage. In many cases, if the mortgage payment is not paid on time, the Guarantor pays for it. The Guarantor can be any person - parents, close relatives or friends. 
Parents can act as guarantors without having their names on the mortgage or the title deeds. But, you should seek advice from experts to suit your needs before opting for it.
The Guarantor Should Be Aware Of The Legal Issues From The Start: -
The mortgage guarantor should have the necessary documents and know the involved legalities. Guarantors must get independent legal advice.
The Responsibility of The Mortgage Rests Equally on The Guarantor: -
If the mortgagee's borrower fails to pay on time, the Guarantor is equally responsible for the repayment. 
Close Relatives Or Parents As Guarantor: -
Mortgages are legal contracts that involve financial transactions. You may have to contact the Guarantor any time later to complete legalities; hence, you need a dependable person you can contact anytime to become a Guarantor. Again, choosing a parent reduces such risks.
You Have to Have a Good Credit Score and Good Earnings: -
If you do not have a good credit score and are applying for a mortgage for the first time, you may have to pay higher interest rates, and many banks will reject your applications. So it is best advised to get guarantors with good earnings. 
What Is the Difference Between the Name on The House's Title and Mortgage? 
It Is Possible To Have Your Name On The Title Deed Without The Mortgage. 
It happens when you get a mortgage and share the title with your spouse or a friend whose name is not on the mortgage. The spouse or the friend is not liable to pay the mortgage but has legal rights to the property.
Houses Title Vs Mortgage – 
If you are married or in a civil partnership and not on the mortgage, you cannot seek spousal home rights unless you have a title. At the same time, you can be on the title but not on the mortgage. When your name is not on mortgages in joint ownership, the lender can still foreclose on the home if you default on the payments, as only one spouse is listed on the mortgage.
Conclusion: - 
There are no legal restrictions on adults getting a mortgage in the UK. Each bank or building society has its prerequisites to approve loan applications. In general, lenders consider age, income, job security and credit score to sanction a mortgage application. 
Although one may not easily find 100% LTV mortgages in the UK, you may get no-deposit products when a parent or family member acts as a guarantor. The UK mortgage system considers each borrower's circumstances and has customised plans, and one can scan over 50 mortgage lenders in the UK to shop around for the best rates.
Categorised in: All News